---
LYCOAT® / ReadiLYCOAT® – New solutions for film coating
---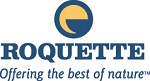 Video | Roquette Pharma
LYCOAT® modified pea starches are polymers of natural origin and are renewable. ReadiLYCOAT®, ready-to-use coating systems, are designed to facilitate your coating operations and composition can be adapted to each of your needs in compliance with regulations. To find out more about Roquette Pharma's solution, please watch the following video.
Resources
Click on LYCOAT® / ReadiLYCOAT® – New solutions for film coating for more information.
Click on Roquette Pharma You Tube Channel to subscribe to the You Tube Channel.
Click on Roquette to contact the company directly.
---
Supplier Information
Supplier: Roquette Pharma
Address: 62080 Lestrem, France
Tel: +33 3 21 63 36 00
Fax: +33 3 21 63 94 64
Website: www.roquette-pharma.com/
---