Contact Supplier
Contact Supplier
To get in touch with PHC Europe BV, simply fill out the form below.
Large Capacity Pharmaceutical Refrigerator: PHCbi MPR-1412 Series
PHCbi's large capacity double door MPR-1412 series refrigerators provide ideal cold storage solutions for busy pharmacies and laboratories, combining ultra-stable and secure temperature management with easy access and user convenience.
These 1364 liter capacity pharmaceutical refrigerators can be relied upon to maintain stable temperatures at any set point between 2°C and 23°C, providing an ideal storage environment for clinical research, pharmaceutical and healthcare use.
Both models provide easy visibility and access through glazed swing glass doors with MPR-1412-PE offering versatile storage on adjustable shelves and MPR-1412R-PE providing drawers and wire baskets. Together they support a wide range of pharmacy, laboratory and clinical applications including chromatography and pharmaceutical storage.
Natural refrigerants minimize environmental impact for a more sustainable storage solution.
MPR-1412 Pharmaceutical Refrigerator features
Manufactured and distributed by PHCbi, the MPR-1412 series are designed to meet the most exacting standards required of a specialist pharmacy refrigerator. The design focuses on effective, reliable temperature control, quiet operation and ergonomic design, incorporating a range of advanced features. These include:
Standard Alarm and Safety Features
Intuitive touch pad control panel with LED display
Temperature setting and display in 0.1°C increments
F-Gas compliant refrigerants
Large fans for even temperature distribution
Pull-out drawers (R model)
Automatic Cycle Defrost
For superior temperature stability, the quiet 120 mm diameter fans ensure even temperature distribution throughout the cabinet, maintaining uniform temperature to +3 ̊C, whilst maintaining excellent recovery characteristics. Temperature stability is also enhanced by broad, solid frames with high-performance gaskets, along with double-pane door glazing to provide clear view of contents.  Optional light-blocking panels can be fitted if required, as well as heavy load shelves for chromatography applications, for example.
MPR-1412 Pharmaceutical Refrigerator benefits
The MPR-1412 Pharmaceutical Refrigerators are ideally suited to sensitive biological and pharmaceutical storage combining usability with performance and delivering precise temperature control under the most demanding conditions. The Automatic Cycle Defrost feature maintains temperatures below 10°C at center of cabinet in ambient temperatures of up to 35°C under no load.
In short, benefits include:
Temperature Stability
Wide Temperature Range
Speedy and Powerful Refrigeration
Large Capacity
Versatile and user-friendly storage layout
Automatic Cycle Defrost
Filter-less condenser eases cleaning maintenance.
MPR-1412 Series Specifications
Glossary:
PUF = Rigid polyurethane foamed insulation
V = Visual alarm
B = Buzzer alarm
R = Remote alarm
Accessories& Consumables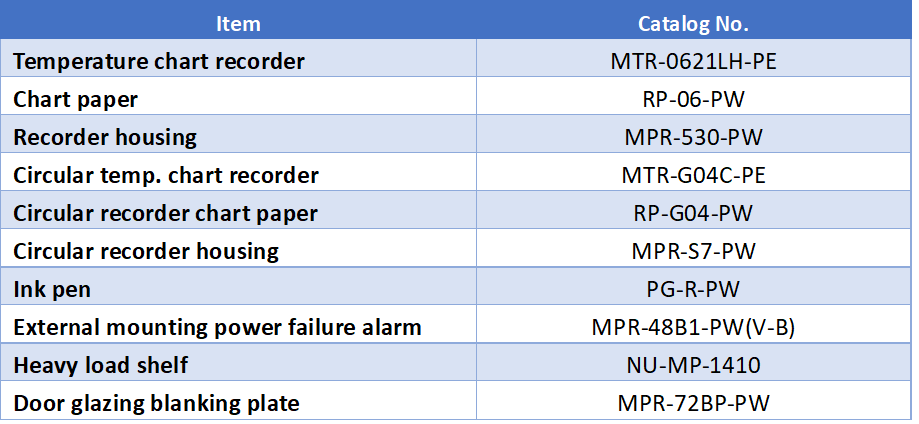 Resources
Click on PHCbi MPR-1412-PE pharmaceutical refrigerator for more information.
Click on MPR-1412-PE/MPR-1412R-PE Product Sheet (English) to download full product sheet.
Click on PHCbi MPR Pharmaceutical Refrigerators to see complete product range.