Contact Supplier
Contact Supplier
To get in touch with Huxley Bertram Engineering Ltd, simply fill out the form below.
Huxley Bertram Adhesion Punch
Huxley Bertram offers an Adhesion Force Measuring Punch (Adhesion Punch) that can be used for detailed studies of the adhesion force when making tablets.
Tablet quality problems are commonly associated with the adhesion of powder particles to the punch tip. New and existing formulations can be characterised by measuring the adhesion force between the tablet and the upper punch when it leaves the top surface of the tablet following compaction.
The HB Adhesion Punch is designed for use on the Huxley Bertram HB100 or HB 50 Compaction Simulators, and can also be used with the simple Huxley Bertram Tablet Test Fixture.
Adhesion Punch features
The Adhesion Punch is designed to measure tensile forces of just a few Newtons, with a calibration range of 0-30N. At the same time, it is capable of sustaining high compaction loads and generating force capacity in compression of up to 30 kN.
Tips are easily changed to allow different coatings or different surface features to be tested and the use of Standard B sized body allows use across a range of platforms as well as allowing the punch to be mounted in Huxley Bertram's quick change tool holder.
The punch's measuring tip is designed to be shielded against die wall effects, which can distort readings.
Resources
Click on Huxley Bertram Adhesion Punch for further information.
Click on Compaction Simulation for information on Huxley Bertram compaction simulators.
TRENDING ARTICLE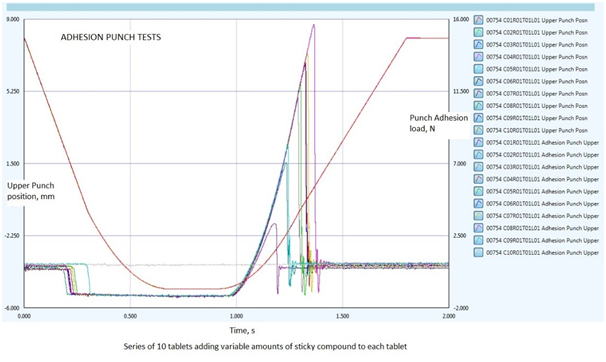 Output measurement using Huxley Bertram HB100 instrumentation and software shows clean data trace of adhesion force from the punch, produced with high resolution. The test shown here used variable amounts of sticky compound in each tablet to produce a series of force plots (ten position traces show as one line).
View Articles by Huxley Bertram Engineering Ltd