Contact Supplier
Contact Supplier
To get in touch with High containment integrated powder handling systems, simply fill out the form below.
High containment integrated powder handling systems
Dec's PTS Powder Transfer System® provides the base for a thoroughly engineered integrated solution for safe handling and high containment of powders that include highly potent active pharmaceutical ingredients (HPAPIs).
Advantages include perfect control over toxicity and/or cGMP sterility requirements that form the basic challenges for many operations that require high containment facilities.
Dec Group provides cost effective and ergonomic containment solutions for any stage of the process from dispensing raw materials, contained processes and final packing steps. Elements include contained bulk handling and transfer, process isolators, contained sampling, toxic liquid and powder handling, dosing, mixing and dispensing solutions, fully interconnected reflecting Dec's philosophy of process linking.
Integrated high containment applications
Dec offers a very wide range of integrated high containment solutions, organized into six distinct application areas.
Contained Bulk Handling: High containment conveying, handling and dosing systems including DCS® (drum containment system), Isocharge and Isotube
Toxic Liquids Handling: Safe handling of toxic and corrosive liquids and filling or emptying of drums
Process Isolators: Including filter dryer / tray dryer discharge, milling & micronizing isolators and dispensing isolators available in rigid or flexible wall design
Contained Blending: Powder mixing technology achieving homogeneity above average
Contained Micronization: Sterile, toxic or sterile toxic arrangements with the great advantage of being 100 % scalable
Contained Sampling: High containment sampling procedures
Dec integrated high containment technologies
Dec solutions cover the full range of process disciplines and challenges involved in high containment pharmaceutical and fine chemicals manufacturing with a portfolio of complementary and integrated proprietary technologies, many of which are multi-role addressing more than one need.
Transferring
Dec systems, also available for aseptic operation, allow users to handle highly toxic or flammable powder, achieving MIE below 1 mJ. These solutions include:
PTS Powder Transfer System®: Dec's technology that uses a combination of pressure and vacuum to carry out dense phase conveying with very high efficiency and safety
PFL Powderflex: Continuous conveying and dosing
Transbatch: Transfer of granules and flakes
Microdosing: MPTS and µPTS systems for transferring and dosing micro-scale quantities of powder
Bulk Materials Handling
Dec's various bulk materials handling systems meet many customer requirements to fill and discharge any type of container, including bags, drums and big bags, while conforming to containment levels from OEB 1 to OEB 6. These modular solutions are perfectly adapted to a range of hard to handle agglomerated, toxic, hygroscopic, wet, or inflammable materials.
Big Bag Handling: Big bag filling and discharging stations with docking systems and accessories
Bag / Drum Handling: Filling and emptying systems, sack cabinet, Continuous Liner System, DCS® and other drum containment systems
IBC Handling: Container filling and discharge stations with accessories
Toxic Liquids Handling: Safe handling of toxic and corrosive liquids with systems for filling and emptying drums
Contained Bulk Handling: High containment handling systems with rigid and flexible wall isolators, the Iso and DCS® ranges
Dosing / Dispensing
From dosing powders into reactors in API facilities, dispensing powder into IBCs in OSD manufacturing plants to final packaging into liners or vials, Dec has developed a portfolio of accurate dosing solutions for filling or emptying applications in batch or continuous operation across the whole range of scales from milligrams to tons. These are based on the three basic principles of volumetric (using a vacuum/pressure pre chamber, gravimetric (using gravity) or combined volumetric/gravimetric filling where the initial process is gravimetric with final adjustment done volumetrically.
Dosing/dispensing technologies include:
Loss-in-Weight: Dosing by subtraction from drums and big bags
Positive Weighing: Drum and big bag filling systems
Continuous Dosing: Continuous conveying and dosing with PFL Powderflex
Microdosing: Ultra precise dosing devices for filling lines or continuous dosing
The functionality of any of these solutions can be extended and enhanced with accessories such as DosiValve® dispensing, AidFlow mechanical discharge device, Fluidization cone or Vent filter breathing system.
Blending / Mixing
In the complex process of powder mixing, distribution efficiency will strongly depend on the physical characteristics of the products, with a constant challenge to select mixer with right balance between mixing rate and segregation to suit particular cohesiveness of the materials and differences in bulk density and particle sizes.
Dec has developed PTS Batchmixer® as a groundbreaking solution based on PTS technology that integrates the three fundamental principles of diffusive mixing, shear mixing and convective mixing to mix powders in a fully contained way without using any rotating or moving parts. PTS Batchmixer® is easily integrable into production plants performing either highly toxic or sterile operations and can also be applied to small scale laboratory or R&D operations or sterile mixing applications.
Sampling
Sampling is an increasingly important step in production facilities in order to validate the process. Dec provides various technologies to produce representative samples from raw material sampling to process inline sampling. These include:
Inline/Process Sampling: Representative samples directly from process with MPTS Sampling Device allowing sterile sampling with options such as Sampling Bottle Glove-Box, mobile MPTS trolley system, compact sampling devices that can be directly integrated into a chute to take samples from free falling powder and flexible bottle sleeve line that avoids the need for a safety cabinet.
Incoming Materials Sampling: DCS® Sampling allows flexible samples to be taken directly from drums with no risk of contamination
PAT: Process Analytical Technology: is used to measure critical quality attributes in combination with PTS Batchmixer® for blending powders or in the field of microdosing. PAT can be used to validate the mixing efficiency in line by means of a real-time SWIR spectrophotometer installed in the circulation line. A powder inline sensor can be used to measure weight or relative humidity where the integration or the response time of a scale is an issue.
Resources
Click on Dec containment systems for products overview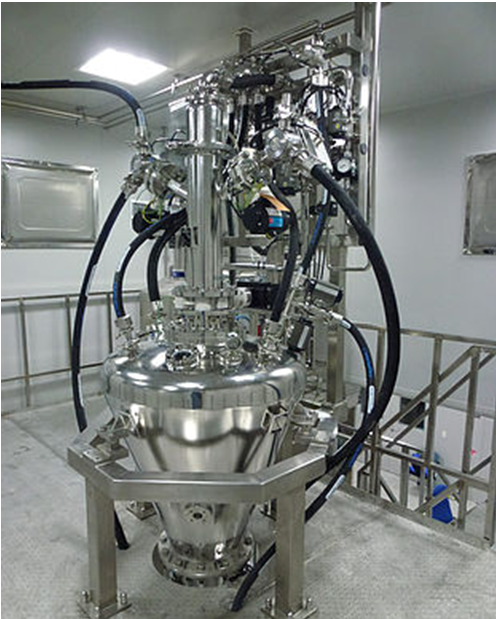 PTS Batchmixer® New mixing technology without rotating or moving parts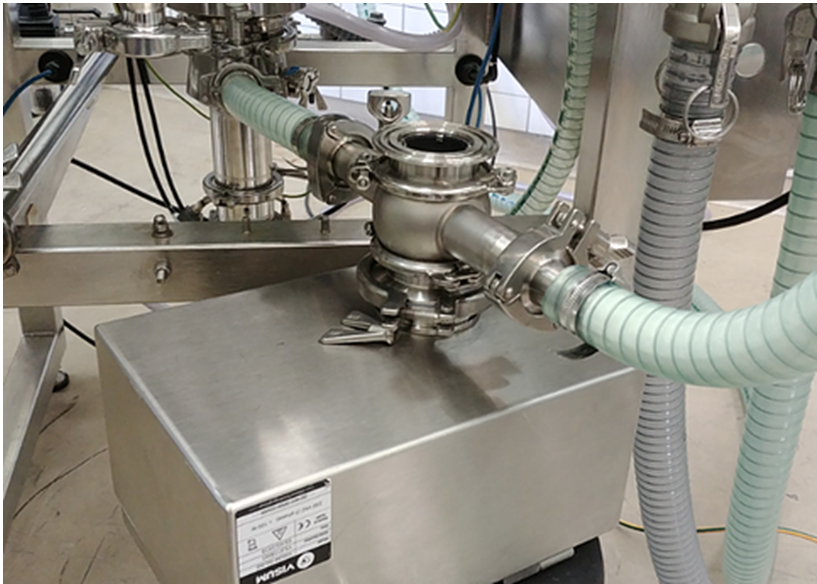 In line Dec PAT Process Analytical Technology spectrophotometer module fitted to PTS Batchmixer®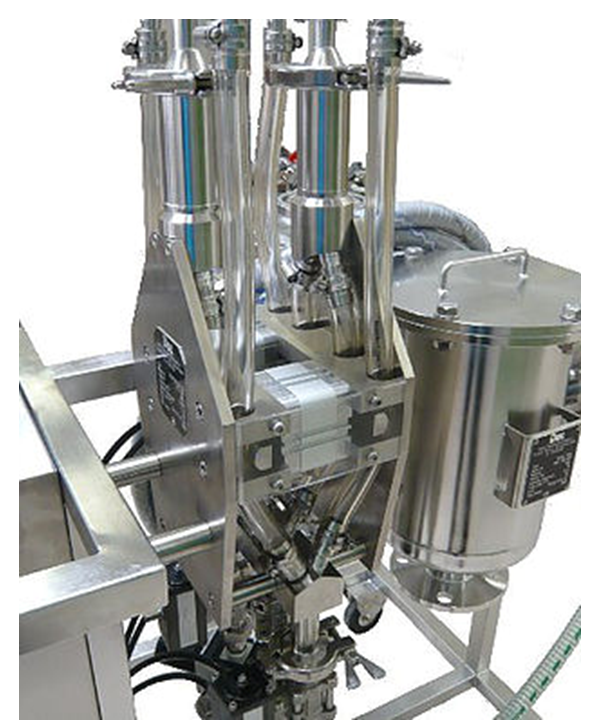 Continuous conveying and dosing under high containment with Dec's Powderflex