Contact Supplier
Contact Supplier
To get in touch with Gasporox AB, simply fill out the form below.
Gasporox GPX Porosity System for Pharmaceutical Porosity Analysis
Non-destructive testing technology specialist Gasporox AB has developed GPX Porosity testing technology as a revolutionary non-intrusive approach to porosity analysis of pharmaceutical substrates such as ribbons and tablets.
Gasporox can now offer a GPX Porosity instrument as a fully at-line or benchtop solution that can enable near real time and fully standalone porosity material testing independent of a laboratory.
Porosity testing
Material porosity is a relevant parameter in many production processes with dry compounds. For example, pharmaceutical production of tablets uses the porosity measurement as a relevant quality attribute.
One issue with current porosity measurement technologies is that these employ destructive measurement methods. In addition, conventional determination of material porosity are costly, requiring laboratory services for additional steps like sample weighing, with lengthy testing and measurement times, are material dependent, have limited accuracy, and may involve handling of toxic and hazardous liquids.
Since porosity is a routine measurement for GMP compliance of the production process there is a present need for faster, easier and more reliable measurement technology Gasporox GPX Porosity solution.
As a specialist in development and application of optical spectroscopy, Gasporox has been able to apply its Tunable Diode Laser Absorption Spectroscopy (TDLAS) and Gas in Scattering Media Absorption Spectroscopy (GASMAS ) technologies in addition to Time Of Flight (TOF) sensors to enable measurement of optical porosity of materials.
These can be applied, for instance to the ribbons produced by a roller compactor during tablet production as well as finished pharmaceutical tablets.
The testing process simply involves placing a sample (e.g. a tablet or part of a ribbon) in the instrument holder, which then exposes the sample to light within the GASMAS and TOF sensors. The sample is analyzed by sending low-power laser light through the substance, analyzing the relationship between solids and gas within the substrates.
The measurement results are then analyzed using a software algorithm which enables the caluculation of the optical porosity. A theoretical relation, implemented in the software, then converts the optical result to physical porosity, leaving the sample intact and available for further use.
GPX Porosity advantages
Since pharmaceutical porosity is defined as the relative amount of air in the material, expressed as a percentage, the GPX instrument is able to return a porosity measurement that is compatible with all standards.
The full cycle takes less than a minute. Additional functionality allows spatial porosity mapping over larger sized ribbons.
This is a non-destructive method that can be used in an at-line standalone GPX Porosity instrument that is fast, accurate and easy to use, with no special sample preparation required. The test is completely standalone with no additional laboratory instrumentation or services required, and measurement can be carried out accurately by a line operator with minimal training.
Gasporox Technology
Gasporox technologies are based on optical spectroscopy and have been proven over more than a decade in the successful testing of parenteral drugs.
The technologies, based on TDLAS, was originally developed by research scientists at Sweden's world-renowned Lund University and perfected by Gasporox's own senior R&D team for quality control in headspace analysis and leak detection applications. The technology is based on the principle that every gas molecule absorbs light at certain wavelengths and that tuning the laser across different gas absorption lines will produce changes in light intensity from which gas concentrations can be calculated.
The associated GASMAS technique applies the basic TDLAS principles to determine presence and concentration of gases inside pores, cavities and packages surrounded by light-scattering media.
Resources
Click on GPX Porosity Testing for video presentation.
Click on Technical Data Sheet for detailed GPX Porosity features and specifications.
Click on The Gasporox Solution to learn more about the technology involved.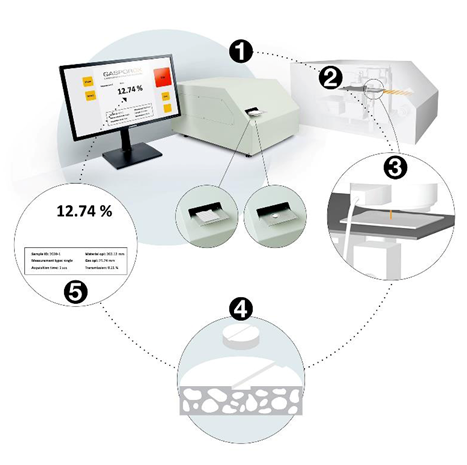 Gasporox GPX Porosity Testing is a simple process that can be quickly carried out with little training and in five steps: (1) Sample placed in instrument holder (2) sample automatically taken into machine (3) Sensors analyse sample with laser spectroscopy (4) GASMAS analysis of optical porosity allows (5) conversion into material porosity expressed as percentage.