---
Dec Group upgrades web presence
---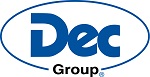 Press Release | DEC Group
SEPTEMBER 04, 2019
Ecublens, Switzerland: – World recognized leader in powder handling and process solutions, Dec Group is revitalizing its online presence with a complete makeover of its website at www.dec-group.net.
The new website has now gone 'live' and offers a transformed browsing experience.
Dynamic presence
The website incorporates latest technologies to provide a more dynamic presence with easier navigation and search. The redesign is more visually led and also supports fully compatible and intuitive mobile browsing from smartphones and tablets.
The newly created web site provides more detailed and technical information, including 'real world' application case studies and 'best practice' solutions based on Dec's suite of patented PTS Powder Transfer System® and containment technologies.
Positive feedback
"We wanted our new site to make the experience more visual to visitors, with more detailed information and industry related examples and practices," explained project leader Gabriela Mikhaiel.
"From the considerable amount of user testing we have carried out and positive feedback received, we are confident that we have succeeded in those aims," said Ms Mikhaiel.
About Dec Group
Dec (Dietrich Engineering Consultants) Group is a leading global provider of contained powder handling systems and is recognized as a world-leading expert in process containment technologies. It has been supplying the pharmaceutical, chemical, food and cosmetic industries for more than 30 years.
Headquartered near Lausanne, Switzerland, Dec Group has a global presence with subsidiaries and agents in more than 30 countries including subsidiaries in the UK, Ireland, Germany, Poland, India, China and the USA.
In excess of 600 companies worldwide have successfully integrated more than 9000 Dec systems into their production sites. These include a wide range of patented products that enhance safety, hygiene, containment, reliability and productivity in powder handling.
Dec offers innovative approaches across the range of powder handling and process containment applications, including transfer, micronizing, filling/emptying, sampling, blending, dosing, aseptic solutions, milling, isolators and advanced cleaning (CIP/SIP) features.
Media Contacts
Gabriela Mikhaiel, Dec Group Marketing
Tel: +41 21 694 20 40
Email: G.Mikhaiel@dec-group.ch
Resources
Click on Dec Group upgrades website for other information.
Click on Dec Group to contact the company directly.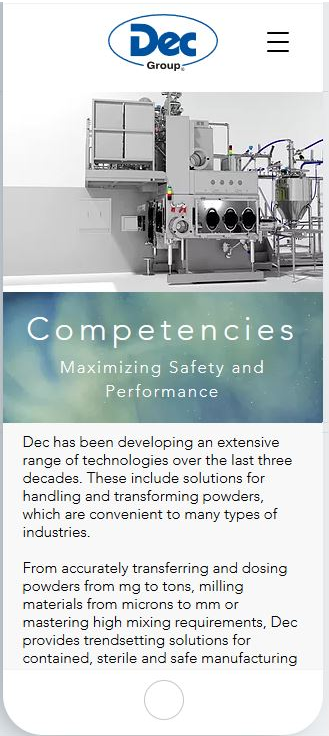 ---
Supplier Information
Supplier: DEC Group
Address: Z. I. Larges Pièces A, Chemin du Dévent, P. O. Box 9, 1024 Ecublens/Lausanne, Switzerland
Tel: +41 21 694 20 40
Fax: +41 21 694 20 59
Website: www.dec-group.net
---