---
Dec Group contributes process linking insights to Lounges 2019 Karlsruhe
---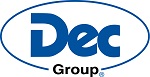 Press Release | DEC Group
JANUARY 28, 2019
Ecublens, Switzerland: – Powder handling and micronization specialist Dec Group will be a prominent presence at the upcoming LOUNGES 2019 pharma and cleanroom forum in Karlsruhe, Germany, contributing a presentation on use of process linking to boost productivity and security.
The Dec Group stand at Booth D03 at the Messe expo center in Karlsruhe will feature on-screen displays on the company's many leading-edge solutions based on its Powder Transfer System (PTS).
Powder handling and containment
Visitors will also be able to speak to the Dec team directly about issues with powder handling, reactor charging and dosing, containment, process linking, regulatory compliance and other challenges.
On Day One of the event, Stefan Genz, Technical Director of Dec Germany will speak on the implications of EU REACH legislation during the morning Pharma Forum 2 (1030, February 5).
Process linking for productivity
The following day, Christian Schmidt from the Dec Germany Sales Team will deliver a presentation: "Increase plant productivity and security through process linking" during Session 40. (1100, February 6, Room 4).
Dec is also offering its customers and partners free admission to the Lounges event via the specific code YJ6JIR8X, using online registration (see Resources below).
About Dec Group
Dec (Dietrich Engineering Consultants) Group is a leading global provider of contained powder handling systems and is recognized as a world-leading expert in process containment technologies. It has been supplying the pharmaceutical, chemical, food and cosmetic industries for more than 30 years.
Headquartered near Lausanne, Switzerland, Dec Group has a global presence with subsidiaries and agents in more than 30 countries including subsidiaries in the UK, Ireland, Germany, Poland, India, China and the USA.
In excess of 200 companies worldwide have successfully integrated more than 5000 Dec systems into their production sites. These include a wide range of patented products that enhance safety, hygiene, containment, reliability and productivity in powder handling.
Dec offers innovative approaches across the range of powder handling and process containment applications, including transfer, micronizing, filling/emptying, sampling, blending, dosing, aseptic solutions, milling, isolators and advanced cleaning (CIP/SIP) features.
About Lounge 2019
The Lounges series of forums have established a leading place in the German-speaking pharma trade fair landscape with their distinctive concept of combining comfortable networking atmosphere, high-level lectures and presentations, comprehensive exhibitions, all leveraged by x4.com interactive online communications.
Lounges 2019 is a combined three-day event for Pharma and Cleanroom technologies sectors that opens February 5 at Messe Karlsruhe, returning to the event's original venue.
This exhibition will feature more than 300 presentations, along with a 12,000 square meter exhibition area hosting some 200 vendors.
Lounges is organized by Inspire GmbH with further information at: https://www.x4com.de/expo_lounges.
Media Contacts
Gabriela Mikhaiel, Dec Group Marketing
Tel: +41 21 694 20 40
Email: G.Mikhaiel@dec-group.ch
Resources
Click on Dec Group contributes process linking insights to Lounges 2019 Karlsruhe for more information.
Click on Dec Group to contact the company directly.
Click on Lounges 2019 Karlesuhe to register for the event.
---
Supplier Information
Supplier: DEC Group
Address: Z. I. Larges Pièces A, Chemin du Dévent, P. O. Box 9, 1024 Ecublens/Lausanne, Switzerland
Tel: +41 21 694 20 40
Fax: +41 21 694 20 59
Website: www.dec-group.net
---