---
DEC Group brings aseptic processing capabilities to INTERPHEX 2019
---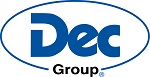 Press Release | DEC Group
MARCH 20, 2019
Ecublens, Switzerland: – Dec Group will once again be a prominent presence at the high-prestige INTERPHEX expo in New York City, where it will showcase its powder transfer and micronization technologies and capabilities to design and deliver fully integrated high containment manufacturing solutions including aseptic processing.
Dec Group has been a consistent exhibitor at INTERPHEX over almost a decade and its Dec USA stand at Booth 3071 at the Javits Center will demonstrate its industry-leading PTS Powder Transfer System® based solutions.
Efficient high containment solutions
The Dec team, including powder handling and containment solutions experts, will demonstrate the PTS working 'live' on stand, along with displays on DCS Drum Containment System for discharging drums, PTS Batchmixer® for powder blending and the R&D model of its spiral jet milling range MC DECJet 30®.
"INTERPHEX is one of the most important events for the pharmaceutical manufacturing industry to be found anywhere in the world," commented DEC Regional Manager for the Americas, Frederic Pasche, who will lead the team in New York City.
"So it is a great honor to be there once again to show a highly influential audience of decision makers involved in pharma production and manufacturing processes and equipment procurement, what Dec Group can bring to the table in terms of efficient high containment solutions from concept to completion and upscaling powder handling/processing from milligrams to tons," said Mr. Pasche.
About DEC Group
Dec (Dietrich Engineering Consultants) Group is a leading global provider of contained powder handling systems and is recognized as a world-leading expert in process containment technologies. It has been supplying the pharmaceutical, chemical, food and cosmetic industries for more than 30 years.
Headquartered near Lausanne, Switzerland, Dec Group has a global presence with subsidiaries and agents in more than 30 countries including subsidiaries in the UK, Ireland, Germany, Poland, India, China and the USA.
In excess of 200 companies worldwide have successfully integrated more than 5000 Dec systems into their production sites. These include a wide range of patented products that enhance safety, hygiene, containment, reliability and productivity in powder handling.
Dec offers innovative approaches across the range of powder handling and process containment applications, including transfer, micronizing, filling/emptying, sampling, blending, dosing, aseptic solutions, milling, isolators and advanced cleaning (CIP/SIP) features.
About INTERPHEX 2019
Over the course of almost four decades, America's International Pharmaceutical Expo (INTERPHEX or IPX) has become one of the world's leading single source events for biopharmaceutical and pharmaceutical manufacturing and processing solutions and technologies.
The Expo aims to showcase the full range of state-of-the-art solutions needed for cost-effective product development and manufacture, including equipment, accessories and technologies while offering networking and peer-to-peer sharing opportunities, presentations and interactive demonstrations.
INTERPHEX 2019 is a three-day event opening April 2 once again at the Javits Center in New York City. The event will feature more than 620 vendors and is expected to attract some 10,500 pharmaceutical and biopharmaceutical industry professionals.
IPX is sponsored by the Parenteral Drug Association (PDA) and organized by Reed Exhibitions with more information at: http://www.interphex.com
Media Contacts
Gabriela Mikhaiel, Dec Group Marketing
Tel: +41 21 694 20 40
Email: G.Mikhaiel@dec-group.ch
Resources
Click on DEC Group at INTERPHEX 2019 for more information.
Click on Dec Group to contact the company directly.
---
Supplier Information
Supplier: DEC Group
Address: Z. I. Larges Pièces A, Chemin du Dévent, P. O. Box 9, 1024 Ecublens/Lausanne, Switzerland
Tel: +41 21 694 20 40
Fax: +41 21 694 20 59
Website: www.dec-group.net
---