---
Dec elaborates innovative big bag dispensing system through isolator
---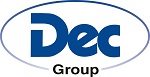 Press Release | DEC Group
NOVEMBER 13, 2017
Ecublens, Switzerland: – Powder handling and containment specialists Dec Group have recently offered their expertise to meet the challenges of dispensing bulk ingredients from big bags and drums while retaining high containment.
The Dec solution has applied its advanced Powder Transfer System (PTS), big bag discharging systems and glove box isolator in a tailored installation at a European facility for the world's leading biopharmaceutical company. It allows material discharge from flexible intermediate bulk containers (FIBCs) and drums to be routed through a glove-box isolator and a cone mill underneath the isolator chamber and addition of small amounts of ingredients while maintaining high containment and protection.
Isolator and cone mill
The prototype installation allows automatic dispensing of both main excipients (lactose and cellulose) from paired Big Bag discharging stations, dosing and conveying thanks to PTS installed on top of an isolator. Active pharmaceutical ingredients (APIs) can be added manually into the mill by disconnecting part of the chute inside the isolator. An additional feature allows further excipients to be added from any size or shape of container via suction lance.
The ingredients leave the isolator through a cone mill to be conveyed into an IBC which is located on the floor below.
IBC to IBC
In the final stage of process, the ingredients can be recirculated back through mill for routing to another intermediate bulk container (IBC).
"Dec has been able to maintain its 30 year tradition of powder handling excellence and innovation with an ingenious and custom made solution to a challenging problem," commented Guillaume Wetli, Dec Group Area Sales Manager.
"In this case we have been able to reduce overall loading times, integrate an existing mill into the process and significantly improve operating safety by maintaining high containment throughout the process," he added.
About Dec Group
Dec (Dietrich Engineering Consultants) Group is a leading global provider of contained powder handling systems and is recognized as a world-leading expert in process containment technologies. It has been supplying the pharmaceutical, chemical, food and cosmetic industries for 30 years.
Headquartered near Lausanne, Switzerland, Dec Group has a global presence with subsidiaries and agents in more than 30 countries including subsidiaries in the UK, Ireland, Germany, Poland, India, China and the USA.
In excess of 200 companies worldwide have successfully integrated more than 5000 Dec systems into their production sites. These include a wide range of patented products that enhance safety, hygiene, containment, reliability and productivity in powder handling.
Dec offers innovative approaches across the range of powder handling and process containment applications, including transfer, micronizing, filling/emptying, sampling, blending, dosing, aseptic solutions, milling, isolators and advanced cleaning (CIP/SIP) features.
Media Contacts
Gabriela Mikhaiel, Dec Group Marketing
Tel: +41 21 694 20 40
Email: G.Mikhaiel@dec-group.ch
Resources
Click on Big bag dispensing via isolator for more information.
Click on Dec Group to contact the company directly.
---
Supplier Information
Supplier: DEC Group
Address: Z. I. Larges Pièces A, Chemin du Dévent, P. O. Box 9, 1024 Ecublens/Lausanne, Switzerland
Tel: +41 21 694 20 40
Fax: +41 21 694 20 59
Website: www.dec-group.net
---