Brinter® 3D bioprinting advances meniscus implant knee repairs
Winston-Salem, North Carolina: – Brinter® is developing 3D bioprinted personalized meniscus cartilage implants that promise to revolutionize knee surgery.
Brinter's pre-clinical R&D efforts are focused on perfecting 3D extrusion bioprinting as a suitable fabrication technique to print both cells and biomaterials into personalized and biologically matched meniscus implants that could provide orthopedic patients with longer-lasting knee repairs.
Regenerative medicine
Brinter's Applications and R&D team is a part of the RegeneratOR's Innovation Accelerator located in the Regenerative Medicine Hub (RegenMed Hub), a rapidly growing regenerative medicine ecosystem based in the Innovation Quarter in Winston-Salem, North Carolina.
It also builds on Brinter's leading role as part of the EU-funded RESTOREproject that has developed different bioprinting technologies and bio print heads, such as Rotary Tool and Multifluidics Tool, specifically for bioprinted cartilage patches for osteoarthritic knee treatment.
The emerging technology is set to revolutionise meniscus repair and reconstruction, in which current strategies are limited in the structure and material design for long-term stability as well as rejection issues, since  implants are either not personalized to the needs of the patients, or do not mimic native cartilage tissue resulting in long-term complications.
Closer tissue matching
The bioprinted regenerative medicine approach can use a fully individual fabrication technique to regenerate damaged cartilage tissue using bioinks made from the patient's own cellular material for lower rejection rates.
Other key benefits are that this is a personalized and bio-mimetic approach that is highly customizable to individual cases, offering comparable mechanical strength to native meniscus and with superior tissue regeneration offering reduced pain, increased mobility/flexibility.
Advanced orthopedics
Brinter® CEO Tom Alapaattikoski commented: "We are excited to invest our team efforts on developing the next-generation meniscus implants, and we are always looking for like-minded partners on this exciting journey."
"This latest program demonstrates the huge contribution that 3-D bioprinting can make to the field of orthopedics and in the expanding area of tissue therapeutics, focusing on the cartilage, specifically the meniscus," Mr. Alapaattikoski explained.
"Brinter® seeks to bring awareness of 3D bioprinting as a suitable fabrication technique for creating highly personalized and tunable tissue replacements that overcome the limited regenerative capabilities of native cartilage in general. This requires very complex tissue architecture that is difficult to mimic with conventional bio-implants," he added.
About Brinter®
Founded in 2020 via partial demerger in Finland, Brinter® is Santa Monica, CA, and Winston-Salem, NC-based meniscus bio-implant developer and manufacturer of a modular multi-material 3D bioprinting platform scalable from manual R&D to automated production. The company works with science and bioengineering organizations to integrate 3D bioprinting into their research, manufacturing, and treatment methods. The goal is to break through current technological limitations and improve people's quality of life.
Brinter® has bootstrapped its growth since 2018, when it launched its first commercial product in 2020, and is currently active in more than ten countries, including the USA, Germany, the UK, and India.
Customers of the company now include bio and pharmaceutical companies like Bayer, PerkinElmer, Nanoform, as well as research organizations like UCLA, Michigan State University, Wake Forest Institute for Regenerative Medicine, VTT, BEST group at the University of Glasgow, Johannes Gutenberg University of Mainz, the University of Oulu, and the University of Helsinki, whose directors are enthusiastic about the technology's potential.
For more information, visit www.brinter.com.
Resources
Click on Brinter® Bio Implant Therapeutics for further information.
Click on Brinter® Rotary Tool for further detail on technology for biological applications.
Click on Brinter® Multifluidics Tool for further detail on technology for biological applications.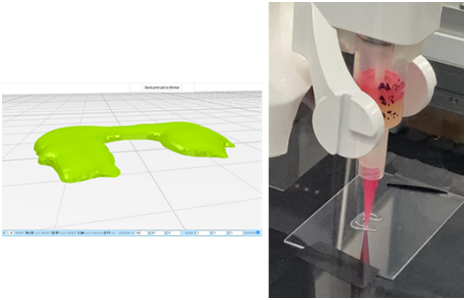 3-D bioprinted meniscus repair showing (left) horse-shoe-shaped cartilage patch model created using imaging techniques to unravel the 3D architecture of the tissues and control bioprinting of a patient-specific match (right) using Brinter® Rotary Tool print head and bioink material mixed with cells, spheroids or organoids.