Contact Supplier
Contact Supplier
To get in touch with Bachem releases new Corporate Movie, simply fill out the form below.
Bachem releases new Corporate Movie
Bubendorf, Switzerland: The new film highlights why Bachem is your pioneering partner for peptides and gives you insights into the employees' unique spirit. The Peptide specialists working for Bachem share with the audience, what it means to them to be a pioneer and a partner. They welcome you in Bachem's world of peptides and you can feel the tradition that shaped the company ever since.
The Image Movie let's you glance in all production sites, and you'll see much more than just cGMP custom manufacturing facilities. The story is told in the words of Bachem people including CEO Dr. Thomas Früh and fellow directors, as well as key people in operations across Switzerland, UK and the USA. They all live the Bachem promise and contribute to the movie with the same mind-set that makes them essential for the company's success.
"The video is aimed at a universal audience; anyone curious to know more about Bachem," explained Gian Looser, Global Marketing Associate at Bachem, who headed the project.
Online viewers can click to select English or German language options, with French, Spanish, Portuguese, Chinese and Japanese language versions to follow.
Pioneering partner for peptides
"The movie explains what the 'Pioneering Partner for Peptides' concept means to us and what our customers can expect when doing business with us," said Mr. Looser.
"Videos have become an essential part of online marketing. It is a great way to pack together your most important information, to showcase your products and services and to communicate to your customers quickly, effectively, and consistently," explained Mr. Looser.
"We enlisted the help of respected Bavarian-based video production companies, C.A.M.P-TV of Munich and HZM Television and Film Production in Grünwald to ensure the highest quality video images, audio quality, editing and post-production. We believe the results speak for themselves," said Mr. Looser.
Bachem brand
The video is the latest manifestation of Bachem's coordinated brand management program that began in early 2014 with the adoption of the "Pioneering Partner for Peptides" corporate strapline and has included refreshing the visual brand personality and web presence.
The Bachem brand now reflects a corporate strategy that embraces a collaborative approach moving beyond being a market-leading supplier of peptide-based active ingredients into actively supporting clients through all phases of API development.
About Bachem
The Bachem Group is the world's only full service provider of peptides and provides a full range of other services to the pharma and biotech industries.
Under its banner Pioneering Partner for Peptides, Bachem specializes in the development of innovative, efficient manufacturing processes and the reliable production of peptide-based active pharmaceutical ingredients (APIs). A comprehensive catalog of biochemicals and exclusive custom syntheses for research labs complete its service portfolio.
Headquartered in Switzerland with subsidiaries in Germany, the UK, and the USA, the group specializes in process development and the manufacture of peptides and complex organic molecules as APIs as well as innovative biochemicals for research.
Bachem prioritizes continuous investment in R&D on chemistries and technologies as crucial for future success. Its ever-increasing knowledge of complex proteins and peptides derives from ongoing research in proteomics, as well as progress in mass spectrometry, synthesis and ligation technologies, complemented by collaboration with external research institutions.
Bachem has six production sites in the U.S. and in Europe along with research level production and full cGMP manufacturing facilities on both continents. These provide capacity to produce APIs, key intermediates, small molecule generics, new chemical entities (NCEs) and finished dosage forms at preclinical, clinical and production scales.
Media Contact
Dr. Martina Diekmann, Head of Global Marketing, Bachem Group
Tel: +41 799 459 107
Email: martina.diekmann@bachem.com
Resources
Click on Bachem releases new Corporate Movie for more information.
Click on Bachem to contact the company directly.
Click on Image Movie to view the video.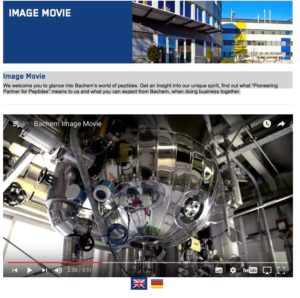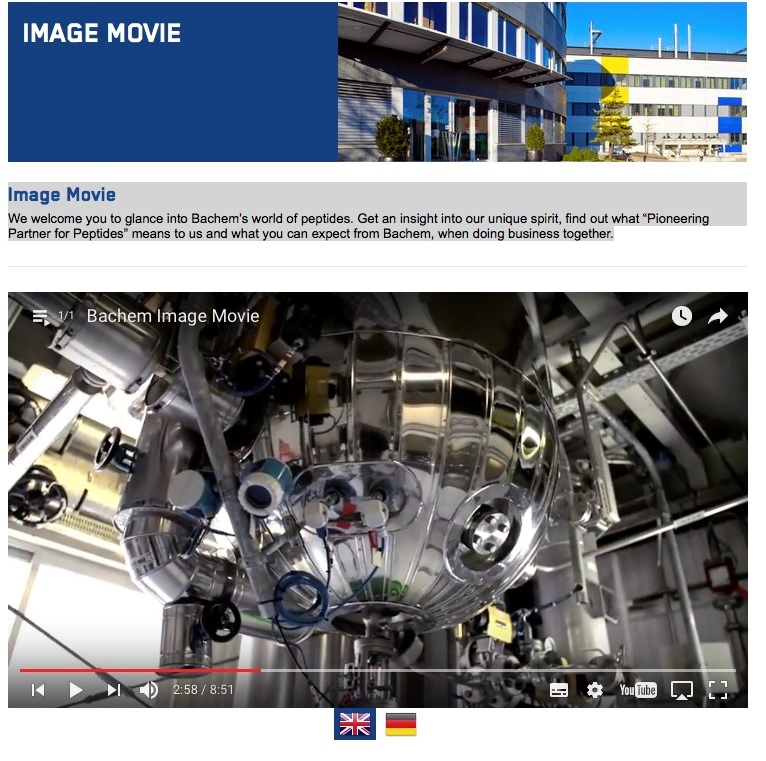 ---
Supplier Information
Supplier: Bachem AG
Address: Hauptstrasse 144, 4416 Bubendorf, Switzerland
Tel: +41 61 935 2323
Fax: +41 61 935 2325
Website: www.bachem.com
---