Contact Supplier
Contact Supplier
To get in touch with Bachem AG, simply fill out the form below.
Bachem peptides for cosmeceuticals
As the leading contract development and manufacturing organization (CDMO) for peptide and oligonucleotide manufacturing, Bachem offers exclusive services for the provision of peptides as active ingredients for cosmetic products called cosmeceuticals at excellent and consistent quality from small to large-scale production at competitive prices.
Peptides applied to cosmeceuticals can help maintain a healthy and youthful appearance as demonstrated by numerous dermatological studies. They are particularly of interest for anti-ageing applications due to their ability to increase the production of dermal extracellular matrix proteins such as collagen. Furthermore, researchers have shown that several peptides have the ability to promote wound healing, cell migration, and angiogenesis1.
Bachem has long-standing partnerships with major firms in the pharmaceutical and cosmetic industry, using its experience and dedication to drive innovation for sustainability and CMR-free (CMR: carcinogenic, mutagenic, or toxic for reproduction) products.
Industry-leading quality
Cosmetic product consumers expect the product promise to be fulfilled, i.e. the peptide ingredient to be active and safe on their most important exterior, the skin. Bachem has established the Bachem Quality Grade to meet cosmetic industry partners' needs and to comply with the current regulatory standards and expectations for cosmetic ingredients.
Bachem's credentials as a trusted partner for high-quality raw materials is bolstered by its comprehensive change and deviation management, ideal for the regulated field of cosmetics.
The quality commitment to customers extends beyond manufacturing to storage and delivery to ensure peptides are received in perfect conditions to retain their potency as active ingredients and guarantee a sustainable supply of raw materials for various cosmetic formulations.
The Bachem Quality Grade also delivers further customer benefits:
Traceability throughout the complete supply chain
Dedicated compliance team responsible for quality management and release
Change control for manufacturing processes, analytical methods and for specifications
Detailed deviation management
Manufacturing according to established processes using qualified analytical equipment
TSE/BSE certificate (Transmissible spongiform encephalopathies/ Bovine spongiform encephalopathy)
No usage of GMOs (genetically modified organisms)
CMR-free synthesis possible.
Bachem's impressive experience in peptide manufacturing ensures the peptide-based active ingredient is produced to meet cosmetic market needs from small to industrial scale production. Over many years, it has established reliable long-term partnerships with suppliers and distributors to ensure a secure supply chain for our customers.
Green cosmetic peptide production

Bachem emphasizes innovation in more environmentally friendly peptide production methods to help customers increase sustainability. To offer solvent-free product, Bachem has licenced Molecular Hiving™ technology, a tag-assisted liquid-phase peptide synthesis technology developed by Professor Kazuhiro Chiba at the Tokyo University of Technology and Agriculture. This technology is especially suitable for the synthesis of peptidic ingredients for cosmetic products, as CMR solvents and reagents can entirely be avoided during the manufacturing process. Molecular Hiving™ also allows a fast synthesis of peptides similar to SPPS with a lower consumption of solvents and reagents. Peptides manufactured using this technology have lower s impacts on health and environment, making them highly attractive for the cosmetics industry.
Bachem and our partner Jitsubo CO., LTD. signed of an exclusive Licensing Agreement for Jitsubo's Molecular Hiving™ technology. Under the License agreement, Jitsubo develops selected manufacturing processes using their Molecular Hiving™ technology and transfers these processes to Bachem. Further optimization, scale up and production for commercial applications is done at Bachem.
EcoVadis gold award and RSPO certification
Sustainability is a key strategic foundation for Bachem. We are committed to sustainability by taking responsibility towards our employees, the society, and the environment. In 2022, Bachem was awarded a gold medal rating for sustainability by EcoVadis as one of the top five percent most sustainable companies assessed.
Additionally, Bachem has also received the RSPO (Roundtable of Sustainable Palm Oil) certification − a supply chain standard that allows Bachem to handle sustainable palm oil and palm kernel oil for its manufacturing site in Bubendorf. As part of the RSPO certification, Bachem is also compliant in the maintenance of a mass balance of the input-output quantities of certified products. Bachem's initiatives for sustainability help it to deliver certified cosmetic peptides to customers, further ensuring sustainable supply chains to the end-consumer.
Resources
Click on Bachem360 to watch full webinar presentation on Molecular Hiving™.
Click on Bachems News to see latest News & Events.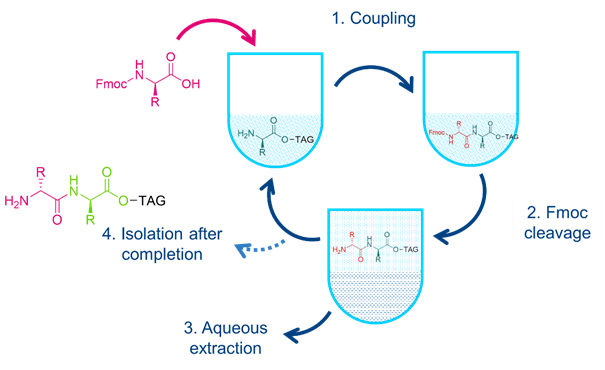 Molecular Hiving™: This synthetic process uses a hydrophobic tag onto which the peptide is assembled in the same way as onto the resin in solid-phase peptide synthesis (SPPS) using the standard Fmoc-amino acid derivatives. After each coupling, reagents, excess amino acid derivatives and by-products are removed by aqueous extractions. After synthesis completion, the protected peptide is isolated by precipitation. The reactions are carried out in solution, which has the advantage of more efficient mass transfer, faster reaction rates and less impact of protein folding and steric hindrance.