Contact Supplier
Contact Supplier
To get in touch with Bachem AG, simply fill out the form below.
Bachem offering CART peptides for drug addiction studies
Bubendorf, Switzerland: –Peptide technology specialist Bachem offers a range of CART neuropeptides that play vital roles in studies of drug addiction.
Studies have indicated that CART peptides interact with neurotransmitters, such as dopamine or GABA, that are involved in the mechanism of action of psychostimulants such as cocaine and amphetamines and may alter their activity leading to modulation of psychostimulant associated behaviors.
Using CART Peptides to study drug abuse
Drug addiction is recognized as a psychiatric disorder. This is triggered by a sense of pleasure or gratification in positive reinforcement, and relief of stress and anxiety in negative reinforcement. Cessation of drug use causes depression-like anxiety symptoms, due to decreased functions of neurotransmitters that are associated with acute drug reinforcement effect. All the evidences have shown that CART peptides have roles in reward, reinforcing processes, including the control of feeding, neural development, fear and stress, and sensory processing and they have the functional properties of an endogenous psychostimulant1. Drug abuse is a significant problem, in which CART peptides represent a potential treatment of drug addiction.
Studies have shown interactions of CART peptides with neurotransmitters, such as dopamine or GABA, involved in the mechanism of action of psychostimulants. CART may alter their activity leading to modulation of psychostimulant associated behaviors. Based on the distribution of CART peptides, they may play a role in several facets of psychostimulant abuse, including the acute reinforcing actions of psychostimulants, the body's long-term response to psychostimulants such as desensitization to the drug, and drug seeking and impulsivity following drug abuse.
The complex relationship between CART peptides and amphetamine and cocaine remains unclear. To date, studies have shown a clear interaction, but no rational and general mechanism behind. Under certain conditions (increased stress, increased cAMP signaling), CART mRNA and peptide levels are directly affected by cocaine and amphetamine. Furthermore, CART peptides have an effect on (and seem to be affected by) dopamine as well. Ultimately, the regulation of the CART gene and thus, mRNA and peptide levels, appears to involve CREB, a transcription factor which has been associated with cocaine and amphetamine abuse.
Role of CART peptides 
Cocaine- and amphetamine-regulated transcript (CART) peptides are neuropeptides that are expressed in brain regions associated with reward. The first fragment of CART peptide was discovered in 1981 by Spiess and coworkers in hypothalamus extracts2.
Later, Douglass and others identified CART messenger RNA expression within the striatum of psychostimulant-exposed rats3. This study also showed that CART mRNA increases with cocaine administration.
Cocaine is a strong psychostimulant drug that can easily cross the blood-brain barrier, causing the user to feel intense euphoria and resulting in increased locomotor activity. Cocaine inhibits the re-uptake of synaptic serotonin, norepinephrine and dopamine, which results in greater extracellular concentrations of these neurotransmitters4.
CART Peptides structure and receptors
CART is encoded by the CARTPT gene. Alternative splicing of the CART mRNA results in two transcripts, encoding for a long (102 amino acids) and a short (89 amino acids) precursor (proCART).
The proCART peptides contain several cleavage sites that allow post-translational processing. This processing results in two biologically active CART peptides, long form and short form. While both the long and short form are produced in rats, humans only express the short proCART peptide (See Figure 1)5.
While no specific CART receptor has yet been identified, there is now substantial experimental evidence suggesting the existence of several CART receptor subtypes that could activate three signaling mechanisms modulating dopamine receptors-related pathways. First, CART 55-102 has been described to inhibit the voltage-gated L-type Ca2+ channels in a pertussis toxin (PTX)-sensitive manner6. PTX has also been shown to be an inhibitor of inhibitory-G-protein (Gi/Go)-dependent signaling pathways7.
Further, CART 55-102 has been described as increasing the phosphorylation of cyclic AMP-response-element-binding protein (CREB) in the nucleus of corticotropin-releasing hormone (CRH) neurons located in the hypothalamic paraventricular nucleus in rats, ultimately promoting expression of the CREB and inducing profound antidepressant effects8.
Numerous genes associated with reward and reinforcement (genes for dynorphin, substance P, and tyrosine hydroxylase, for instance), are regulated via CREB. Therefore, any abnormality in CREB expression may result in anxiogenic and depressive-like disorders. Finally, CART 55-102 has been described to increase extracellular signal-regulated kinase (ERK) phosphorylation in AtT20 and GH3 cells, an effect blocked by U0126, an inhibitor of MEK, and by PTX9.
 References
Kuhar, M. J. et al. Trends Neurosci. 22, 316-320 (1999).
Spiess, J. et al. Biochemistry, 20, 1982-1988 (1981).
Douglass, J. et al. J. Neurosci. 15, 2471–2481 (1995); Douglass, J. & Daoud, S. Gene, 169, 241–245 (1996).
Pomara, C. et al. Curr. Med. 19, 5647–5657 (2012).
Rogge, G. et al. Nat. Rev. Neuroscience, 9(10), 747–758 (2008).
Yermolaieva, O. et al. J. Neurosci. 21(19), 7474–7480 (2001).
Mangmool, S. et al. Toxins, 3, 884–899 (2011).
Sarkar, S. et al. Brain Res. 999, 181–192 (2004).
Lakatos, A. et al. Neurosci. Lett. 384, 198–202 (2005).
About Bachem
Bachem is a leading, innovation-driven company specializing in the development and manufacture of peptides and oligonucleotides.  With 50 years of experience and expertise Bachem provides products for research, clinical development and commercial application to pharmaceutical and biotechnology companies worldwide and offers a comprehensive range of services.  Bachem operates internationally with headquarters in Switzerland and locations in Europe, the US and Asia.  The company is listed on the SIX Swiss Exchange.
Under its banner Leading Partner in Tides, Bachem prioritizes continuous investment in R&D on chemistries and technologies as crucial for future success. Its ever-increasing knowledge of complex proteins and peptides derives from ongoing research in proteomics, as well as progress in mass spectrometry, synthesis and ligation technologies, complemented by collaboration with external research institutions.
Bachem has five production sites in the US, UK and Switzerland along with research level production and full cGMP manufacturing facilities on both continents. These provide capacity to produce APIs, key intermediates, small molecule generics, and new chemical entities (NCEs) at preclinical, clinical and production scales.
Further information at: www.bachem.com
Resources
Click on Bachem Peptide Trend January 2021 for more information.
Click on Bachem CART peptide fragments to browse products available from Bachem online shop.
Click on Bachems News to see latest News & Events.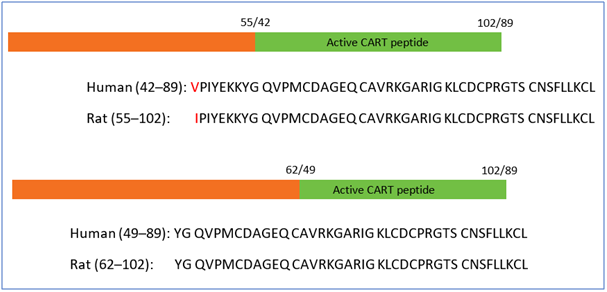 In species that express both the long and the short forms of proCART (e.g. rats), the short form amino acid sequences of CART 42–89 and CART 49–89 are identical to those of the long form CART 55–102 and CART 62–102, respectively (orange bars). In humans (green bars), CART 42-89 and CART 49-89 are processed from the short form only.