Contact Supplier
Contact Supplier
To get in touch with Bachem AG, simply fill out the form below.
Bachem active pharmaceutical ingredients
Bachem produces one of the world's widest ranges of commercially available synthetic peptide active pharmaceutical ingredients (APIs). It currently manufactures close to a third of the 75 peptide APIs currently approved worldwide for use in in commercial peptide drugs for the treatment of diverse diseases, either as new chemical entities (NCEs) or generics.
Well-established experience and capabilities for manufacturing peptide drug substances in large quantities under GMP conditions as well as Switzerland's strong regulatory regime makes Bachem a preferred commercial partner for long-term partnerships.
Peptide API manufacturing
Bachem produces therapeutic peptide APIs and provides API services from four Good Manufacturing Practice compliant (cGMP) facilities in Europe and the United States, which are regularly inspected by Swiss Medic, the FDA, EMA, and other local regulatory authorities to ensure operational excellence and quality.
Bachem's reputation as a reliable GMP manufacturer of NCEs and high-demand generic products rests on more than 50 years of experience in the development and production of pharmaceutical molecules, and in compiling data for Drug Master Files (DMF).
It has the capacity to produce peptide API from gram scale up to hundreds of kilograms annually. Bachem's quality management system covers the entire production process, from source materials to production, packaging and delivery of the final product.
Commercial NCEs
As the world's leading peptide manufacturer, Bachem is currently involved in about 150 Chemistry, Manufacturing and Control (CMC) development projects targeting NCEs, with a large number of customers in the pharmaceutical and biotech industry around the globe.
Its portfolio now includes development and API manufacturing of oligonucleotide-based active pharmaceutical ingredients. Bachem oligonucleotide technology is applicable to large scale production and has strong synergies with peptide therapeutics.
For NCEs, Bachem forms dedicated project teams to ensure timely coordination and containment of sensitive information. The teams are led by an experienced project manager to coordinate and control the project activities and with team members out of research and development, quality control, quality assurance, regulatory affairs and sales to represent their department within the project. A business development manager is part of the team and addresses special client needs and requirements.
Bachem actively supports the lifecycle of commercial products in close collaboration with its partners, helping to implement cutting edge technology with continuous improvement and innovation to maintain highest quality standards and competitive edge that extends far beyond the patent exclusivity period.
Commercial generic APIs
Bachem covers the entire life cycle of an active pharmaceutical ingredient (API), from early discovery to research grade catalogue item, to Good Manufacturing Practice (GMP) grade active ingredients suitable for clinical trials and drug products and, ultimately, to a high-quality and state-of-the-art generic API. Its generic peptide API services include development support, registration and reliable commercial supply.
Bachem can fulfill the full range of customer needs from a few grams to multi-kilogram to tenth of tons of generic API using different organic, Solid Phase Peptide Synthesis (SPPS), Liquid Phase Peptide Synthesis (LPPS) or mixed peptide chemistries, from its four GMP API manufacturing plants located in Europe and in the US.
Small molecule APIs
These include small molecule APIs that are supplied down to tenth of tonnes from Bachem's Vionnaz site in Switzerland that are used in manufacture of small molecule drugs such as Antazolines for ophthalmic use, Carbidopa for epilepsy and Parkinson's Disease, and Etomidate and Propofol sedatives and anesthetics.
Bachem has established long-term contracts with important industrial partners, being a reliable, independent and financially solid company, with significant long-term generic API supply agreements with leading pharmaceutical companies such as AstraZeneca and Debiopharm.
Resources
Click on Bachem products to browse Bachem online shop.
Click on Bachems News to see latest News & Events.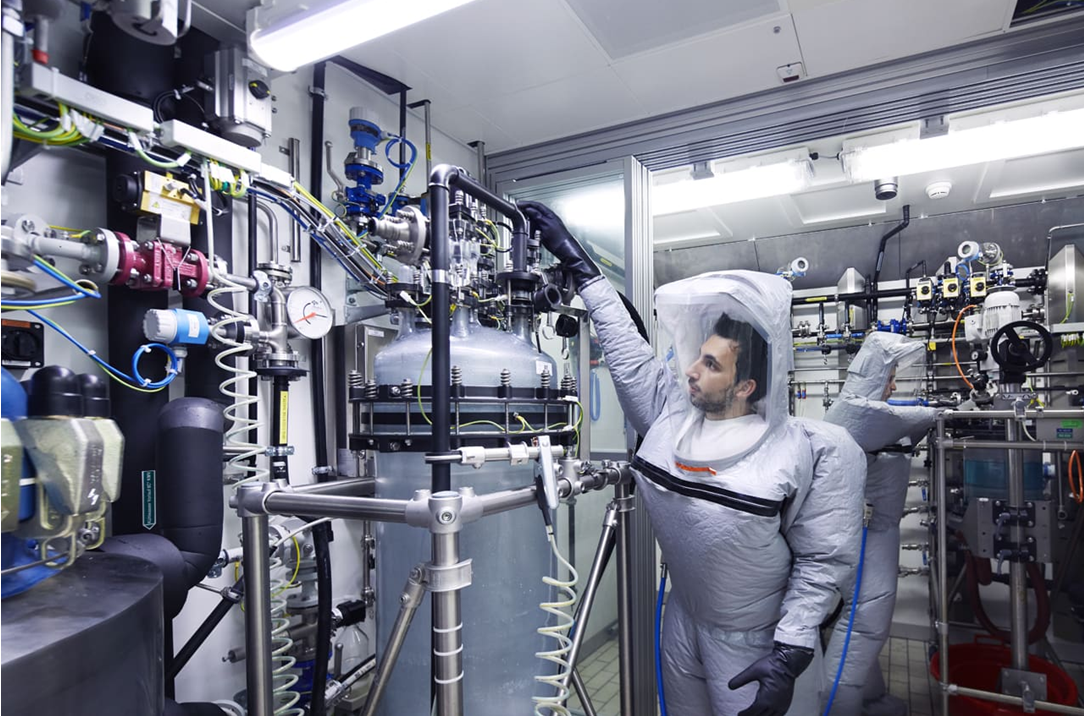 Bachem Bubendorf is one of Europe's largest peptide and oligonucleotide production facilities, developing and manufacturing peptide new chemical entities (NCEs), oligonucleotide NCEs, commercial APIs, research and specialty products, as well as offering a range of peptide API services and capabilities.