---
Spotlight on Medelpharm STYL'One Evolution at International Granulation Workshop
---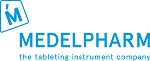 Press Release | MEDELPHARM S.A.S
JUNE 19, 2019
Beynost, France: – Research-based manufacturer and powder compaction specialists Medelpharm S.A.S. will join the discussion on latest trends in granulation and agglomeration at the upcoming International Granulation Workshop staged by the UK's University of Sheffield in Lausanne, Switzerland.
Medelpharm, who also attended the previous workshop in 2017 in Sheffield, will be a prominent presence at the 2019 workshop with its industry leading tablet compaction simulation technologies.
Estimating nip angle
Its STYL'One Evolution research-based tableting machine is at the center of a poster presentation by PhD student Hannah Lou Keizer and Prof. Dr. Peter Kleinebudde from Heinrich-Heine-University Düsseldorf, discussing using the STYL'One Evolution's advanced features and ANALIS software to estimate nip angle by roll compaction simulation.
"This method of mimicking roll compaction on a STYL'One Evolution Compaction simulator provides a promising new and simple approach to estimate the nip angle of a material or formulation," said Prof. Kleinebudde, from the University's Institute of Pharmaceutics and Biopharmaceutics.
Powder properties in roll compaction
"Moreover, this method seems to allow researchers and developers to quantify more accurately general powder properties and behavior during roll compaction," added Hannah Keizer.
Medelpharm's Corporate Business Development & Communication Director, Ingrid Coyle, commented:
"We are looking forward to returning to the International Granulation Workshop, which we have found provides a very valuable forum for discussing and reflecting on the latest trends in the field of dry granulation and agglomeration technology in the pharma industry and academia."
9th International Granulation Workshop
The biennial IGW granulation conference is designed to showcase the latest in agglomeration, granulation and particle technologies, attracting delegates from universities and industry worldwide.
The 9th International Granulation Workshop (IGW 2019) is three-day event opening June 26 at Lausanne Palace in Switzerland with the final day taking place at the Nestlé Research Center at Vers-chez-les-Blanc.
The event is organized by University of Sheffield with further information at
https://www.sheffield.ac.uk/agglom/2019/index
About Medelpharm
Medelpharm is an international enterprise, located in Lyon, making available the most powerful, still easy-to-use R&D tableting presses like STYLCAM and STYL'One to every formulator and development scientist.
You are looking for assistance in API and excipient characterization, solid dosage formulation or production trouble shooting? Please come and visit our powder characterization laboratory in Lyon.
Medelpharm offers a comprehensive portfolio of Mechanical Compaction simulators, Multifunction R&D Tablet Presses, and Process equipment and extensive Services in tableting, granulation and coating.
Made by people for people.
Website link: www.medelpharm.com – contact@medelpharm.com
Media Contact
Ingrid Coyle, Corporate Business Development & Communication Director, MEDELPHARM S.A.S.
Tel: +33 610 50 79 55 or +33 478 9762 10
Email: icoyle@medelpharm.com
Resources
Click on Medelpharm at IGW 2019 for other information.
Click on MEDELPHARM to contact the company directly.
Click on Styl'One Evolution for video.
---
Supplier Information
Supplier: MEDELPHARM S.A.S
Address: 12, rue des Petites Combes, Z.I. Nord, F-01700 Beynost, France
Tel: +33 478 976 213
Fax: +33 478 881 865
Website: www.medelpharm.com
---