Contact Supplier
Contact Supplier
To get in touch with Sofrigam Elite Cubic Parcel Shippers, simply fill out the form below.
Sofrigam Elite Cubic Parcel Shippers
Sofrigam has developed the Elite Cubic Parcel Shipper as a 'peace of mind' solution for secured cold chain applications, delivering stable temperature maintenance for up to 168 hours, even when being transported through extreme climate zones.
The Elite Cubic Parcel Shipper is a reusable mono-configuration solution (see Resources), which is prepared in the same way whatever the external logistical profile (climate or route). This helps to limit total cost of package and total cost of ownership (TCP/TCO), despite the more expensive materials involved. It also reduces risk where extreme climatic conditions or logistical circuit uncertainties apply.
Elite Cubic Features
Elite Cubic is an ultra-high performance insulated box incorporating two high performance insulating materials: polyurethane and Vacuum Insulated Panels (VIPs), using the latest generation of cool packs.
These materials are three to five times more thermally efficient than traditional insulated packaging solutions. They thus offer perfectly stable temperature maintenance in the range +2°C to +8°C for up to 168 hours, even in extreme transport conditions.
The volume of the Elite Cubic temperature-controlled packaging is perfectly optimized to maximize shipping efficiency for pharma products with an optimised ratio between volume and weight.
Furthermore, preparation of Elite Cubic boxes is designed to be as quick and simple as possible to enhance efficiencies across the logistics cool chain. The use of a mono-configuration universal pack preparation protocol reduces labor and complexity, with loading protocol provided as part of the packaging solution to avoid any risk of error.
The closure system of the Elite Cubic can be sealed to provide tamper evident security for the packaging during transport.
Like all Sofrigam insulated packaging solutions, the Elite Cubic parcel shippers have undergone thermal efficiency tests carried out by the Ater Métrologie laboratory to validate their efficiency. Qualified according to the international standard ISTA 7D logistics profile, the Elite Cubic boxes comply with the Good Distribution Practices for health products shipped under the cold chain.
Elite Cubic Benefits
Durable and reusable, Elite Cubic parcel shippers offer very robust and secure temperature controlled packaging with the lowest cost per use on the market. These head an impressive set of tangible user benefits:
Stable temperature maintenance for up to 168 hours
Reusable parcel shipper format
Universal packout configuration
Facilitate logistics of pharmaceutical products
Control costs
High security while minimizing risk
The Elite Cubic parcel range all qualify for Sofrigam's So-Re-Use Program that supports customers in their environmental and sustainability programs by enabling maximum reuse and recycling.
Technical Specifications
| Feature | Specification |
| --- | --- |
| Temperature ranges: | +2/+8°C, +15/+25°C, -18°C |
| Duration: | up to 168 hours |
| Available volumes: | 5L, 12L, 21L, 34L |
| Insulation: | rigid polyurethane panels and very high density VIP |
| Outer packaging: | robust cardboard with polypropylene coating |
| Cold source: | Latest generation cool packs |
| Opening/closure system: | Top loading via sealable flaps |
| Qualification: | ISTA 7D |
Resources
Click on Mono-configuration packaging for further information.
Click on Elite Cubic Parcel Shipper to download brochure.
Click on Sofrigam advice for expert help.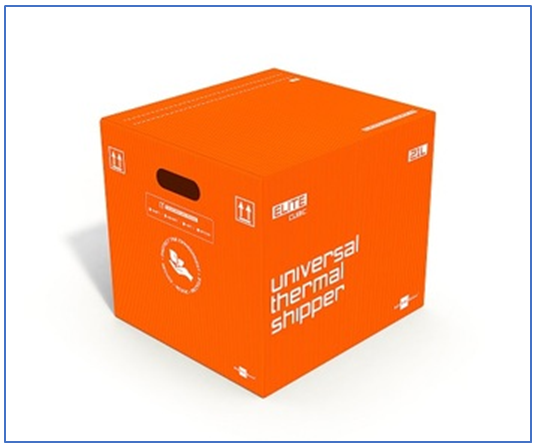 Sofrigam Elite Cubic Parcel Shipper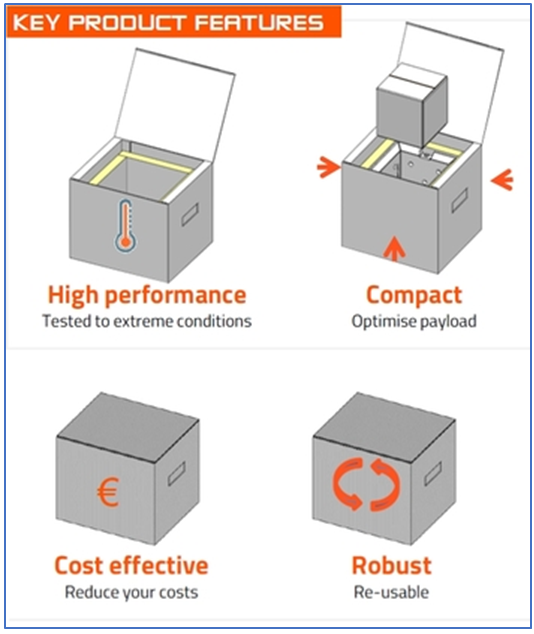 Elite Cubic solution offers powerful user benefits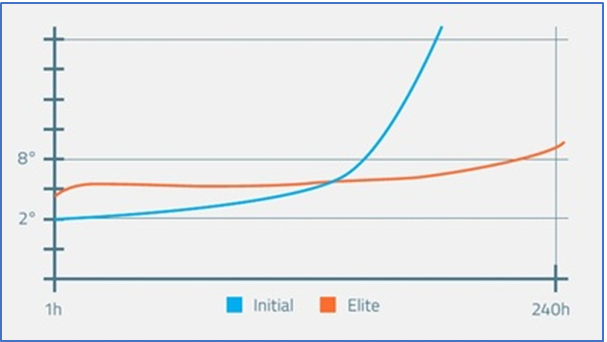 Comparison of thermal performances between an Elite Cubic parcel shipper and an Initial cold chain packaging for a shipping under +2/+8°C.

Elite Cubic parcel shipper comprises a range of four different formats