Contact Supplier
Contact Supplier
To get in touch with Skyepharma Production S.A.S., simply fill out the form below.
Skyepharma to co-host Microfluidics® webinar
Saint-Quentin-Fallavier, France: – Fully-formed contract development and manufacturing organisation (CDMO) Skyepharma Productions S.A.S. (Skyepharma), will co-host a webinar featuring bioavailability advantages of the revolutionary Microfluidizer® technology for particle size reduction.
The one-hour webinar, to be held January 27, 2022, will explore basic Microfluidics' Microfluidizer® processor technology and its use in pharmaceutical applications, including increasing the bioavailability of challenging active pharmaceutical ingredients (APIs) in oral solid dosage (OSD) forms.
Meeting bioavailability challenges
Skyepharma will present the webinar in collaboration with the US-based Microfluidics® International Corporation, which manufactures Microfluidizer® high-shear fluid processors, currently used in Skyepharma's advanced production facility to develop enhanced oral drugs without need for solvents.
Many factors limit the effectiveness of oral treatments, including the poor bioavailability of some Active Pharmaceutical Ingredients (API). It is estimated that ~60% of new chemical entities belong to the biopharmaceutical class of molecules with low water solubility (BCS classes IV and II). Considering these issues, particle size reduction and nanoencapsulation have become innovative strategies to improve API oral bioavailabilty, through solubility, stability and permeability enhancement, drug release control, limitation of food effect as well as hepatic first pass effects.
Microfluidizer® Technology
Lipid nanovectors produced by Microfluidizer® technology present a more promising approach to oral administration of APIs. Due to their lipidic nature they allow efficient encapsulation of low soluble APIs in digestive fluids and the significant improvement of passage into the bloodstream, thanks to their surface properties, thus leading to increased concentration of API at its optimal site of action. Studies have thus been able to show the improvement in the effectiveness of APIs administered in the form of oral lipid nanoparticles for antiviral, anticancer and antibiotic or antihypertensive treatments (see Resources).
Microfluidizer® technology is a dynamic high-pressure process that passes two liquid streams, in solution or suspension, through micro-channels into an impingement area where the fluids flow and interact. The obtained liquid solution or liquid suspension is then spray dried to remove solvents and produce a dried nanoparticulate system suitable for oral administration.
The technology excels in particle size reduction, cell disruption, emulsions and dispersions and can be used either to emulsify liquid-liquid systems, physically dispersing one liquid into another, or to deagglomerate and disperse solids in liquids.
Pharma applications
The webinar will explain how Microfluidizer® technology and a solvent-free manufacturing process can help solve bioavailability issues and is particularly suitable for industrial transposition. It will present two technologies (IDD-Dissocube and lipidic nanoencapsulation) through case studies.
Skyepharma will be represented at the online session by Pharmaceutical Project Manager Dr. Vanessa Bourgeaux, who has led the Microfluidizer® innovation, while Microfluidics Applications engineer Christopher Jaquin will explain the technology.
Also taking part will be Oksana Lemasson, a Ph.D. student at Lyon University's Laboratory of Automatic Control, Chemical and Pharmaceutical Engineering (LAGEPP), whose team led by Professor Stéphanie Briançon has world-recognized expertise in the field of nanomedicines, the design of innovative drug delivery and encapsulation systems, associating physico-chemical aspects and advanced processes. Oksana will present progress from the NanoMicS research collaboration in which Skyepharma is a partner.
About Skyepharma Production
Skyepharma Production S.A.S. (Skyepharma) is a specialist CDMO with particular expertise and capabilities in oral solid dosage forms, being a key player in drug development and delivery of oral technologies serving the global pharmaceutical, biotech and consumer health industries.
As an integrated CDMO, the company's vision is to help solve healthcare industry complexity with a mission to provide a dedicated and results-oriented team to deliver advanced oral dosage services to the healthcare industry through state-of-the-art facilities, scientific expertise and open, transparent relationships. All of this is summed up in its strapline: 'Expert and Agile CDMO partner for tailor-made solutions'.
The Skyepharma CDMO offer in solid oral dosage formats encompasses the whole value chain, including Formulation Development & Process Design, Analytical Development, Scale-up, Manufacturing, Packaging, Serialisation and Aggregation.
Skyepharma also provides a range of support services that help client companies from early stage development (up to phase III), through scale-up and full commercial manufacturing and packaging to market introduction, including controlled substance handling, QbD methodology (FMEA, FTA, DOE), Troubleshooting, regulatory services, validation, registration and warehousing services.
Learn more at: www.skyepharma.fr
About Microfluidics®
Microfluidics is a part of IDEX Corporation and a member of its IDEX MPT Material Processing Technologies division.  The Massachusetts-based Microfluidics International Corporation is a global industry leader in the design and production of laboratory and commercial processing equipment used in the manufacturing of micro- and nano-scale materials for pharmaceutical, biotech, chemical and diverse industries.
It is the manufacturer of Microfluidizer® high-shear fluid processors, whose technology enables some of the world's top companies to create superior products and which set the standard for nanoemulsion and nanoparticle applications.
All process equipment, solutions and support provided by the IDEX MPT division, which also includes Fitzpatrick, Matcon, Quadro and Steridose, is optimised to meet the unique needs of individual customers.
Further information at: https://www.microfluidics-mpt.com
Resources
Click on Innovative solvent-free technology for oral bioavailability enhancement to register for the webinar.
Click on How Skyepharma can help you improve the bioavailability of your APIs by using Microfluidizer® Technology for more information.
Click on Triglide™ for example of Microfluidizer® drug application.
Click on Nanostructured Lipid Carriers for Delivery of Chemotherapeutics: A Review for relevant study.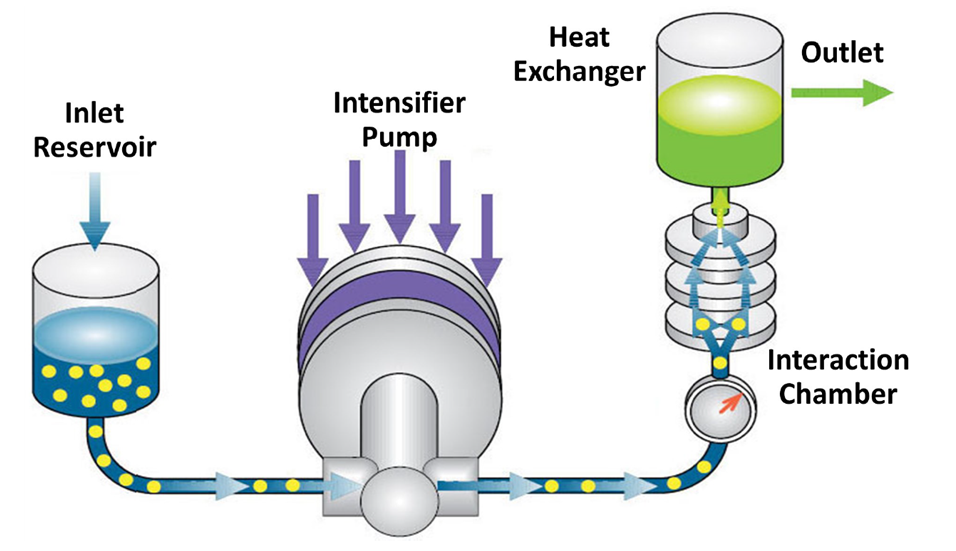 Basic Microfluidizer® process: sample is poured into inlet reservoir and subjected to suction and compression through intensifier pump which first aspirates the fluid, thanks to a one-way valve, before pushing sample through interaction chamber and jacketed cooling coil/heat exchanger to be cooled, ready for collection. (Source: Microfluidics®, Poster AAPS 2015, number W5343).
View Articles by Skyepharma Production S.A.S.