---
Neyret Group showcasing latest high-speed assembly solutions at Pharmapack 2020
---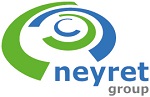 Press Release | Neyret Group
JANUARY 27, 2020
Chaponost, France: –Neyret Group, the leading manufacturer of customized automatic assembly and test machinery for the medical and life sciences industries, will again be a leading presence at the annual Pharmapack Expo in Paris.
The Neyret Group stand at Booth F8 in Hall 7.2 at the Port de Versailles exhibition center will feature large screen displays for videos of its latest solutions for high speed and automated assembly and inspection of pharmaceutical components and medical devices.
Key technologies
"Pharmapack brings together leading actors of the pharmaceutical industry for the drug delivery & packaging sector in which Neyret Group is now recognized for its strong expertise, mastery of key technologies and processes and its constant innovations," commented Sales Director Pascal Vansse, who will be a key member of the dedicated and skilled Neyret team in Paris.
"Neyret Group will the 2020 Expo to share news and insights on our continuing international development, which includes increased export turnover, evolution of even more responsive technical local support, the addition of a Chinese subsidiary and plans to direct presence in the USA," Mr. Vansse explained.
Complex product capabilities
"For worldwide companies looking for a customized assembly designer and manufacturer, such as medical & pharmaceutical laboratories and contract manufacturers, we can deliver industry-leading knowhow, experience, references, support for validation and capabilities to conduct international projects. These include customized training and production assistance, along with core competencies and expertise to handle the most complex products," said Mr. Vansse.
Neyret Group has a well-established relationship with Pharmapack, with continuous attendance dating back to before 2007. It has already confirmed it will attend the 2021 Expo.
About Neyret Group
French-based Neyret Group (Neyret) is a leading manufacturer of customized automatic assembly and test machinery for the medical and life sciences industries.
The company designs, builds, installs and tunes indexed motion and continuous motion assembly, test and print machines that are fully customized to customer's ideal requirements.
Neyret employs some 200 people at two production sites; Société Guy Neyret producing indexed machines in Chaponost, near Lyon, and LAGNIEL, producing continuous motion machines in Douvres-la-Délivrande near Caen, Normandy.
In the pharmaceutical and medical sectors, Neyret Group offers fully customized "turnkey" assembly platforms that bring together indexed and continuous motion systems, robotics, check and test systems and industrial vision checking systems.
About Pharmapack 2020
Pharmapack Europe is the leading European conference and exhibition in the field of pharmaceutical packaging and drug delivery systems, showcasing major trends in the sector, both in terms of emerging markets and technological innovation.
The 19th Pharmapack Europe is a two-day event opening February 5, 2020, at Paris Expo, Porte de Versailles, expected to attract more than 5,500 visitors and 400 exhibitors from around 70 countries.
Pharmapack Europe 2020 will again combine an industry exhibition with a full conference and technical symposium program, along with the Pharmapack Awards recognizing outstanding achievements in two categories: innovative Health Products and Exhibitor Innovation, recognizing outstanding products or displays from the exhibition floor.
The event is organized by Informa Markets, with further information at: www.pharmapackeurope.com
Media Contact
Marie-Elisabeth Groult, Marketing & Communication Manager, Neyret Group
Tel :+33 231 361 043
Email: me.groult@neyretgroup.com
Resources
Click on Neyret Group at Pharmapack 2020 for other information.
Click on Neyret Group to contact the company directly.
Click on High speed assembly and test machines for more on Neyret Group solutions.
---
Supplier Information
Supplier: Neyret Group
Address: 9 rue Jules Verne, 69630 Chaponost, France
Tel: +33 (0) 472 163 224
Fax: +33 (0) 478 561 466
Website: www.neyretgroup.com
---