---
Neyret Group goes live with new website
---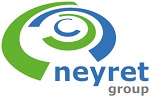 Press Release | Neyret Group
AUGUST 07, 2019
Chaponost, France: – Neyret Group (NG), the leading manufacturer of customized automatic assembly and test machinery for the medical and life sciences industries, has transformed its online presence with the rollout of a redesigned and re-engineered website.
Reinforcing a program of expansion and advances, the new group website went live earlier this month at www.neyretgroup.com. It also underlines the consolidated group identity created from the merger of Lagniel SAS, Société Guy Neyret and Société de Mécanique et d'Outillage de Précision (S.M.O.P.), incorporating the group's new visual identity, brand guidelines and logo.
International audience
Reflecting the expanded worldwide audience for NG's sophisticated and high performance assembly & test solutions, the site now supports browsing in five languages: French, English, German, Spanish and Mandarin Chinese.
"We wanted to meet the higher complexity needs of our customers with more detailed information, easier navigation and a more immersive and intuitive browsing experience," commented Neyret Group Communication and Marketing Manager , Marie-Elisabeth Groult, who played a leading role in the project.
International audience
"The development of our group identity reinforces our position on our market with our internal and external developments and our website has been re-engineered and re-designed to give this evolution new form," said Ms. Groult.
The site redesign includes banner animation, up-to-date images and direct links to videos of latest innovations, along with expanded content to provide greater detail and technical explanations.
It provides direct top line access to corporate information, indexed and continuous motion technologies, products, services, application support and contact by email, online form, phone and post.
Social media
NG has supported the launch of the new website with a co-ordinated social media campaign, including posts on Facebook, Google+, LinkedIn, vimeo and YouTube.
"We are reaching out to people searching for the best assembly and test equipment for their products from a supplier with strong expertise in assembly and compliance with medical and pharma standards rules, regulations, validations and qualifications," said Marie-Elisabeth Groult.
"The website supports those needs with detail on our technical and technological skills and capabilities, evidence of our ability to manage medical and pharmaceutical validations and qualifications, our worldwide presence, strong after sale service and large services portfolio, including preventive maintenance, diagnoses & improvements and installation transfer," she added.
About Neyret Group
French-based Neyret Group (Neyret) is a leading manufacturer of customized automatic assembly and test machinery for the medical and life sciences industries.
The company designs, builds, installs and tunes indexed motion and continuous motion assembly, test and print machines that are fully customized to customer's ideal requirements.
Neyret employs some 200 people at two production sites; Société Guy Neyret producing indexed machines in Chaponost, near Lyon, and LAGNIEL, producing continuous motion machines in Douvres-la-Délivrande near Caen, Normandy.
In the pharmaceutical and medical sectors, Neyret Group offers fully customized "turnkey" assembly platforms that bring together indexed and continuous motion systems, robotics, check and test systems and industrial vision checking systems.
Media Contact
Marie-Elisabeth Groult, Marketing & Communication Manager, Neyret Group
Tel :+33 231 361 043
Email: me.groult@neyretgroup.com
Resources
Click on Neyret Group launches new website for other information.
Click on Neyret Group to contact the company directly.
Click on High speed assembly and test machines for more on Neyret Group solutions.
---
Supplier Information
Supplier: Neyret Group
Address: 9 rue Jules Verne, 69630 Chaponost, France
Tel: +33 (0) 472 163 224
Fax: +33 (0) 478 561 466
Website: www.neyretgroup.com
---