---
Neyret Group expansion program nears fulfilment in USA
---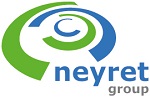 Press Release | Neyret Group
JUNE 06, 2019
Chaponost, France: – Neyret Group (NG), the leading manufacturer of customized automatic assembly and test machinery for the medical and life sciences industries, will shortly achieve its expansion aims with acquisition of a new subsidiary in the USA.
This closely follows establishment of an international subsidiary in China and will represent completion of a two-phase internal and external capacity expansion strategy that commenced in 2017.
Internal expansion
Phase One emphasized ramping up of internal production capacity, recognizing growing world demand for automatic assembly machines and increased emphasis on high quality, high volume production, modernization and productivity.
To meet these demands, Neyret Group commenced construction of a new continuous motion assembly machine production plant at its Lagniel SAS base in Normandy, increasing workshop area from 3,400 square meters to 5,900m2, with a further 4,600m2 to be added later.
The new plant features modern design and features including advanced energy-saving installations. Completed in November 2018, the new facilities began operation in February of this year.
The Internal Expansion plan also encompassed expansion of indexed motion production machines at Societe Guy Neyret (GNSA) at Chaponost, near Lyon, adding a new 1,000m2 workshop, 300m2 customer components storage and 700m2 engineering offices to the existing 5000m2 facility. Also completed last November, the new Chaponost facilities came into operation from January 2019.
External expansion
The external expansion program recognizes that USA and China form the principal markets outside Europe for automatic assembly machines, now accounting for 10% and 13% of Neyret Group sales respectively and creating ever more intense demand for local customer service and support.
NG has also identified significant gaps in local markets with the USA having many integration type machine suppliers, but few local sources for complex high speed assembly solution. Similarly China has few integrators, with locally sourced assembly at relatively low speeds of 1000-1500 pieces per hour (pph). There is rapidly increasing Chinese demand for very high quality automated and high speed productivity solutions.
Service Support technicians are now available full time for all USA, and for China, a Chinese technician was hired and will be trained in France during 1,5 year. NG is now offering virtual reality (VR) technology along with augmented reality to allow remote training and remote mechanical/programming assistance.
Chinese subsidiary
In March 2017, NG established a new company, NAAM (Changzhou) Automation Ltd. at Changzhou in Jiangsu province, some 150km west of Shanghai. Currently consisting of a 150m2 sales office, the new subsidiary is currently gaining new customers for Neyret Group assembly solutions in pharmaceutical, automotive, consumer goods and other sectors and establishing locally-based customer and service support. Over the longer term, NAAM Automation will become a design, engineering and manufacturing force in its own right.
USA plans
Given the mature market in USA for automated assembly solutions, NG decided to follow a different expansion path via acquisition or partnership with an established company with experience and skilled people. This approach will enable faster establishment of support operations for existing Neyret customers in North America, also facilitating grounding and development in the USA.
About Neyret Group
French-based Neyret Group (Neyret) is a leading manufacturer of customized automatic assembly and test machinery for the medical and life sciences industries.
The company designs, builds, installs and tunes indexed motion and continuous motion assembly, test and print machines that are fully customized to customer's ideal requirements.
Neyret employs some 200 people at two production sites; Société Guy Neyret producing indexed machines in Chaponost, near Lyon, and LAGNIEL, producing continuous motion machines in Douvres-la-Délivrande near Caen, Normandy.
In the pharmaceutical and medical sectors, Neyret Group offers fully customized "turnkey" assembly platforms that bring together indexed and continuous motion systems, robotics, check and test systems and industrial vision checking systems.
Media Contact
Marie-Elisabeth Groult, Marketing & Communication Manager, Neyret Group
Tel :+33 231 361 043
Email: me.groult@neyretgroup.com
Resources
Click on Neyret Group Expansion Program for other information.
Click on Neyret Group to contact the company directly.
Click on High speed assembly and test machines for more on Neyret Group solutions.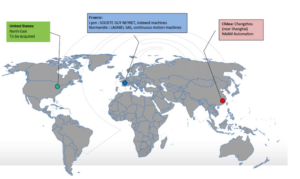 ---
Supplier Information
Supplier: Neyret Group
Address: 9 rue Jules Verne, 69630 Chaponost, France
Tel: +33 (0) 472 163 224
Fax: +33 (0) 478 561 466
Website: www.neyretgroup.com
---