---
New Mikron Automation Platform has Received its First Order
---

Press Release | Mikron Automation
APRIL 25, 2019
Denver, USA: – The last ATX West trade show (USA) in Anaheim, CA, was the place to be to see the latest assembly platform developed by Mikron Corporation Denver. The new solution received a lot of attention and positive feedback from visitors.
The new Mikron platform is based on standard building blocks from Mikron's proven platform library. It is part of a range of modular solutions which includes automatic and semi-automatic solutions with rotary, servo or robotic units. The new Mikron solution is perfect for assembling new devices for laboratory trials or for low-volume production.
This successful launch turned into a real story: The first project based on this platform has been ordered by a new US customer operating in the Pharma/Medtech industry. "This initial success shows that by increasing our product portfolio, we are meeting the needs of customers for more agility, flexibility and reusable solutions", said Mike Gunner, General Manager of Mikron Corporation Denver.
Brief profile of Mikron Automation
Mikron Corporation Denver is part of the Swiss division Mikron Automation. Mikron Automation is headquartered in Boudry (Neuchâtel), in a region that is regarded as the heart of the Swiss watchmaking industry. To date, Mikron Automation has installed more than 3,500 assembly and testing systems worldwide. Its international customers operate in the following industries: pharma/medtech, automotive supply, electrical/electronics, consumer goods and construction/building. Mikron Automation employs around 650 people at its sites in Boudry (Switzerland, headquarters), Berlin (Germany), Denver (USA), Singapore and Shanghai (China). Mikron Automation is the partner for scalable and customized assembly systems – from the first idea to the highest performance solutions.
Mikron® and G05™ are trademarks of Mikron Holding AG, Biel (Switzerland).
Media Contacts
Mike Gunner, General Manager, Mikron Corporation Denver
Tel: +1 303 364-5222
Email: sales.mde@mikron.com
Resources
Click on New Mikron Automation Platform has Received its First Order for other information.
Click on Mikron Automation to contact the company directly.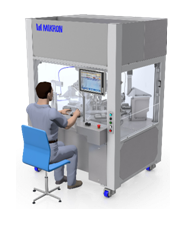 ---
Supplier Information
Supplier: Mikron Automation
Address: Mikron Automation, Switzerland
Website: www.mikron.com/automation
---