Contact Supplier
Contact Supplier
To get in touch with Mikron to attend inaugural MedtecLIVE medical technologies trade fair in Nuremberg, simply fill out the form below.
Mikron to attend inaugural MedtecLIVE medical technologies trade fair in Nuremberg
Biel, Switzerland: – Medical assembly process specialist Mikron Automation will present its innovative manufacturing processes and platforms as an exhibitor at next month's inaugural MedTecLIVE combined medical technologies expo and conference in Nuremberg.
The Mikron Automation stand at Booth 648 in Hall 9 of the Exhibition Center, Nuremberg, will use high quality interactive 'big touch screen' displays to showcase its advanced automated assembly platforms and its expertise in development and integration of manufacturing processes.
Assembly specialists
Mikron will send a full team of product specialists to the event, who will be on stand to answer visitor queries.
"We had a very well-established relationship with the predecessor event, Medtec Europe in Stuttgart, and so we are excited about attending this inaugural MedtecLIVE expo," commented Jean-François Bauer, Head of Marketing and Business Development.
"As a key player in the medical devices industry, we decided to be present to welcome this new event together and be present for our customers and potential customers, too," he added.
New trends in medical devices
"We are looking to reach an audience involved in the development or the production of all types of disposable medical devices and also looking at innovative solutions for the assembly of advanced devices such as POCT, molecular diagnostic devices, patch pumps or connected devices," said Mr. Bauer.
Mikron's appearance at Medtec LIVE will closely coincide with final release of 2018 Mikron Group results showing significant year-on-year increases in incoming orders and net sales growth of 26.8%, with Mikron Automation orders up almost 60%.
About Mikron Automation
Mikron Automation is the partner for scalable and customized assembly systems – from the first idea to the highest performance solutions.
The Automation division has over 650 employees dedicated to design and build your systems at its sites in Switzerland, Germany, USA, Singapore and China and support you wherever you are in the world.
To date, Mikron Automation has installed more than 3500 assembly and testing systems ranging from manual stations to pilot lines and up to fully automatic lines with production outputs from 4 to 400 parts/min. The company has vast pharmaceutical assembly system expertise, offering full qualification support in accordance with FDA, GMP and GAMP 5 – from design to delivery.
About MedtecLIVE 2019
MedtecLIVE is a new trade fair for medical technology that combines two previous events, Medtec Europe and MT-CONNECT.
Together, they will form a leading event for the medical technology sector with distinct focus on the entire supply chain, from prototypes to production and downstream processes. The extended range of products on display will also cover areas like raw materials and components, services such as approval management and financing, and downstream processes such as packaging.
The co-located international MedTech Summit congress is one of the top meetings of the healthcare sector, established over a decade as a forum for medical technology to meet innovation and trailblazing technologies, exchanging scientific and market-specific insights into cross-technology approaches, industry trends and processes.
MedtecLIVE is a three-day event, opening May 21 at the Exhibition Centre, Nuremberg, in Southern Germany.
The event is organised by MedtecLIVE GmbH, a joint venture of NürnbergMesse and UBM with further information at: https://medteclive.com/en
Resources
Click on Video to see latest Mikron group presentation.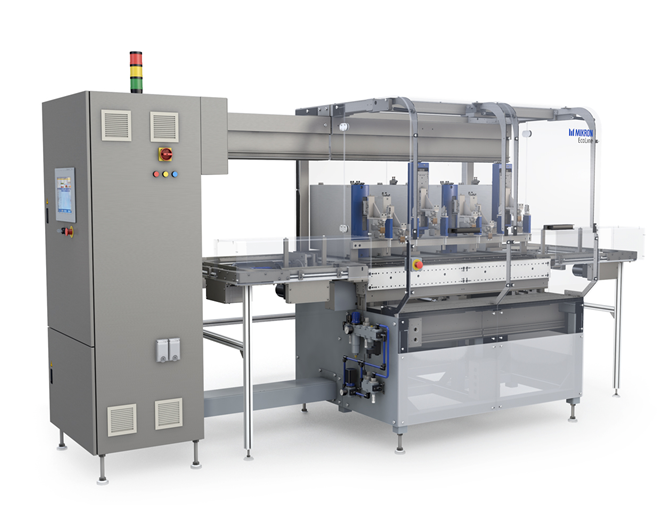 Mikron Automation EcoLine™ linear assembly cell, featuring new touchscreen human machine interface (HMI)