---
Mikron reports solid growth for 2018
---

Press Release | Mikron Automation
FEBRUARY 27, 2019
Biel, Switzerland: – Medical assembly process specialist Mikron Automation's parent Mikron Group has released preliminary results showing significant increases in orders and sales growth of almost 27% during 2018.
According to provisional closing figures, Mikron Group achieved a significant year-on-year increases in incoming orders and net sales growth of 26.8%, with Mikron Automation orders up almost 60%.
Sales growth was driven by both Mikron business segments, Machining Solutions and Automation, while all Group operations profited a generally stable market environment, with most customers' production systems running at high capacity utilization levels during 2018, driving increased demand for tools and services.
Record orders
During the 2018 financial year, group orders increased by 29.9% to reach a record level of CHF 362.3 million (USD 365m) by December 31, 2018, compared with CHF 278.9m (USD 281m) at end of 2017. The Group also began 2019 with a record order backlog of CHF 195.7m (USD 197.2m) at year end compared with CHF 157.2 m (USD 158.4m) at the same point in 2018.
Mikron Automation reported incoming orders of CHF 200.9 million (USD 202.2m)in 2018, an increase of 59.4% compared with 2017. Following solid order intake in the first half, the Automation segment won a number of large orders in the second half, some of which will generate sales into 2020. The Mikron Group is not expecting to attract the same volume of new large orders in 2019. The Machining Solutions segment recorded an increase in order intake from CHF 152.9 million (USD 153.9m) in 2017 to CHF 162.2 million (USD 163.3m) in 2018.
Sales and profits
With annual sales of CHF 315.2 million (USD 158.4m), the Mikron Group exceeded the previous year's result (CHF 248.5 million) by 26.8%. Mikron Machining Solutions lifted sales by 29.6% from CHF 124.1 million in 2017 to CHF 160.8 million (USD 161.9m) in 2018, while the Automation business segment posted 24.5% growth from CHF 124.6 million to 155.2 million (USD 158.4m).
Based on the provisional figures, Mikron is confirming its previous profitability expectations for the 2018 financial year. The Group is anticipating an EBIT margin exceeding 4% (2017: 1.1%). Both business segments contributed to driving the improvement in profitability.
Net results
The Mikron Group board commented: "Given the improved operating results reported by subsidiaries, the Mikron Group expects to utilize and capitalize tax loss carryforwards and so reduce the tax rate in the 2018 financial year. On the basis of the provisional closing figures, the Mikron Group is looking to achieve a net result in the vicinity of CHF 12 million (USD 12.1m) for 2018, compared with CHF 1.2 million for 2017."
Mikron will announce the Group's detailed closing figures for 2018 at the Media and Analyst Conference in Zurich on March 20, 2019.
About Mikron Automation
Mikron Automation is the partner for scalable and customized assembly systems – from the first idea to the highest performance solutions.
The Automation division has over 650 employees dedicated to design and build your systems at its sites in Switzerland, Germany, USA, Singapore and China and support you wherever you are in the world.
To date, Mikron Automation has installed more than 3500 assembly and testing systems ranging from manual stations to pilot lines and up to fully automatic lines with production outputs from 4 to 400 parts/min. The company has vast pharmaceutical assembly system expertise, offering full qualification support in accordance with FDA, GMP and GAMP 5 – from design to delivery.
Media Contacts
Jean-François Bauer, Head of Marketing & Business Development, Mikron Automation
Tel: +41 32 843 11 11
Email: Jeanfrancois.bauer@mikron.com
Resources
Click on Mikron reports solid growth for 2018 for more information.
Click on Mikron Automation to contact the company directly.
Click on videoto see latest Mikron group presentation.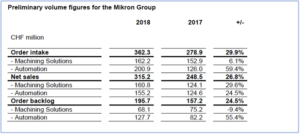 ---
Supplier Information
Supplier: Mikron Automation
Address: Mikron Automation, Switzerland
Website: www.mikron.com/automation
---