---
Mikron Automation expands its apprenticeship program in the field of multi-skilled mechanics
---

Press Release | Mikron Automation
SEPTEMBER 22, 2017
Boudry, Switzerland: – For the second year at Mikron SA Boudry, ten young apprentices have started their four-year vocational training as multi-skilled mechanics, bringing the total to 34 apprentices. The training of multi-skilled mechanics is a tradition at Mikron.
For more than 35 years, Mikron SA Boudry has had its own education center with an apprentice instructor. In 2014, the management decided that this education should be a strategic pillar at the company, and opted for an ambitious program to ramp up from 16 to 40 apprentices. Up to 2014, the center accommodated four apprentices per year, making a total of 16. To ensure the best environment, a second full-time instructor has been hired to mentor the apprentices.
About Mikron Automation
Mikron Automation, a division of the Mikron Group, is one of the world's leading manufacturers of customized, highly productive automation solutions for the assembly and testing of complex products. The division guarantees customers fast, professional service and support.
Media Contacts
Jean-François Bauer, Head of Marketing & Business Development, Mikron Automation
Tel: +41 32 843 12 63
Email: jeanfrancois.bauer@mikron.com
Resources
Click on Mikron Automation expands its apprenticeship program for more information.
Click on Mikron Automation to contact the company directly.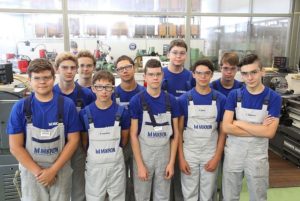 ---
Supplier Information
Supplier: Mikron Automation
Address: Mikron Automation, Switzerland
Website: www.mikron.com/automation
---