Contact Supplier
Contact Supplier
To get in touch with MEGGLE Excipients, simply fill out the form below.
MEGGLE FlowLac® spray-dried lactose grades
MEGGLE has developed the FlowLac® range of spray-dried lactose to meet pharma industry's need for superior excipients to support Direct Compression (DC) tablet manufacturing.
The distinctive advantages of FlowLac® are its superior compatibility and flowability, thanks to its highly spherical particle form and narrow PSD size distribution, making it an ideal fit for DC formulations.
FlowLac® applications
Direct compression (DC) tablet manufacture is a popular choice in providing the least complex and most cost-effective approaches to pharmaceutical and nutraceutical tablet production compared to other manufacturing approaches. It allows manufacturers to blend APIs with excipients and compress, making dosage forms simple to produce (Meeus, 2011 & Minea et al., 2011).
DC technology and the use of modern tableting equipment require that excipients and APIs form a compactable mixture with excellent flowability and low particle segregation tendency (Kristensen & Schaefer, 1987).
In the pharmaceutical industry, lactose is one of the most used excipients. However, like many other excipients, lactose may require modification for DC applications to enhance its powder flow and/or compaction properties.
MEGGLE was a pioneer in the introduction of spray-dried lactose that opened new changed tablet manufacturing processes and increased direct compression tableting possibilities (Gohel & Jogani, 2005). MEGGLE became an industry leader in spray-dried lactose excipients with the success of the FlowLac® brand.
Apart from DC formulations, FlowLac® can be used for continuous manufacturing and for capsule and sachet filling based on superior flowability and low fines and dust content.
FlowLac® features
FlowLac® is produced by spray-drying a suspension of alpha-lactose monohydrate. When lactose is spray-dried, the rapid water evaporation causes formation of amorphous lactose (Roos, 2002). Most commercially available, spray-dried lactose products contain 10 to 15 % amorphous lactose at the time of manufacture, depending on the solids content and process conditions.
Compared to crystalline alpha-lactose monohydrate, FlowLac® shows superior compactibility. Unlike alpha-lactose monohydrate and anhydrous beta-lactose, which are known to exhibit brittle fracture during compaction, amorphous lactose deforms in a plastic way, acting synergistically with the brittle nature of amorphous and crystalline forms to enhance overall compatibility (Ruangchayajatuporn et al., 2011).
Other benefits include superior flowability, rapid disintegration times, high tensile strength even at low solid fraction, and low strain rate sensitivity. These characteristics also make FlowLac® an ideal candidate for high speed tableting.
Minimum shelf life before need for retest -is 18 months in 25 kg Paper bag with PE-EVOH-PE Inliner or 24 months in 25 kg Carton box with aluminum inliner.
FlowLac® range
There are two FlowLac® grades:
FlowLac® 100 is the standard grade for spray-dried lactose, providing excellent flowability and extraordinary compactibility compared to other lactose grades.
FlowLac® 90 was developed to provide even greater compactibility compared to FlowLac® 100 by optimizing the amorphous lactose content. In addition, the particle size distribution makes FlowLac® 90 virtually dust-free.
Both products are produced by spray-drying a suspension of alpha-lactose monohydrate. When lactose in solution is spray-dried, a rapid removal of water is taking place, whereby amorphous, non-crystalline lactose is formed in addition to crystalline lactose. Based on the amorphous content, kept on a stable level, superior non-varying tableting properties can be achieved.
Due to the spray-drying process, FlowLac® has a spherical agglomerate shape, consisting of small alpha-lactose monohydrate crystals bound by amorphous lactose. Specified typical PSD sieve data are tabulated and illustrated below: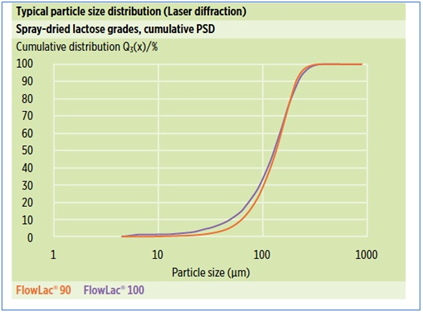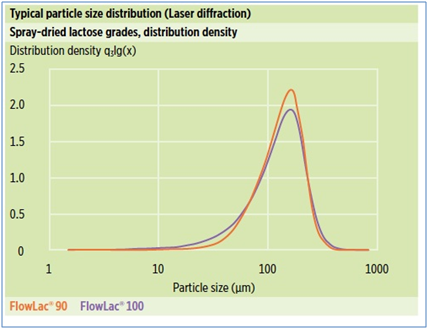 Quality & Certification
MEGGLE's FlowLac® spray dried alpha-lactose monohydrate grades comply with the current harmonized Ph.Eur., USP-NF and JP monographs. FlowLac® 90 FlowLac® 100 both exceed the specifications defined in NF standard, published by UPS, along with Ph. Eur. and JP.
Additionally, MEGGLE is a member of IPEC (International Pharmaceutical Excipients Council).
The pharma-dedicated MEGGLE production facility in Wasserburg, Germany is certified according to DIN ISO 9001 and has implemented GMP according to the Joint IPEC-PQG Good Manufacturing Practices Guide for Pharmaceutical Excipients and USP General Information Chapter <1078>.
MEGGLE invests considerably in raw material resource sustainability, production standards and efficiency and is actively engaged in environmental protection. Lactose meeting pharmaceutical standards is our first priority.
References
Meeus, L. (2011, March 7).Direct Compression Versus Granulation. PharmTech. https://www.pharmtech.com/view/direct-compression-versus-granulation
‌ Minea, L. A., Mehta, R., Kallam, M., Farina, J. A., & Deorkar, N. (2011). Evaluation and Characteristics of a New Direct Compression Performance Excipient.Pharmaceutical Technology, 35(3). https://www.pharmtech.com/view/evaluation-and-characteristics-new-direct-compression-performance-excipient
Kristensen, H. G., & Schaefer, T. (1987). Granulation: A Review on Pharmaceutical Wet-Granulation.Drug Development and Industrial Pharmacy, 13(4-5), 803–872. https://doi.org/10.3109/03639048709105217
‌ Gohel, M. C., & Jogani, P. D. (2005). A review of co-processed directly compressible excipients. Journal of Pharmacy & Pharmaceutical Sciences: A Publication of the Canadian Society for Pharmaceutical Sciences, Societe Canadienne Des Sciences Pharmaceutiques, 8(1), 76–93. https://pubmed.ncbi.nlm.nih.gov/15946601/
Roos, Y. H. (2002). Importance of Glass Transition and Water Activity To Spray Drying and Stability of Dairy Powders. Le Lait, 82(4), 475–484.
Ruangchayajatuporn, J., Amornsakchai, T., Sinchaipanid, N., & Mitrevej, A. (2011). Compaction behavior and optimization of spray-dried lactose with various amorphous content.Journal of Drug Delivery Science and Technology, 21(2), 175–181. https://doi.org/10.1016/s1773-2247(11)50019-x
‌Resources
Click on MEGGLE FlowLac® 100 to for full product details.
Click on MEGGLE FlowLac® 90 to for full product details.
Click on FlowLac® 100 Quality Statement for further information.
Click on FlowLac® Technical Brochure for download.