---
Hapa Universal Label Printer – making in-house printing easy
---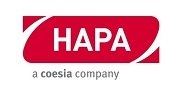 Products & Services | Hapa AG
In-house label printing
Label converters face tough regulations, market and managerial demands in producing quality products against the clock. A Hapa in-house printing system offers manufacturers the opportunity to fulfill orders directly from packaging lines while controlling production demands. It minimizes stock keeping units (SKUs) and provides greater independence from suppliers. At the same time Hapa printing systems eliminate reconciliation, obsolete products and waste.
Hapa in-house label printing solutions offer key benefits that include:
Economizing on processes
Increased production flexibility
Faster transition from concept to product
Easier Late Stage Customization
Just-in-time production flows
Universal Label Printer
An outstanding system from the broad product range is Hapa's Universal Label Printer (ULP), a fully digital UV DOD process printing system designed to print self-adhesive labels and other roll-fed web materials, including aluminium, medical paper, plastic films, laminates and Tyvek. Its combination of speed and print quality, and its unparalleled material capacity is unsurpassed.
The ULP commands inset printing a well as white printing on transparent roll-fed materials and runs pre-printed or blank materials in reel diameters up to 600 mm. The ULP meets the need for white printing and allows small batch orders to become lucrative business.
This system offers a number of attractive USPs that include:
Precision inset printing (0.02mm)
High resolution (720 x 720 dpi) for greater security
Printing in CMYK or spot color plus white and lacquer
High color brilliance and opacity – even on transparent materials
High opacity white single-pass-printing
Choice of UV drying technology (UV lamps, UV LED lamps)
Hapa label printing expertise
Label printing systems are part of Hapa's suite of printing technologies and solutions designed to maximize economies in production and minimize stock needs.
Hapa's designs and technology are informed by in-depth knowledge and long experience in printing, with specialized knowledge of pharmaceutical industry trends and market-specific regulation.
Hapa's printer functionality is enhanced by its broad range of tailor-made Hapa inks, developed in-house.
Resources
Click on Hapa printing solutions or Universal Label Printer for more information.
Click on Hapa to contact the company directly.