Contact Supplier
Contact Supplier
To get in touch with Gerteis Maschinen + Processengineering AG, simply fill out the form below.
Gerteis Macro-Pactor
The GERTEIS® flagship MACRO-PACTOR® roller compactor is designed and engineered for development and pilot projects up to full-scale production for the pharmaceutical, chemical and food industries.
MACRO-PACTOR® incorporates high quality Gerteis engineering and granulator design in a compact package designed and engineered for general pharma use, able to process trial material batches as small as 100g with easy scale-up to full production runs at up to 400 kilograms per hour.
It features constant ribbon properties, validated gap and force measurement, along with the conveyer, feed and discharge interfaces needed to support low OEL levels, under 3µg/m<sup>3</sup> in the standard version, down to less 1µg/m<sup>3</sup> OEB 5 levels with the high containment 'C' version.
MACRO-PACTOR® design and engineering
The MACRO-PACTOR® design is based on the Gerteis Dry Granulation Concept of a roller compaction process in which powder is compacted between two counter rotating rolls by applying a force, to form ribbons or flakes. Like every other Gerteis® roller compactor, MACRO-PACTOR® comprises three principle sections or sub-assemblies.
Feeding system: a series of inlet funnels and augers that convey uncompacted particles to the compaction unit and feed the powder between the rolls.
Compaction unit: where powder is compacted between two counter rotating press rollers, applying precisely defined force and a metered gap between the rollers to produce a homogenous ribbon.
Size reduction unit: a granulator rotor that mills the compacted ribbons to desired particle size.
Thus Gerteis pharma roller compactors are specifically designed to meet pharmaceutical dry granulation needs, with features that allow them process the whole range of powders and granules, even notoriously difficult ones.
For example, heat transfer to the compactor rollers is kept to an absolute minimum, which is especially crucial for fragile and heat sensitive substances. Additional roller cooling is available but is rarely needed.
With the optional wash in place (WIP) or clean in place (CIP) features, plus a range of different press roller surface designs, MACRO-PACTOR® can be very precisely tailored to provide an optimal solution for any dry granulation application while the ingenious roller compactor design ensures cleaning cycles are fast and thorough, enabling rapid switching between different batches.
MACRO-PACTOR® Versions
The MACRO-PACTOR® is available in two versions:
MACRO-PACTOR®: The 'standard' version incorporating a suite of features that make it particularly versatile between development and production use:
Small Amount Feed Funnel: For trials with small quantities
Compaction area: The Gerteis® design achieves an optimal ribbon uniformity across the roller width
Feeding System: Sophisticated controls allow the machine to handle a broad range of materials, down to bulk density as low as 0.1 g/cm<sup>3</sup>
HMI control screen: the Gerteis Human-Machine Interface 'dashboard' provides an intuitive and customizable HMI placement within the laboratory, with multilingual user interfaces available
WIP/CIP: Wash-In-Place and fully automated Clean-In-Place attachments are available
Sampling: MACRO-PACTOR® allows ribbon and granule sampling with contained sampling also available
Milling: Oscillating mill design reduces energy impact to the product.
MACRO-PACTOR® C: The 'high containment' version supporting ultra-high isolation to meet the very low occupational exposures required for highly active pharmaceutical ingredients (HAPIs), etc. This incorporates the same features as above, plus:
Added isolation features allowing containment down to the Occupational Exposure Band (OEB) 5 range (<(0.1µg/m<sup>3</sup>).
MACRO-PACTOR® Options
MACRO-PACTOR®'s versatility and applications are extended by a range of optional features and attachments. These include:
Range of press roller surfaces: smooth, knurled or custom designs
Granulator: star rotor or pocket type with pre-crushing feature
Custom built interfaces to connect with pneumatic or mechanical conveyor systems (MACRO-PACTOR®) or with external conveyor systems (MACRO-PACTOR® C)
WIP and CIP solutions
Seamless integration with Manufacturing Execution System (MES) software
MACRO-PACTOR® Specifications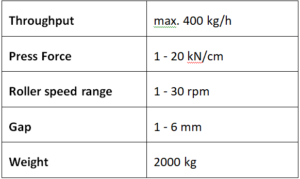 View Articles by Gerteis Maschinen + Processengineering AG