---
Compaction simulator systems for tableting
---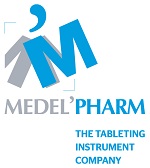 Products & Services | MEDELPHARM S.A.S
Overview
Medelpharm specializes in developing, engineering and manufacturing high precision R&D tablet presses that can be used as compaction simulator systems for powder compression in developing new tableting processes.
These platforms provide intelligent tablet press technology and software development solutions for powder analysis and formulation. The goal is to continuously develop innovative research hardware and software to assist compaction simulation of industrial production cycles, powder characterization and formulation services, compression, and material sciences in the pharmaceutical, food, and cosmetics markets.
The challenges of compaction simulator systems
Behind the word Compaction Simulation, people commonly think of computer models simulating compaction. The ever-growing power of computers increasingly make mathematical models faster, more precise and easier to use, however, you still need to create real tablets with powder to correlate and evaluate your development. This is where Medelpharm's STYL'One Compaction Simulator helps for tableting and roll compaction simulation as well as for API characterization.
STYL'One R&D compaction simulator
STYL'One Evolution is a high-speed, all-in-one multilayer tableting instrument designed for use in tablet development from early formulation to scale-up at production speed.
The machine characterizes essential properties of powders and active pharmaceutical ingredients (APIs), testing their suitability for industrial scale up at production speed, typically between 100,000 and 400,000 tablets per hour with a compaction dwell time of under <2ms). The precision of the instrument means only a few grams of powder are need to model the process. STYL'One incorporates a series of features that are essential for an optimal compaction simulator:
Adaptability: STYL'One can be tailored to application with a range of optional accessories such as micro-dosing unit, tab-in-tab device and Good Manufacturing Practice (GMP) module incorporating weight regulation, force feeding and heated die.
Quality by Design (QbD) engineering: QbD allows drugs to be produced in the most repeatable and cost-effective way by engineering quality into every step of the process. The QbD concept is in the heart of the design and development of the STYL'One.
User friendliness: The STYL'One Evolution is easy to use, with a compact, door-size design and offering clean and easy exchange of B, D (EU/TSM) and oversized core rods.
High operator protection: STYL'One offers the full range of operator protection levels from wash-in-place (WIP) to full containment to OEL 5 standard for highly potent active ingredients.
ANALIS compaction simulator software
The ANALIS data acquisition and control package is a suite of modules which perform several functions:
Control of the tablet press for simple usage or for automatic exploration and analysis of the formula with efficiency in investigating critical attributes
Data acquisition: Collected data is presented in a user-friendly tabular or graphical format according to the user preferences for a faster analysis
Multilayer and tab-in-tab module for specific recipes
Production module allows GMP runs with quality control and weight regulation
Dry granulation with roll compaction hybrid modelling algorithms developed by Medelpharm
Resources
Click on Compaction simulator systems for further information.
Click on MEDELPHARM to contact the company directly.