Contact Supplier
Contact Supplier
To get in touch with Applikon stages webinar on Evolutionary Engineering of Microorganisms, simply fill out the form below.
Applikon stages webinar on Evolutionary Engineering of Microorganisms
Delft, The Netherlands: – Dutch-based upstream bioprocess equipment specialist Applikon Biotechnology B.V. (Applikon) will stage an online webinar on use of automated bioreactors for evolutionary engineering of microorganisms.
The webinar will explain why and when to use evolutionary engineering for microbial strain optimization. Its centerpiece will be a keynote presentation from Dr. Ir. Robert Mans of Delft University of Technology (TU Delft).
Directed evolution
Dr. Mans will show how evolutionary engineering of microbes provides a powerful tool for untargeted optimization of engineered cell factories and identification of genetic targets for further research.
His studies have shown that directed evolution is an intrinsically time-intensive effort and automated methods can significantly reduce manual labor. Those automated methods can be used to evolve yeast cultures over more than 1,000 generations and are designed to require minimal manual intervention.
Automated cultivation
The webinar will also focus on experimental design considerations for various automated evolutionary engineering cultivation methods and provide an overview of recently developed generic workflows and control software for batch, chemostat and accelerostat-based evolution in automated bioreactors.
The one hour webinar will be staged three times on Thursday December 19 and will include a Q&A session.
Registration for the event is via the Applikon website (see Resources).
About Applikon Biotechnology
Netherlands-based Applikon Biotechnology B.V. (Applikon) is a manufacturer that specializes in upstream bioprocess equipment for the life sciences industries. Its mission is to provide reliable solutions for the bioprocess market to enable improved quality of life.
Applikon's core business is in the development and supply of advanced bioreactor systems from laboratory scale, to pilot, to production scale, partnering with customers to implement scalable platforms from initial screening through development and full-scale production for a global client base that includes pharma and biotech companies, food industry, CROs, CMOs, governmental and academic organizations.
Applikon designs, develops and assembles bioreactor systems, with all design and manufacturing conducted in-house. The Applikon portfolio covers key product and service areas including bioreactor cultivation systems, BioBundle turnkey systems, the unique BioSep Acoustic Perfusion System cell retention device, process control systems to automate bioprocesses and a range of proprietary AppliSens sensors, and automation (monitoring and data management) solutions.
Apart from its standard cultivation and turnkey systems, Applikon also offers Special Projects: custom solutions that focus on fulfilling strategic client needs such as long-term development, capability expansion and upscaling.
Applikon is headquartered at Delft in The Netherlands with subsidiaries in the UK, New Jersey and California, USA and a distributor network covering more than 35 countries.
Resources
Click on Register for webinar for further information and pre-registration.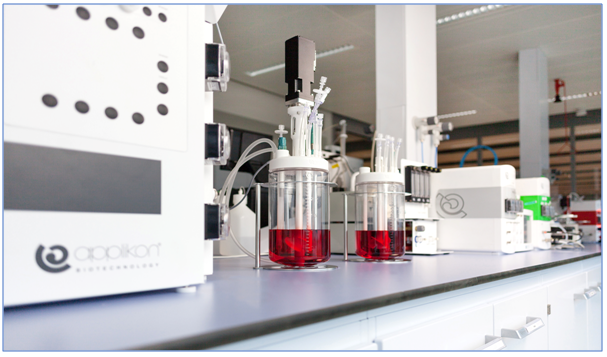 Applikon's AppliFlex ST customizable bioreactors with sophisticated control systems: ideal platforms for Evolutionary Engineering of microorganisms
View Articles by Applikon Biotechnology B.V.