Contact Supplier
Contact Supplier
To get in touch with Applikon showing advanced upstream process solutions at BPI Boston, simply fill out the form below.
Applikon showing advanced upstream process solutions at BPI Boston
Delft, The Netherlands: – Dutch-based upstream bioprocess equipment specialist Applikon Biotechnology (Applikon) will be bringing its significant advances and new solutions to the upcoming BioProcess International East Coast Summit, BPI 2019, in Boston.
The Applikon display at Booth 1101 at the Boston Convention & Exhibition Center will feature the most recent advanced bioreactor design characteristics and technical features now incorporated in its range of bioreactors.
Single-use AppliFlex ST
These will include the AppliFlex range of innovative single-use fully customizable and scalable stirred tank single-use bioreactors. When AppliFlex ST is combined with the advanced Applikon my-Control or ez2-Control system for process parameter control, it becomes a highly versatile system offering virtually unlimited control options, including mass flow control for gas supply, connection of balances for gravimetric feed or harvest and auto tuning adaptive control to guarantee optimal process control independent of changing process conditions.
AppliFlex ST can also be integrated in a DeltaV control installation using Applikon V-Control software for simple process transfer from the lab to production and vice versa.
Highly integrated solutions
The Applikon team will include Manager Product Management Ann D'Ambruoso.
"We are looking forward to returning to BPI Boston, which provides us with a great platform to show our capabilities as a consultative and flexible supplier of Bioreactor systems that match market demand for highly integrated systems with advanced software," said Ann D'Ambruoso.
"These allow us to offer unique solutions for divers microbial and cell cultures, like regenerative medicines and stem cells," she added.
About Applikon Biotechnology
Netherlands-based Applikon Biotechnology B.V. (Applikon) is a manufacturer that specializes in upstream bioprocess equipment for the life sciences industries. Its mission is to provide reliable solutions for the bioprocess market to enable improved quality of life.
Applikon's core business is in the development and supply of advanced bioreactor systems from laboratory scale, to pilot, to production scale, partnering with customers to implement scalable platforms from initial screening through development and full-scale production for a global client base that includes pharma and biotech companies, food industry, CROs, CMOs, governmental and academic organizations.
Applikon designs, develops and assembles bioreactor systems, with all design and manufacturing conducted in-house. The Applikon portfolio covers key product and service areas including bioreactor cultivation systems, BioBundle turnkey systems, the unique BioSep Acoustic Perfusion System cell retention device, process control systems to automate bioprocesses and a range of proprietary AppliSens sensors, and automation (monitoring and data management) solutions.
Apart from its standard cultivation and turnkey systems, Applikon also offers Special Projects: custom solutions aimed at helping clients fulfill strategic needs such as long-term development, capability expansion and upscaling.
Applikon is headquartered at Delft in The Netherlands with subsidiaries in the UK, New Jersey and California, USA and a distributor network covering more than 35 countries.
About BPI Boston 2019
The BioProcess International Boston Summit (BPI Boston) is one of the world's largest events dedicated to bioprocessing, highlighting the sciences, technologies and partners needed to accelerate promising biologics to market.
BPI Boston 2019 is a four-day event opening September 9 at the Boston Convention and Exhibition Center (BCEC) in Massachusetts.
The conference is expected to attract more than 2,000 scientists, engineers and executives representing some 275 companies and organizations working across the entire bioprocessing development and production spectrum.
The event is organized by Knect365 with more information at: https://lifesciences.knect365.com/bioprocessinternational/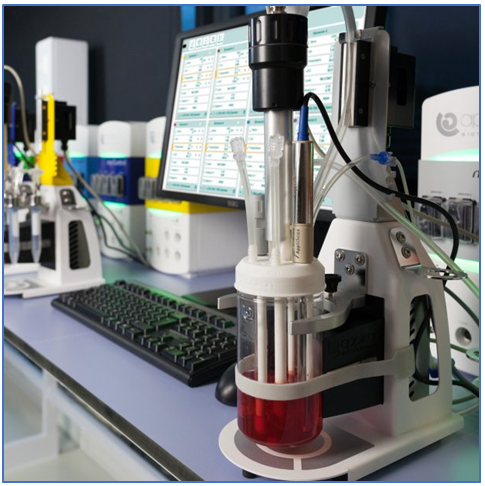 AppliFlex ST in parallel processing mode
View Articles by Applikon Biotechnology B.V.