Applikon Pilot System Stainless Steel Bioreactors
The Applikon Pilot System bioreactor range forms a highly modular and adaptable system approach to laboratory needs, emphasizing user friendly ergonomics, high adaptability, fast set up and configuration and easy introduction into Sterilization in Place (SIP) bioreactor regimes.
Applikon's standard engineered designs allow users to customize the functions of their stainless-steel bioreactors with ease.
Applikon Biotechnology will guide users through specification, configuration and application to process, from initial idea to final product.
Design and formats
Pilot bioreactors are available in both microbial and cell culture aspect ratios and in a wide range of volumes from 5L to 140L. A wide range of standard modules and standard packs allow any Pilot system to be customized to any specific demands, with add-on packs that include pressure control, weight control, feed control, biomass sensors and perfusion systems.
These bioreactor systems feature modular designs that allow easy adaptation to changing process demands, magnetically coupled agitators, cGMP compliant design and documentation for simpler validation, compact design and minimized footprint and open frame construction for easy maintenance and operation access, easy to clean mirror polished external finish with electropolished finish of all parts in contact with culture (Ra < 0.4 µm) for efficient SIP/CIP.
Application and scale-up
Applikon stainless steel bioreactors support a wide range of applications, including scale-up studies, optimization of media and processes, small-scale to full-scale production, microbial and cell culture, batch, fed-batch, perfusion and continuous cultivations.
Consistent bioreactor design and scalable control solutions simplify scale-up from bench through pilot to full production.
A wide range of standard modules is available to customize the stainless-steel systems to specific application demands.
Microbial Sterilizable-In-Place bioreactor systems come in total volumes of 20 L, 40 L, 70 L and 140 L with aspect ratios of 3.0 at total volume.
Cell culture Sterilizable-In-Place bioreactor systems are available in total volumes of 15L, 30 L, 60 L and 130 L with aspect ratio of 1.5 at total volume.
The compact footprint (maximum 100 x 160 cm) guarantees that the system will occupy minimal floor or bench space. All systems can be fully documented for cGMP usage and can be supplied with an extensive documentation package to support validation.
Control
The stainless-steel bioreactor range is supported by a choice of several Applikon process control systems, principally ez-Control and i-Control, which can be supplied with a DeltaV controller, an Allen Bradley or a Siemens PLC. All i-Control systems support automated Sterilization and Cleaning procedures.
This choice of control systems delivers three key benefits:
Integration with industry standard software platforms (DeltaV, Allen Bradley or Siemens PLC)
Support for automated sterilization & cleaning procedures
cGMP compliant design and documentation simplifies validation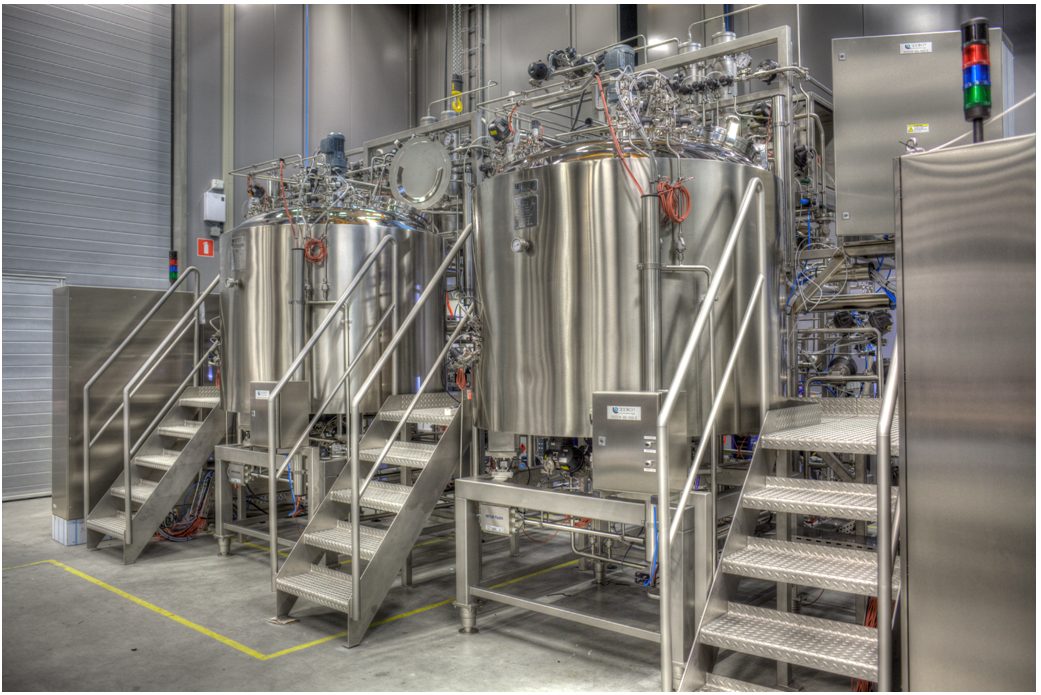 Applikon stainless steel bioreactors feature open frame modular designs for easy maintenance, cleaning and operation
View Articles by Applikon Biotechnology B.V.