Contact Supplier
Contact Supplier
To get in touch with Applikon Biotechnology expands distribution network in Europe and Americas, simply fill out the form below.
Applikon Biotechnology expands distribution network in Europe and Americas
Delft, The Netherlands: – Dutch-based upstream bioprocess equipment specialist Applikon Biotechnology B.V. (Applikon) has added new distribution partners in Scandinavia and South America to its worldwide network.
These latest additions will expand Applikon's markets for its advanced range of fully customizable single-use, multi-use and stainless steel bioreactors and related sophisticated control solutions.
Colombian partner INTEK Group
In Latin America, Applikon has entered close co-operation with INTEK Group SAS, based in the Colombian capital Bogota.
INTEK GROUP is a very experienced biotech company that supplies specialized laboratory equipment for Material Characterization through scanning electron microscopy and X-ray fluorescence, thermal properties analysis equipment and instrumental chemical analysis such as spectrophotometers and chromatographs, along with specialized biotechnology instruments including molecular biology, where the Applikon bioreactor portfolio from micro scale and up to 3000L fits in perfectly.
INTEK GROUP is specialized in assisting the customer in technologies, instruments and applications for complete assembly of laboratories.
Norwegian partner BioNordika AS
In Scandinavia, Applikon has forged an official distribution agreement with BioNordika AS, based in Oslo, Norway.
Founded as MedProbe in 1986, BioNordika AS has grown and evolved through merger with Bergmann in 2013 to become a leading supplier of advanced products to cell & molecular biology, immunology & diagnostics, microbiology and analytical chemistry laboratories.
The partnership with Applikon conforms with BioNordika's vision of combining best possible quality life science products from world leading suppliers with ultra-responsive local service, summarised in the "Science where You are" mission statement.
Applikon's bioreactor and control solutions fit in well with a BioNordika product portfolio that focuses on Cell & Molecular Biology, Immunology & Diagnostics, Instruments & Disposables and Custom Products & Projects.
"Naturally we are very happy to have these new additions to the Applikon family and we are convinced that we will have a strong future ahead of us in working together," said Paul Theuns, International Sales Manager at Applikon.
About Applikon Biotechnology
Netherlands-based Applikon Biotechnology B.V. (Applikon) is a manufacturer that specializes in upstream bioprocess equipment for the life sciences industries. Its mission is to provide reliable solutions for the bioprocess market to enable improved quality of life.
Applikon's core business is in the development and supply of advanced bioreactor systems from laboratory scale, to pilot, to production scale, partnering with customers to implement scalable platforms from initial screening through development and full-scale production for a global client base that includes pharma and biotech companies, food industry, CROs, CMOs, governmental and academic organizations.
Applikon designs, develops and assembles bioreactor systems, with all design and manufacturing conducted in-house. The Applikon portfolio covers key product and service areas including bioreactor cultivation systems, BioBundle turnkey systems, the unique BioSep Acoustic Perfusion System cell retention device, process control systems to automate bioprocesses and a range of proprietary AppliSens sensors, and automation (monitoring and data management) solutions.
Apart from its standard cultivation and turnkey systems, Applikon also offers Special Projects: custom solutions aimed at helping clients fulfill strategic needs such as long-term development, capability expansion and upscaling.
Applikon is headquartered at Delft in The Netherlands with subsidiaries in the UK, New Jersey and California, USA and a distributor network covering more than 35 countries.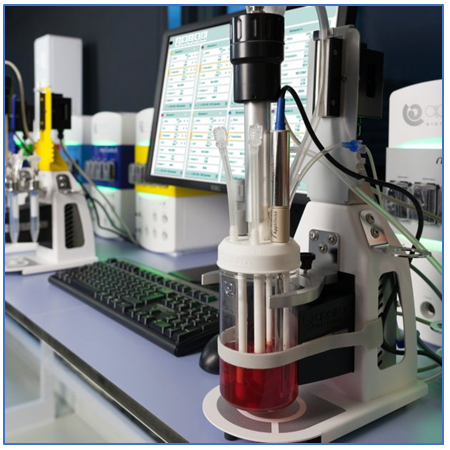 Applikon's AppliFlex ST ultra-compact single use bioreactor
View Articles by Applikon Biotechnology B.V.