Rotronic temperature measurement, monitoring, and mapping; FDA 21 CFR Part 11 and GxP compliant
Precise temperature monitoring, supported by accurate temperature mapping, are vital to safe and secure production, storage and delivery of many products, notably fine chemicals, pharmaceuticals, cosmeceuticals and nutraceuticals that are subject to spoilage, decomposition and loss of active properties if allowed to become too hot or too cold.
Rotronic, a world-leading Swiss manufacturer of measurement instruments and real time environmental monitoring systems, offers a suite of solutions for temperature monitoring and mapping and has also produced information guides on these subjects. These include:
A guide to regulatory regimes and guidelines covering temperature management
Temperature monitoring solutions
Temperature mapping applications and solutions
Temperature and pharma quality
When certain products are exposed to incorrect temperatures the product quality is no longer guaranteed. In the pharmaceutical, cosmeceutical and the food industry, this is even more important as consumers lives can be put at risk due to the temperature effects on the products/ingredients such as decomposition, diminished effects/taste and spoilage.
In the pharmaceutical industry regulations have been put in place to protect the patients and to deliver quality-assured, safe and effective products. The temperature range, along with other parameters, to ensure product quality is defined during the product risk assessment, particularly for drugs, medicines, vaccines active pharmaceutical ingredients (APIs), human samples and bio-pharmaceuticals.
This makes temperature monitoring crucial across most research, production and distribution  processes and particularly in areas such as:
Cryogenic and ultra-low temperature storage
Refrigerator storage
Blood, tissue and biobanks
Biological incubation and cell production
Cleanroom production
Stability testing.
Calibration laboratories
Warehouse, distribution and transport logistics chain
Healthcare delivery points (pharmacies, vets, dentists, hospitals…)
Temperature monitoring regulations
Temperature control and monitoring are covered by a wide range of different regulatory bodies' standards and guidelines, including the World Health Organization (WHO), US Food & Drug Administration (FDA), EU-EudraLex, The International Society for Pharmaceutical Engineering (ISPE), The US and European Pharmacopeias (USP/Ph.Eur), and the International Organisation for Standardization (ISO).
However, all temperature regulations are homologated within the guidelines prepared by the International Council for Harmonisation for Technical Requirements for Pharmaceuticals for Human Use (ICH) that develops standardized rules that can be applied by all the regulatory authorities. Therefore, it is the ICH standards that form the most useful and universal guide to temperature control.
In the first instance, companies should simply comply with whatever regulations are defined by their local/national regulatory authority and can then use the WHO or ICH norms and standards to ensure international compliance.
GxP quality guidelines
GxP quality guidelines, developed in particular by the FDA and EU, cover products over their entire lifecycles:
Good Laboratory Practice (GLP): Defining conditions under which non-clinical health and environmental safety studies are planned, performed, monitored, recorded, reported and archived.
Good Manufacturing Practice (GMP): Minimum standards that must be met in the production process.
Good Distribution Practice (GDP): Minimum standards that must be met to ensure that the quality and integrity of medicines is maintained throughout the supply chain, including sourcing, storage and transportation of APIs and other ingredients.
All GxP guidelines state that the area used must be qualified (fit for purpose) with effective temperature monitoring (including documentation and data capture) and monitoring devices accurately calibrated to show correct values.
While these guidelines provide individual scope and discretion on the solutions that can be adopted, they are clear that:
Temperature monitoring systems must generate data that can be evaluated to ensure that temperature always remains within specified limits
When using stand-alone systems, data must be regularly downloaded for timely evaluation
Within a continuous monitoring system, users should be alerted to impending temperature excursions (breaching specified limit) via e-mail, SMS or phone message so that they can take corrective action
Temperature monitoring must generate a valid audit trail to record events and actions
When audits reveal that GxP temperature regulatory requirements have not been fulfilled, then a non-compliance is documented, as for example an FDA Form 483 letter that is placed in the public domain.
During 2019, over 155 environmental monitoring issues (mainly temperature) were observed and documented in the fields of drugs, medical devices, human tissue for transplantation, veterinary medicine and biologics.
Temperature qualification
Temperature qualifying an area demonstrates that it fits its intended purpose with regard to environmental management and storage conditions. For example, USP 659 Packaging and storage requirements provides storage condition definitions relevant to the storage and distribution of active ingredients, excipients, and medical products, such as pharmaceuticals, devices, combination products and dietary supplements. All products have specific directions on temperature or humidity at which an article must be stored and shipped (based upon stability studies).
For pharmaceutical products, temperature specifications are:
Freezer: -25°C to -10°C.
Refrigerator: 2°C to 8°C.
Cold: 8°C
Cool: 8°C to 15°C.
Room temperature is defined as the temperature prevailing in a working environment but Controlled Room Temperature ranges from 20°C to 25°C, with mean kinetic temperature (total influence of temperature on an object or product over a certain period of time) not exceeding 25°C. Thus excursions from 15 C to 30°C and transient spikes up to 40°C can be accommodated so long as they do not exceed 24 hours. Spikes above 40°C can only be permitted with manufacturer dispensation.
Temperature monitoring
When specifying and installing a temperature monitoring system, risk analysis will help define what kind of system is required and the ISPE offers the GAMP5 Guide: Compliant GxP Computerized Systems to help regulated users as well as suppliers deliver a suitable solution to meet GxP regulations.
Rotronic offers two different routes to temperature monitoring; stand-alone monitoring using HL-1D or HL-20D  logging systems or continuous monitoring using the Rotronic Monitoring System (RMS) with RMS-MLOG providing a wireless network and RMS-LOG for a wireless/wired network.
If the monitoring is done digitally, then the monitoring system should meet FDA 21 CFR Part 11 and EU Annex 11 regulations. Rotronic offers the following GAMP5 category 4 software solutions that comply to the regulations for monitoring purposes:
HW4 (stand-alone monitoring).
RMS (continuous monitoring).
RMS also offers the following user advantages:
Continuous real-time online monitoring.
E-Mail, SMS and telephone alarms customized upon needs.
Easy and intuitive to use.
Validation and calibration
The monitoring system (stand alone or continuous) will need to be validated to ensure that it fulfils its intended use based upon the GAMP5 risk-based approach to compliant GxP computerized systems recommendations, with all devices calibrated to confirm accuracy.
Rotronic devices can be calibrated using the device's display or within the corresponding software. Rotronic offer a range of calibration devices for temperature and relative humidity measurement:
EAxx-SCS salt solutions (Delivered with an ISO-17025 calibration certificate)
HygroCal100 humidity generator
HG2-S humidity and temperature generator
HG2-XL humidity and temperature generator
S8000 dew point mirror reference device
RMS features a calibration management tool, where all historical calibrations are documented and reminders for upcoming calibrations are communicated.
Rotronic also offers a range of calibration services including on site calibrations, ISO 9001 calibrations and ISO 17025 calibrations as well as hardware and software training to ensure that the users are fully capable of using our solutions to GxP standards.
Rotronic RMS Temperature Monitoring Hardware
Rotronic offers a series of product families that cover all temperature measurement and monitoring applications within the RMS Software:
RMS T10 temperature sensors: a range of NTC (Negative Temperature Coefficient) thermistors (resistance of the NTC decreases with increasing temperature) that are compatible with RMS-MLOG-T10-868/915 data loggers.
RMS-HCD-S Humidity & Temperature Probe: a completely digital probe designed for the Rotronic Monitoring System RMS that measures humidity and temperature and calculates the dew/frost point.
RMS-LOG-Data Loggers: Featuring LAN interfaces, the RMS LOG family provides flexible data capture and protection, with possibilities to use dual integrated ADC converters to connect two PT100 sensors for high-precision temperature measurement.
RMS-MLOG: A range of compact, inexpensive and flexible data loggers that can capture various environmental conditions including temperature, humidity, and barometric pressure, with capability to connect external (NTC) probe where necessary.
Temperature mapping in General
Once the application of the area is defined, a temperature map must be prepared to ensure that the entire room is controlled within the permitted temperature range. This mapping will define hot and cold spots within the area that will then need to be monitored.
Compiling temperature maps is defined by numerous regulatory guidelines, including:
WHO Technical Report Series, No. 961: Temperature mapping of storage areas.
USP 1079.
EU GDP Guidelines on medicinal products for human use.
GMP Temperature Mapping of Controlled Temperature Chamber.
FDA 21 CFR
USP1079
ICH Topic Q 1 A (R2) Stability Testing of new Drug Substances and Products.
PDA Technical Report 39: Guidance for Temperature-Controlled Medicinal Products.
Influencing factors to be considered when defining mapping protocols include acceptance criteria and the products used to carry out a mapping, as well as detailed guideline requirements, such as:
Compliance with FDA 21 CFR Part 11.
60 second to 15 minute log intervals
ISO-17025 traceable three-point calibration with a guaranteed error no more than a

+

0.5°C at each calibration point.
Monitor door openings and power outages.
Show minimums, maximums, average, standard deviation and mean kinetic temperature.
Summer /winter mapping and loaded/empty/normal conditions.
Requirement to map relative humidity/dew point.
Rotronic Temperature Mapping Solutions
Rotronic offers a range of USP 1118 monitoring hardware and software that can help compile temperature, relative humidity and dew point maps, as well as rental kit and complete mapping services.  Devices include TL-1D and HL-1D temperature and humidity loggers with HW4 software, RMS-LOG-L/868/915 or Optidew loggers with RMS software.
ROTRONIC also offers a range of Temperature Mapping consultancy services, including:
Support with the definition of the protocol and the area acceptance criteria.
Analysis of the requirements and definition of the measuring points.
Placement/Installation of the data loggers with traceable certificates.
Continuous recording of the climatic conditions.
Evaluation and analysis of the recorded data.
Preparation of GxP-compliant documentation.
Recommendations for optimization.
These services can also be provided on an RMS rental basis, whereby Rotronic will provide a leased RMS system. This solution merely requires the user to place RMS loggers in defined areas for the defined amount of time and then return them to Rotronic, who will manage all phases of the project including:
Guidance with standard Rotronic setup and documentation.
Using RMS hardware with Traceable calibration performed quarterly at standard points (0, 23, 50°C).
Additional costs for additional calibrations as per customer requirements.
Access to RMS Mapping Cloud account.
Optional 4G router for live data during mapping (dependent on wireless, requires mains power).
Evaluation and analysis of the recorded data.
Preparation of GxP-compliant documentation.
Recommendations for optimization.
Rotronic has produced a video (see Resources) that analyses the requirements and definition of the measuring points, also covering:
Placement/Installation of the data loggers with traceable certificates
Continuous recording of the climatic conditions
Evaluation and analysis of the recorded data
Preparation of GMP-compliant documentation
ROTRONIC recommendations for optimization
Resources
Click on Pharma Temperature Monitoring for discussion of standards and guidelines.
Click on Temperature Mapping for detailed solutions.
Click on Rotronic Temperature Mapping for video.
Click on Products for more information on Rotronic measurement solutions.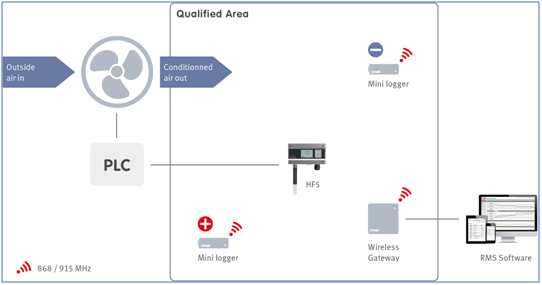 An integral part of facility design is the building management system (BMS) that manages services including the HVAC heating and air conditioning, using sensors located throughout the facility. The MMS can be enhanced with an environmental monitoring system (EMS) to monitor all the critical control parameters and temperature control/monitoring