Contact Supplier
Contact Supplier
To get in touch with SYSTAG, System Technik AG, simply fill out the form below.
SYSTAG ScreenX
SYSTAG's ScreenX is an Add-On to the laboratory reactor automation and control platform FlexyCUBE that delivers greater process and operational optimisation.
ScreenX allows FlexyCUBE capabilities to be expanded to include task areas of route-finding, solvent, educt and catalysts screening as well as testing to optimise reaction times.
Problem: increasing pressures to compile and document data
The demands placed on reaction laboratories have steadily mounted over recent years.
Ever more stringent quality control and regulatory regimes dictate that experimental data and results must be compiled, analyzed and documented more quickly and in greater detail.
At the same time, material use has to be minimized and maximum use made of available laboratory space.
Solution: Extend FlexyCUBE automation to task areas
FlexyCUBE is already established as a proven tool for efficient qualitative parallel process optimization, equipping the laboratories of many leading players in the chemical synthesis industry.
The ScreenX add-on extends these capabilities into the task areas of route finding, solvent, educt and catalyst screening as well as enabling kinetic testing to reduce reaction times.
ScreenX allows screening and parallel chemical process optimization to be performed with a single tool, forming a highly cost-effective plug and play add-on to a FlexyCUBE set up, with no additional equipment or space requirements.
Further, since ScreenX is based in the existing FlexySys platform no additional operator training is needed.
The tool will automatically document all experiments, allowing up to four parallel syntheses per unit, up to max 6 units (total 24 vials), using single use glassware to eliminate need for extra cleaning and rule out any possibility of cross-contamination.
ScreenX features
ScreenX consists of a magnetic stirrer unit that can be bolted to a heat transfer block that also incorporates a resistance-type thermometer to determine TR temperature. The block can accommodate four single-use test tubes with integrated septums. ScreenX can be specified to accommodate the laboratory's own choice of standardized test tubes.
The ScreenX system will perform the following functions:
Reactor or jacket-controlled temperature management
Adjustable stirrer speed
Metering of different quantities or concentrations for each tube
Illumination of mix for visual inspection
Liquid dosing by syringe pumps
The optional ScreenX dosing unit can be plugged directly into the FlexyCUBE system to be controlled by the same software allowing dosing rates to be graphically displayed and recorded. Dosing is performed at same ejections speed for all four tubes, but individual amount or different concentrations etc.
ScreenX will handle volumes from 1 to 10ml in each tube with temperature adjustable from -40oC to +180oC and stirrer speeds from 70 to 600 rpm.
Take the next step to SystemX
There are two ways to find out more about SystemX and what it can do for your business:
Talk: to chat online with a SYSTAG consultant
Learn: to download the brochure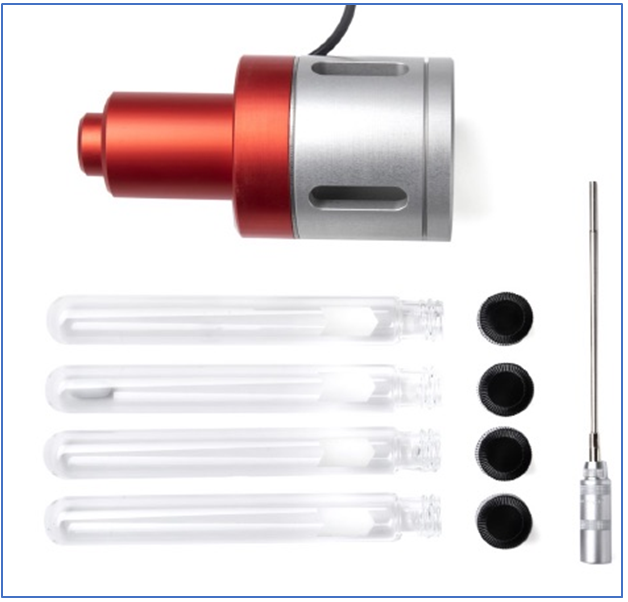 SYSTAG ScreenX consists of a small test tube holder accommodating up to four single-use test tubes and which can be plugged into an existing FlexyCUBE set up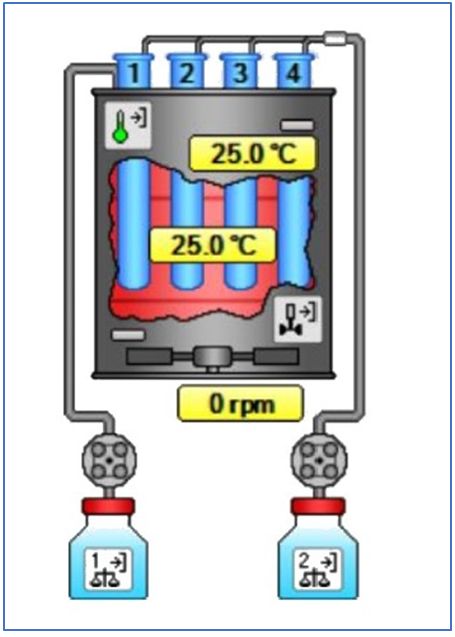 ScreenX dosing unit allows dosing rates to be graphically displayed and recorded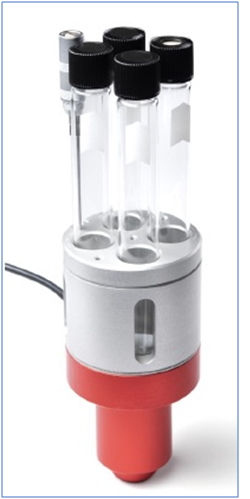 ScreenX can be configured to accommodate laboratory's own single use test tubes and also offers illumination of mix for visual inspection
View Articles by SYSTAG, System Technik AG