Contact Supplier
Contact Supplier
To get in touch with SYSTAG Jacketed Lab Reactor Solutions, simply fill out the form below.
SYSTAG Jacketed Lab Reactor Solutions
SYSTAG provides solutions for the parallel connection and control of controlled or jacketed lab reactors (CLRs) that are designed to regulate content temperature by using a jacket around the vessel through which fluid is circulated to heat or cool the reaction.
SYSTAG products in the jacketed lab reactor segment support chemical and pharmaceutical development laboratories by enabling more efficient and practice orientated trials and logging. Automated jacketed lab reactor solutions are complemented by integration of diverse analytical methods (some provided by partners) and special process techniques.
These solutions include the ePAT range of standalone reactors with integrated control systems, the FlexyCUBE range of reactors that can be connected in parallel, the FlexyPAT control module and FlexySys control system software.
All of these solutions operate within SYSTAG's Flexy Concept laboratory ecosystem that shares an overall interface architecture and systems approach enabling easy interconnection, interoperability and automated lab reactor control across a very wide range of applications.
ePAT automated jacketed lab reactors
SYSTAG ePAT is a standalone solution combining high quality jacketed lab reactors ranging from 500ml to 5 liters with integrated automated control system. This provides a cost-effective entry route into automation technology, allowing users to optimize their synthesis and processes for both scale-up and scale-down.
Combining Plug & Play interconnectability with exceptional ease of operation, SYSTAG ePAT can be expanded to control an almost unlimited number of jacketed reactors in the chemical laboratory, allowing integration of a wide array of laboratory devices.
The integral ePAT safety concept provides uninterrupted 24/7 monitoring, allowing unsupervised operation, while the integrated eController feature handles all regulation and protocol tasks system, eliminating need for a conventional computer-based control system.
The ePAT Starter Kit includes a 500ml jacketed reactor, control monitor with backpack eController, US keyboard, and mouse, universal I/O module for connecting analog sensors/ actuators, cable set for connecting sensors and actuators, with FlexySys application software for controlling one reactor.
The intuitive Fconnect interface allows Plug & Play set up with easy integration of all common laboratory equipment while the basic ePAT configuration offers a wide range of functions for performing routine tasks such as tempering, dosing, stirring, or adjusting pH with greater reliability and reproducibility and can be further adapted to individual user needs with a range of options that include pressure, vacuum and venting control, third dosages and volumetric dosing.
As an integral component of FlexySys, ePAT can be upgraded to full FlexyPAT specification, complete with integrated recipe control and other customized functions.
FlexyCUBE: parallel process lab reactors
FlexyCUBE is a steel or glass single wall lab reactor with control interface that can be independently controlled from a single PC, operating independently or connecting up to six reactors in parallel for easy scale up or design of experiment (DoE) operations. The highly compact design features 70, 100, 250 or 400 ml glass or stainless steel/Hastelloy pressure reactors that are jacketed for full temperature control and equipped for adjustable stirrer speed and torque measurement.
FlexyCUBE can operate through temperatures ranging from -80°C to +280°C and up to 100 bar pressures. This makes it ideal for high productivity, accurate experiments, DoE applications and scale-up applications for rapid and high-quality process development.
The FlexyCUBE control system allows control via manual operation or programmed recipe with manual intervention possible at all times, data capture and automatic laboratory report, recording of alarms or events, and global support through internet remote access.
The system can be optimised through add-on options including pH measurement and control, various stirrer types, automatic distillation with boiling point detection, and isothermal heat flow calorimetry.
The system can be further optimized with the ScreenX (3-20ml) module for screening of different reaction conditions or the CaloX module allowing online read out of heat flux in reactions without extra calibration.
FlexyPAT: individual reactor automation
FlexyPAT is a control module that allows several third-party jacketed reactors to be operated from a single PC as customized turn-key systems, facilitating integration of existing legacy hardware to reduce cost, speed up the automation process and increase user acceptance.
The solution encompassed a wide range of standard functions such as gravimetric or volumetric dosing, temperature control of jacket and reactor, speed and torque stirrer control, pH measurement. It allows manual or recipe control, along with data capture and automatic laboratory reports.
Expansion options include automatic distillation with reflux splitter, pressure and vacuum measurement and control, hydrogenation capabilities, isothermal heat flow calorimetry, automatic distillation with boiling point detection, automatic establishment of solubility curves and Isothermal heat flow calorimetry.
FlexyPAT can also be integrated with online sensors for turbidity measurement, midIR FTIR, particle size measurement, etc. and can be configured for full GLP and CFR21 part 11 and IQ/OQ.
FlexySys automated control of jacketed lab reactors
The Flexy concept is built around two core components, the FlexySys automated technology interface and the SysGraph graphic evaluation tool.
The FlexySys controlled reactor software features an intuitive plant synoptic model that provides user-friendly operation without specialist training, menus of predefined operating procedures for simple and safe operations, real time visualization of system status and system parameters, capability to generate editable online charts, along with automatic and continuous documentation.
The SysGraph graphic evaluation tool for thermal analysis and reaction calorimetry provides instant access to precise evaluations for safety inspections, allowing intuitive evaluation methods to generate the results and graphs needed for thermal analysis and safety evaluation of substances or chemical reactions. These can be quickly and easily performed on a PC, allowing user to compile informative graphics and save relevant data to a central server. The system can be further tailored with the ThermoGraph module for adiabatic thermal analysis or KaloGraph for evaluation of reaction calorimetric data.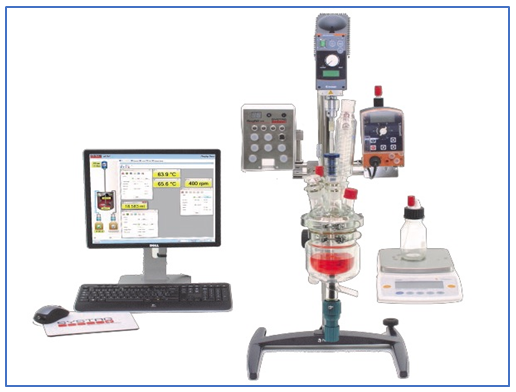 SYSTAG ePAT starter kit allows blended manual and automated reactor control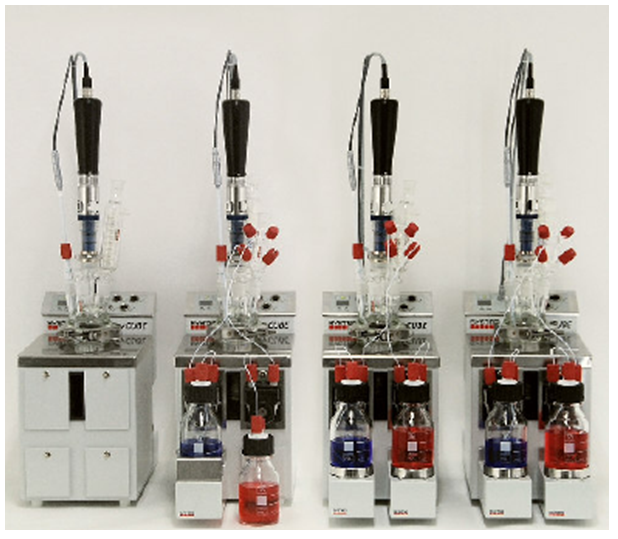 SYSTAG FlexyCUBE allows up to six steel or glass reactors to be independently controlled from a single PC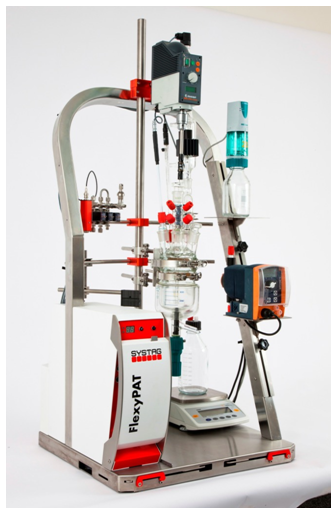 SYSTAG FlexyPAT: operate several jacketed legacy reactors from a single PC as customized turn-key system
View Articles by SYSTAG, System Technik AG