Contact Supplier
Contact Supplier
To get in touch with Sofrigam's entity Coldway showing a disruptive refrigeration technology for urban deliveries at MOVE 2020, simply fill out the form below.
Sofrigam's entity Coldway showing a disruptive refrigeration technology for urban deliveries at MOVE 2020
Rueil Malmaison, France: – Coldway Technologies, the recently acquired subsidiary of temperature-controlled logistics and pharmaceutical cold chain packaging specialist Sofrigam, will be one of the stars at the inaugural MOVE disruptive mobility technologies fair in London.
As a Gold Sponsor and exhibitor at the event, Coldway Technologies will showcase its disruptive refrigeration technology that has the potential to transform urban living with zero noise, carbon and pollution 'last mile' deliveries in city centers.
Rethinking urban delivery
In 2050, it is estimated that 68% of the global population will live in metropolitan areas, compared to 55% today. The challenge is to find sustainable and zero-carbon ways to service those urban populations.
Many metropolitan areas have by and large succeeded in streamlining the flow of traffic and people in recent years but transport of goods still needs to be optimised, with Last Mile Logistics the most formidable challenge.
The e-commerce boom has dramatically increased home deliveries, while the growth of retail outlets setting up local services in metropolitan areas are significantly increasing delivery flows, aggravating already severe problems of congestion, noise, and pollution in city centers, placing quality of life under strain.
Self-contained, eco-friendly solution
The biggest growth is in deliveries of temperature-sensitive products, ranging from hot foods to cold chain food products or medicines.
As an exhibitor at MOVE 2020, Coldway Technologies will show its completely self-contained and eco-friendly heating/refrigeration modules, which can be fitted to any type of vehicle, scooter, tricycle or bicycle.
Combined with electric vehicles and automation, the technology can enable delivery of frozen, fresh or hot foodstuffs and other products, with zero risk, at any time of day or night, with no noise or pollution.
A unique combination
Coldway Technologies refrigeration solution is unique in combining the following features:
Self-contained temperature control for up to 24 hours
Hot or cold products between -18°C and +25°C
Completely silent (Piek standard – Certibruit certified)
Robust and durable (more than 10 years of production cycles with no loss of performance)
Low maintenance
Stand alone: no dependence on vehicle electrical
100% eco-friendly refrigeration system
Coldway Technologies solutions can be mounted on any type of container or cabinet: isothermal rolls, pallet boxes, transport boxes or vehicles.
"Coldway's internationally patented sorption system makes it possible to meet the robust demands of refrigerated transport within the bustling urban communities our eco-conscious clients wish to serve," said Sofrigam Commercial Director, Alain Schuerwegen.
"It allows high-quality and consistent refrigeration autonomously without temperature variation, even when exposed to numerous door openings and drastic ambient temperature fluctuations, for up to 24 hours," said Mr. Schuerwegen.
"Moreover, these integrated Coldway solutions don't use hydrofluorocarbons or HFCs, making them the only reliable ecological mobile refrigeration system on the market today," he emphasized.
Alain Schuerwegen will deepen the advantages of such a disruptive autonomous solution for urban deliveries leading a case-study at Move on February 11, 2.20pm: "The tech behind the autonomous refrigeration system", then followed by a MaaS panel at 3.00pm: "Working with cities to deliver on sustainable objectives".
Coldway Technologies and Sofrigam are offering 50% discount on entry tickets to MOVE 2020 visitors using the link: https://l.feathr.co/move-2020-custom-lp-spex-sofrigam-group.
About Coldway Technologies
The innovative French company Coldway was created in 2001 to commercialize latent temperature energy technology transferred from France's National Centre for Scientific Research (CNRS).
Coldway's innovations, based on the storage and use of energy in the cold chain. finally make it possible to produce cooling or heating energy that can be stored and made available on demand, regardless of available power sources.
The originality of this invention, the subject of international patents, resides in a self-contained process that does not require continuous use of external energy while being mobile and reusable, without any time limit and without the use of consumables.
Coldway provides solutions to a variety of industrial sectors, ranging from the medical industry to catering and including logistics and transport, all of which comply with the fundamental health requirements applicable to the cold chain – control and traceability of temperature, flexibility and reliability in the transportation of sensitive products at consistent temperatures.
The product ranges developed by Coldway now equip more than 600 companies in France and 45 other countries worldwide.
The company was renamed Coldway Technologies following 100% acquisition by Sofrigam Group in late 2018.
Further information at: http://www.coldway.com/en
About Sofrigam
With more than 40 years of experience, Sofrigam provide a comprehensive portfolio of innovative packaging and related solutions that allow pharmaceutical and other clients to optimize their temperature-controlled logistic supply chains.
From its French roots, Sofrigam has become a global company, operating in the USA, Canada, UK and across Europe, with manufacturing centers in North America and Europe.
Sofrigam is now an international group whose four entities meet the cold chain management needs of the entire pharmaceutical supply chain, from drug production to last-mile logistics.
Sofrigam designs and develops cold chain management solutions (containers, packaging, bags and pouches) for pharmaceutical, biotechnology and chemical manufacturers. Initially a specialist in passive packaging, Sofrigam is now moving towards innovative active technologies with its Coldway Technologies unit. The synergy between the technicality of Sofrigam packaging and the Coldway Inside technology, an autonomous thermal energy production system, represents a major innovation in cold production and storage.
For those involved in 'last mile' logistics and urban deliveries in the health and agri-food sectors, Coldway Technologies solution provide a disruptive refrigeration system: self-contained, eco-friendly and adaptable to any type of container or vehicle.
All the solutions proposed by the Sofrigam Group entities are tested, pre-qualified and validated by the Ater Metrology thermal testing laboratory in order to guarantee their quality and performance.
Further information at: http://www.sofrigam.com/
About MOVE 2020
The MOVE expo combines the themes of Mobility, Technology and Sustainably in a newly-created event, focusing on the potential for disruptive technologies and innovation to drive urgently-needed change.
MOVE is designed to provide a global stage for start-ups engineering the future, connecting them to the world's most influential companies, investors and media. The event brings together disruptors, their technology and their attitudes with stakeholders across all modes and disciplines to network, share knowledge and insight and foster collaboration.
MOVE 2020 is a two-day event opening February 11 at the ExCel exhibition center in London's Docklands. It will feature 880 speakers, 380 exhibitors, 250 startups and is expected to draw 5,000 visitors.
The event is organized by Terrapinn with further information at: https://www.terrapinn.com/exhibition/move/index.stm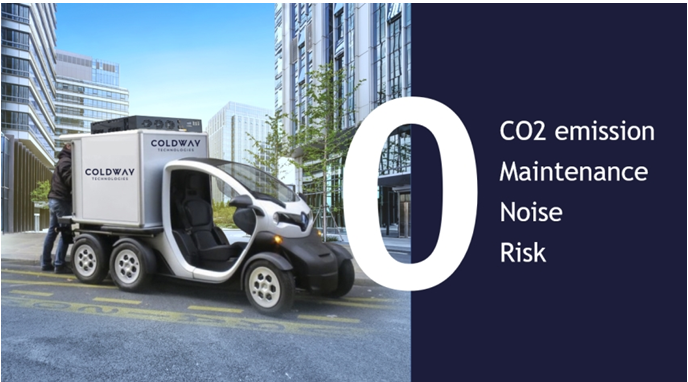 Coldway Technologies refrigeration makes no demand on electric vehicle batteries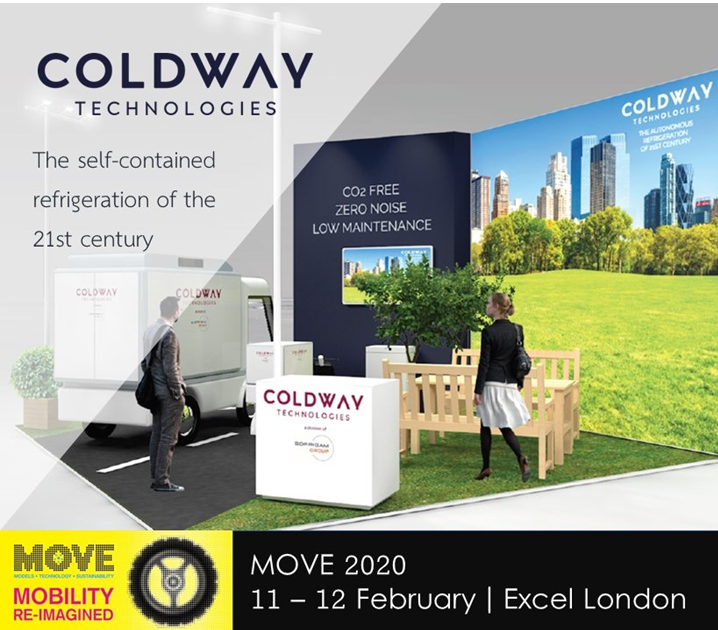 Overview of the Coldway Technologies stand at Move London trade show, where live demonstration of its patented sorption system will be conduct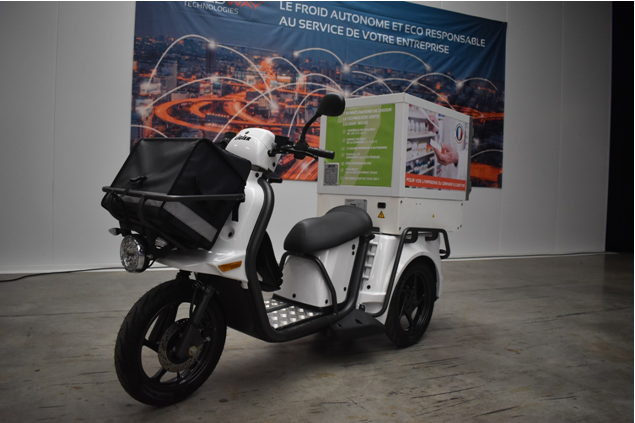 Coldway Technologies' temperature-controlled cabinets can be can be adapted to any vehicle, including electric trikes