Contact Supplier
Contact Supplier
To get in touch with Sofrigam S.A, simply fill out the form below.
Sofrigam Initial Pallet Shippers
Sofrigam has developed its latest range of Initial Pallet Shippers to help pharmaceutical and healthcare companies optimize their cold chain shipments and lower logistics costs.Over nearly two decades, Sofrigam insulated pallet shippers have transported pharmaceutical products for some of the biggest pharmaceutical companies with superior optimization of shipments, control of logistics costs and temperature control.
The Initial Pallet Shipper features a collapsible, light and reusable format that enhances ease of use and storage to lowers total cost of ownership (TCO) across the logistics cool chain and guarantee excellent thermal efficiency.
Specifically designed for temperature-controlled pharmaceutical logistics
This new generation of insulated containers has retained all of the benefits that have contributed to the success of the Pallet Shipper since its creation in 2001: high thermal efficiency, optimization of shipments and ease of preparation and handling.
Initial Pallet Shipper addresses the challenges of optimizing logistics costs and developing Reverse Logistics with a light, robust, high performance insulated container that is fully collapsible for easy storage and reuse and is available flat pack or fully assembled. This solution maximizes efficient payload to minimize overall logistics costs and reduce carbon footprint while ensuring seamless temperature control
Lower transport costs
Transport takes up a significant part in the overall cost of your cold chain logistics. The Initial Pallet Shippers are available in four different formats to adapt perfectly to the size of standard EU and US pallets, as well as PAG and PMC air freight platforms.
Lowering logistics costs also means transporting more products in a single insulated container. The Initial Pallet Shipper benefits from the best external size/payload ratio on the market. The largest container allows shipment of more than 3,000 liters of heat-sensitive pharmaceutical products per shipment. The Pallet Shipper can also be reused up to five times to significantly reduce the cost per use of the container.
End-to-end temperature control
Initial Pallet Shipper's high thermal efficiency ensures the cold chain is maintained for up to 120 hours at +2/+8°C or +15/25°C under the international standard ISTA 7D profile. Flat-pack containers are assembled and disassembled very easily in just a few minutes. The internal configurations allow the packaging solution to be prepared very quickly. The Quarter PAG/PMC and Half PAG/PMC Pallet Shippers allow the pallet of products to be inserted directly from refrigerator into the container, without unloading, to facilitate handling and prevent any breaks in the cold chain.
Engineered for Reverse Logistics
Reusing packaging signifies both lowering its cost per use and minimizing its environmental impact. Light and eco-friendly with economical usage of raw materials, the Initial insulated pallet shipper is highly resistant to wear and tear t support repeated re-use. Its strength and durability have been tested under actual conditions of use on successive round trips between Europe and the USA. The flat pack versions can be set up and disassembled in just a few minutes for easy storage and simplification of your Reverse Logistics process.
Sofrigam quality guarantee
As with all Sofrigam insulated packaging solutions Initial Pallet Shippers are tested, validated and pre-qualified within the Ater Métrologie thermal testing laboratory to meet the logistical regulatory requirements for cold chain pharmaceutical products. A loading protocol is systematically provided with the packaging solution. Use of high quality materials helps guarantee constant temperature over the specified duration, and high impact resistance.
The Initial Pallet Shipper meets pharmaceutical logistics standards in terms of volume, performance and qualification. Choose a 'ready-to-use' insulated container, complying with international pharmaceutical logistics regulations and standards.
Initial Pallet Shipper features and benefits
The Initial Pallet Shipper range offers advanced features and performance:
Temperature range: +2/+8°C, +15/+25°C, -18°C
Duration: 120 hours
Available sizes: 1/2 EU or US pallet, 1 EU or US pallet, Quarter PAG/PMC, Half PAG/PMC
Insulation : High-density rigid polyurethane panels
Cold source: Preformatted gel packs
Opening system: top or front opening
Qualification: ISTA 7D, AFNOR NF S99-700
Delivered assembled or flat-pack
Reusable up to five times
These deliver a series of key user benefits:
Superior temperature control over long shipments
Optimized reverse logistics
Lower TCO over the entire logistics chain
User convenience
Enhanced sustainability
Resources
Click on Initial Pallet Shipper advantages to see video.
Click on Sofrigam advice for expert help.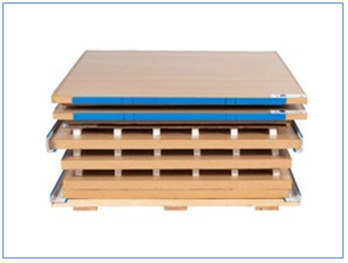 Sofrigam Initial Pallet Shipper can be flat packed for enhanced Reverse Logistics
Initial Pallet Shipperis also available in fully assembled form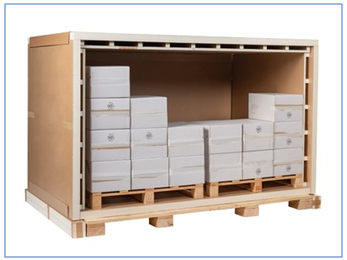 Half PAG format Initial Pallet Shipper can transport more than 3,000 liters of heat-sensitive pharmaceutical products per shipment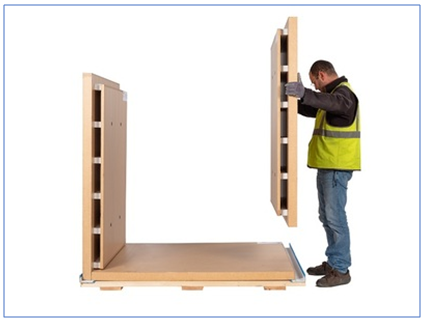 Initial Pallet Shipper can be erected by single person in a few minutes