Contact Supplier
Contact Supplier
To get in touch with Rotronic AG, simply fill out the form below.
Rotronic RMS monitoring boosts medicinal cannabis growth
Bassersdorf, Switzerland: – Leading international measurement solutions specialist Rotronic is helping one of the world's most recognized ethical cannabis producers ensure the quality of its products with its RMS Real-Time Environment Monitoring solution.
Canada's Canopy Growth Corporation contacted Rotronic for its expertise when it realized it needed a higher quality system for relative humidity (RH) and temperature monitoring, with full data capture and documentation to support requirements for GMP and CFR compliance and other regulation.
Expanded requirements
Canopy Growth's previous system for RH and temperature monitoring suffered from limitations: reporting could only be done from a centralized location, the system was not easy to scale and had no means of adding in other parameters. In 2017, the cannabis producer turned to pharmaceutical metrology specialist Rotronic for a solution monitor further parameters such as differential pressure(ΔP), C02, O2, ethanol and particulate count in the air.
Following the successful trial of an Rh, temperature and differential pressure test system installed at Ontario-based subsidiary Tweed, Rotronic went on to design and install a full system to meet GxP and CFR compliance, risk management and overall control over operations.
Features and applications
The Rotronic Monitoring System includes central 24/7, real-time monitoring delivering higher security and savings through automatic reporting. Historical data can be retrieved and analysed at any time. Alarming of various measuring points reduces product loss and increases worker safety.
The process started by mapping customer requirements, which were complex, since cannabis production and processing is a surprisingly intricate process, with at least key stages that require environmental monitoring, as tabulated below: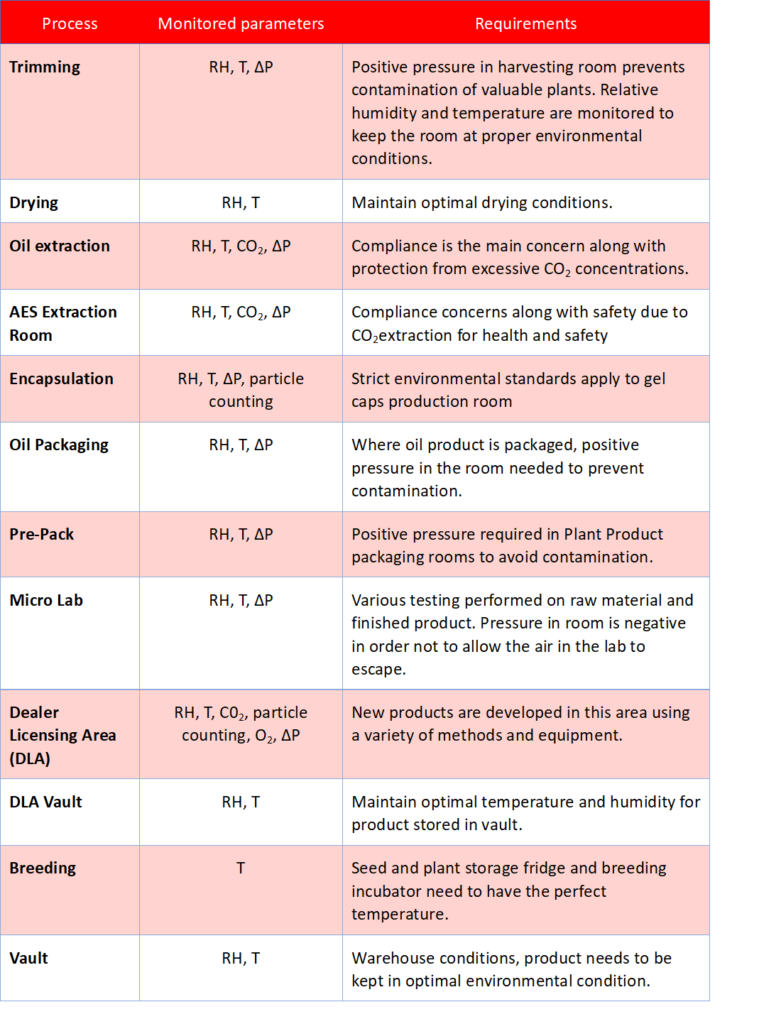 RMS Execution
The Rotronic Monitoring System is one of the most flexible monitoring systems on the market. From small applications with only one measuring point to large installations with several thousand measuring points, RMS offers tailor-made solutions. Existing hardware can be easily integrated, in return Rotronic devices can be integrated into existing software environments, depending on application. RMS complies with all FDA and GxP regulations and is constantly being expanded in collaboration with the pharmaceutical industry.
The RMS components installed at Tweed included:
RMS-LOG-915Datalogger with LAN interface
RMS-HCD-S Humidity and temperature probes
RMS-GW-915 Gateway
RMS-MADC Mini Data Logger for integrating third party devices
RMS-Converter for integration of third-party devices (DP and detectors, particle counters)
RMS-MLOG-T-10 + remote probe
RMS-SaaS software solution CLD-E
About Rotronic
Rotronic is an international development and manufacturing company that offers a wide range of products and solutions in the B2B segment. Founded in 1965, the company is headquartered in Switzerland and provides solutions for measuring and monitoring relative humidity, temperature, CO2, differential pressure, pressure, flow, dew point, and water activity. The company began the digital transformation already in the year 2000, investing in automated data transfer (machine-to-machine). With the development and launch of its RMS monitoring software, Rotronic further strengthened its position as a key supplier of measurement solutions. As Rotronic is a company of the PST Group (Process Sensing Technologies), our customers are benefitting from a wider product range and distribution network.
About Canopy Growth Corp.
Founded in 2014, Canopy Growth has become one of Canada's foremost cannabis producers and an internationally recognized brand. In April 2014, Canopy Growth became the first cannabis company in North America to be publicly traded. They then became first to complete a "bought deal", to diversify their platform to include both greenhouse and indoor growing, to acquire a major competitor and to be listed on the Toronto Stock Exchange. Canopy Growth remains the only cannabis company to be a member of a major global stock market index, in this case the S&P/TSX Composite index.
Further information at www.canopygrowth.com
About Tweed
One of the brands that is part of the Canopy Growth Corporation is Tweed, located in Smiths Falls, Ontario. This Canopy Growth subsidiary was the first to introduce the now standard concept of Compassionate Pricing to make medical cannabis affordable for patients. Tweed has become the most recognized cannabis brand in the world.
Further information at www.tweed.com
Resources
Click on Products for more information on Rotronic measurement solutions.

Environmental monitoring is important for healthy and strong cannabis plant growth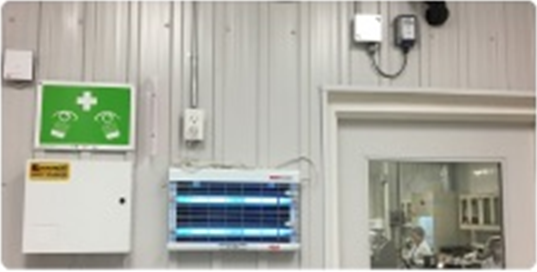 Differential Pressure Monitoring of the Canopy Growth Labs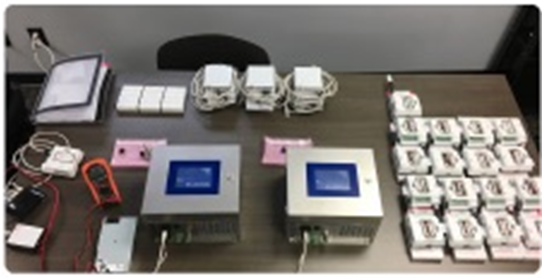 Rotronic and third-party products ready for installation and integration into the RMS continuous monitoring system at Canopy Growth