Contact Supplier
Contact Supplier
To get in touch with Rotronic case study: pharmacy monitoring of medicine temperatures, simply fill out the form below.
Rotronic case study: pharmacy monitoring of medicine temperatures
Bassersdorf, Switzerland: – Monitoring systems from leading international measurement solutions specialist Rotronic can play a key role in assuring the quality and safety of temperature-controlled medicines dispensed by pharmacies.
The advent of biotechnologies has meant that drugs and medicines have increasingly become temperature-sensitive products. Both too-high or too-low storage temperatures can impair their quality, with incorrectly stored medicines losing efficacy and potentially becoming harmful to health. Therefore correct storage temperatures are vital to ensure that medicines remain safe, efficacious and retain assured quality levels right up to their stated expiry dates.
GDP/GMP requirements in pharmacies
The storage of medicines is legally regulated by Good Distribution Practice (GDP) Standard 9.2. Temperature sensitive pharmaceuticals such as insulin, liquid antibiotics and certain eye drops, must be stored in medicine refrigerators between 2 °C and 8 °C.
A temperature range of 15 °C to 25 °C applies to the vast majority of other medicines. It is compulsory to document the actual storage conditions of all medicines.
Swiss case study
The Rosengarten (Rose Garden) Pharmacy has been deeply rooted in the community of Bassersdorf, Switzerland, since 1960.
Now the Rosengarten pharmacy relies on the Rotronic Monitoring System (RMS) to record temperature conditions during medicine and chemical storage, with full alarms. It uses RMS to provide 24/7 monitoring over temperatures in sales and storage areas, at automated picking points and in the storage refrigerators for medicines and chemicals.
Rosengarten Pharmacy previously recorded temperature values by hand. The RMS now eliminates this work, with RMS loggers that transmit their measured values via a gateway in real time to the ISO 27001-certified RMS Data Centre; which stores the data centrally and securely. Access to all the data is available anywhere, on any device via a secure internet address. Measurement devices also log several weeks of data providing a secure backup in the event of any communication or power interruption to the facility.
Automated alarms
As soon as a measured temperature value falls below or exceeds the defined limits, the system triggers an alarm; an email is then sent to the designated person. RMS allows four alarm levels to be selected, depending on the risk.
These range from 'Reminders' for non-urgent events, through 'Warnings' or 'Alarms' for measured values outside set limits and 'Errors' for possible hardware errors. Notified alarms must be acknowledged; causes and corrective measures can be entered and stored for audit and route cause analysis purposes.
Ivan Mihajlovic, of Rosengarten Pharmacy Ltd., commented: "Each day, RMS saves us precious time that we can then use for customer care and service."
Total service package
The Rosengarten Pharmacy opted for an RMS leasing contract which includes the use of hardware and cloud-based software and support all under one fixed price Service Agreement. With this convenient solution, Rosengarten Pharmacy did not have to purchase any equipment or set up its own IT infrastructure and benefits from the full service package. This includes annual sensor calibration, battery replacement and direct support as needed.
During the consultation meetings with the customer, Rotronic defined and proposed the monitoring system as required to meet the legal requirements. After approval, the required hardware was calibrated, installed and configured by Rotronic personnel on site.
The package is part of a total "carefree solution" offered by Rotronic to pharmacies that includes:
Cross-site control to cover multiple branches
Stand-alone solution based on TL-1D temperature data logger with USB port for data download
An RMS pharmacies starter kit for refrigerator monitoring including three temperature loggers, RMS gateway, software and service
A GxP service covering calibration, temperature distribution mapping and consultation
About Rotronic
Rotronic is an international development and manufacturing company that offers a wide range of products and solutions in the B2B segment. Founded in 1965, the company is headquartered in Switzerland and provides solutions for measuring and monitoring relative humidity, temperature, CO2, differential pressure, pressure, flow, dew point, and water activity. The company began the digital transformation already in the year 2000, investing in automated data transfer (machine-to-machine). With the development and launch of its RMS monitoring software, Rotronic further strengthened its position as a key supplier of measurement solutions. As Rotronic is a company of the PST Group (Process Sensing Technologies), our customers are benefitting from a wider product range and distribution network.
Resources
Click on Products for more information on Rotronic measurement solutions.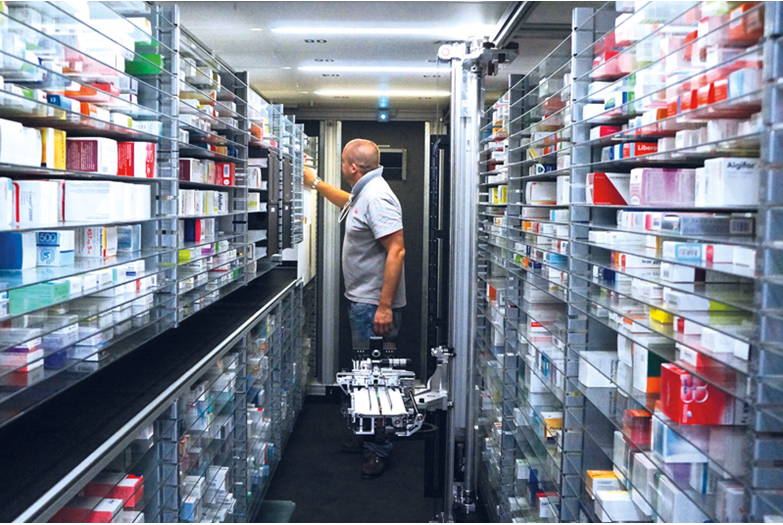 Rosengarten Pharmacy uses Rotronic RMS loggers and data reporting to assure correct storage temperatures in all key areas, including storage and picking points