---
Rommelag brings new bottelpack solutions to FCE Pharma Brazil
---

Press Release | Rommelag
MAY 08, 2018
Waiblingen, Germany: – Advanced aseptic liquid filling and bottling specialist Rommelag Engineering will present its latest bottelpack solutions to the Latin American market when it appears at the upcoming FCE Pharma trade show in Sao Paolo, Brazil.
Rommelag has been an established presence at FCE Pharma for more than a decade, first appearing there in 2003.
BFS bottelpack solutions
Rommelag ENGINEERING will exhibit at Booth D037 at the Sao Paolo Expo.
The Rommelag ENGINEERING display will feature different samples of bottelpack containers, including LVP's and injectables, produced from Rommelag Engineering's range of bottelpack aseptic filling machines.
As an example, bottelpack systems offer various container designs for inhalation solutions from small sized containers up to large volume canisters with intelligent adapter options.
Benfits are, that due to the aseptic filling process, there is no need for sterilization after packaging. In addition, BFS provides a cost efficient production and filling process.
"We are looking forward to returning once again to Sao Paolo and the FCE Pharma show to meet our many customers from the South American market," said Rommelag's Marketing Director, Andreas Häussner.
About Rommelag
Rommelag Engineering sets standards in the aseptic packing of liquids and semisolids with its proprietary bottelpack® aseptic filling systems and Blow-Fill-Seal (BFS) technology.
Rommelag is the overall brand for the Group of companies that invented and developed BFS technology and has become a global market leader in the aseptic filling of liquids and semisolids with its bottelpack machines as well as film-based packaging and flexible containment solutions.
BFS technology powers a range of fully automatic bottelpack systems that can manufacture canisters, bottles, tubes, ampoules, drop bottles, bellows containers, and portion packaging in a variety of forms and plastic blends. Rommelag Engineering also supplies a range of expansion options and ancillaries including Cap-Welding Machine (SM), Ampoule Inspection System (VIM), Particle Inspection Machine (PIM) and High-Voltage Leak Detector (HVLD).
One sister company, Rommelag CMO, applies BFS and bottelpack technology on behalf of clients, contract filling more than two million containers a day for customers all over the world. Rommelag CMO operates more than 50 systems in multiple configurations, set up to meet stringent pharmaceutical standards, perform test fillings, and realize production batches or small-scale series for clients.
A second sister, Rommelag Flex, is a specialist in plastic film, developing tailored packaging solutions including a wide array of pouches, sleeves, sacks, carrier bags, and food, shrink, and special films made of polyethylene (PE), polypropylene (PP), and plastic blends, as well as special applications for sophisticated containment solutions in the pharma industry.
The final member of the Rommelag Group is Rommelag Service, which forms a one-stop shop for everything from spare parts to upgrades, along with expert advice from the earliest stages of process, when developing a formula or fine-tuning a product design.
About FCE Brasil 2018
The FCE Pharma Expo is an annual event that has become a principal marketing, communications and sales platform for the pharmaceutical industry in Latin America. The 23rd FCE Pharma Expo (FCE Brasil 2018) will again be a three-day event opening on May 22 at the São Paulo Expo center in , Brazil.
The 2017 event attracted more than 19,000 visitors and some 500 exhibitors, representing a host of pharmaceutical industry professionals connected with manufacture, supply and distribution of products and services including packaging, labeling, machines and equipment, quality and contamination control, transport and logistics, outsourcing and consultancy, laboratory and analytical equipment, process equipment, valves, sprays, industrial automation, technology and printing services.
The event is organized by Nürnberg Messe Brazil with more information at: http://www.fcepharma.com.br/en/.
Media Contact
Andreas Häußner, Director Marketing, Rommelag
Tel: +49 7976 80578
Email: Andreas.Haeussner@rommelag.com
Resources
Click on Rommelag at FCE Pharma 2018 for more information.
Click on Rommelag to contact the company directly.
Click on Flecobox to see continuous containment video.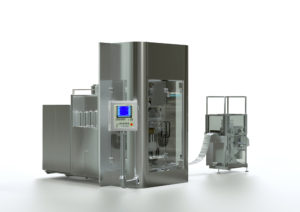 ---
Supplier Information
Supplier: Rommelag
Address: Rommelag Kunststoff-Maschinen Vertriebsgesellschaft mbH, Mayenner Strasse 18-20, 71332 Waiblingen, Germany
Tel: +49 7151 95811-0
Fax: +49 7151 15526
Website: www.rommelag.com
---