Contact Supplier
Contact Supplier
To get in touch with Rommelag BFS Aseptic Filling Machines, simply fill out the form below.
Rommelag BFS Aseptic Filling Machines
The Rommelag Bottelpack Blow Fill Seal (BFS) systems are designed and engineered for aseptic filling of purpose formed plastic containers such as bottles and ampoules.
These aseptic filling machines can be combined with Rommelag inspection systems and cap welders to create entire pharmaceutical and biotech filling and finishing lines within very compact environments.
BFS advantages for aseptic filling
Rommelag Bottelpack Blow-Fill Seal plastics-based technology provides a more cost-effective alternative to glass for pharmaceutical aseptic filling applications and as a primary packaging material for liquid and semi-solid pharmaceuticals.
Direct advantages include:
Break-proof, user-friendly containers
Diverse container shapes and sizes
Straightforward adaptation to specific application and administration requirement
Maximum safety thanks to ISO Class 5 conditions
EMA & FDA approved
Recognized advanced USP 1116 aseptic process
Fully automated processes for manufacturing, filling, and sealing containers in seconds
Smaller footfprint than conventional filling systems
Exceptional process and product reliability
Outstanding filling accuracy
Indirect advantages derive from shorter production chains, with raw material delivered as polymer granulate. Once extruded from the granulate, the plastic parison is blown into the correct shape, and filled to the perfect level with a filling pipe before being sealed immediately without any additional seals or caps. This delivers savings in storage and logicstics volume and weight as well as overall manufacturing space.
Overall, the system eliminates need for storage, washing and sterilization of glass containers. The packaging is produced just seconds before the filling process begins and is sealed almost immediately, alll under extremely low-particle, aseptic conditions.
BFS packaging facilitates fully integrated production of user-friendly containers, with ampoules that can even come complete with integrated Luer interface to enable secure and direct connection to a syringe without needle or splintering risk.
For more complex packaging systems, the Bottelpack range also includes appropriate droppers, valves, and infusion caps for you to choose from. The blow-fill-insert-seal process can also be supplemented with insert components to provide additional functionality.
Rommelag BFS Aseptic Filling Machine range
The Rommelag BFS aseptic filling range comprises a wide variety of platforms. Our experts define the right set-up according to customers needs and prodction plans.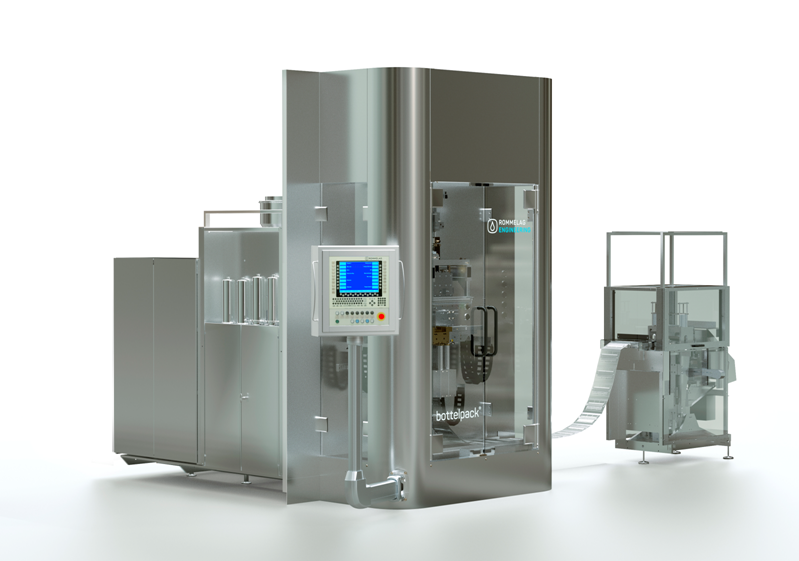 Rommelag aseptic filling bottelpack® installation

Blow-Fill-Seal process steps