Contact Supplier
Contact Supplier
To get in touch with Pharmatrans SANAQ AG, simply fill out the form below.
Pharmatrans Sugar Spheres SANAQ® USP/Ph.Eur neutral pellets
Pharmatrans Sanaq's new Sugar Spheres SANAQ® are neutral pellets made of Sucrose and maize starch that meet standards defined in the USP40-NF35, Ph. Eur and JP pharmacopoeia monographies for "Sugar Spheres".
These white almost spherical cores with slight sweet taste can be used as a neutral basis for the production of pellets loaded with active pharmaceutical ingredient (API).
Sugar Spheres SANAQ® Applications
Sugar Spheres SANAQ® are designed for the production of dry dosage forms, especially for formulations with a controlled release of the active substance (sustained release).
The multiparticular system is ideal for filling for capsules, sachets or tablets, where the neutral starter cores can be combined with different technologies for layering and coating.
Such technology is used in the pharmaceutical industry but also with nutraceuticals, food supplements, and in the food industry.
Sugar Spheres SANAQ® Range and Specifications
Sugar Spheres SANAQ® are available in a range of 11 different types, with particle size distribution (PSD) ranging from 212-300 µm to 1,000-1,180 µm.
Full PSD specifications (tested in house) are tabulated below:

Other specifications as tested to Ph. Eur/USP standards are as follows: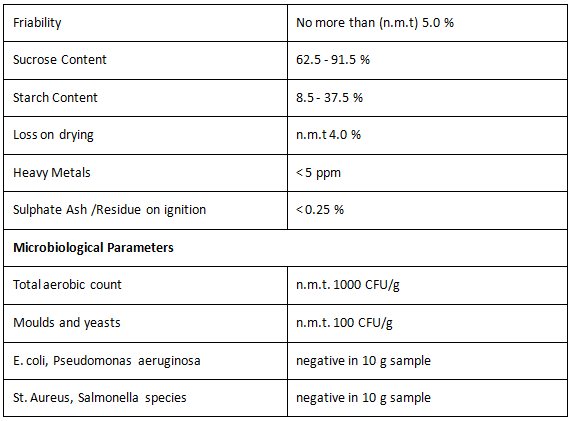 Resources
Click on Sugar Sphere SANAQ® specifications for PDF download.
View Articles by Pharmatrans SANAQ AG