Contact Supplier
Contact Supplier
To get in touch with Optibodies™ – When good is not enough, simply fill out the form below.
Optibodies™ – When good is not enough
Täby, Sweden: – Nordic BioSite, the leading Scandinavian supplier of validated biotechnology products, has again received optimal ratings in external IHC quality assessments with series of optimized antibodies, so-called Optibodies™. The ratings were produced by NordiQC (Nordic immunohistochemical Quality Control). NordiQC is the independent scientific organization that promotes the quality and standardization of immunohistochemistry by arranging schemes for pathology laboratories, assessing tissue-based assays, giving guidelines for improvement and providing optimal protocols.
Optimal results for clinically important antibodies
Our experts have continuously been working with new, clinically important markers and antibodies. Our laboratory takes part in external quality assurance programs for immunohistochemistry.
Immunohistochemical protocols with Optibodies™ have again been awarded excellent results in NordiQC schemes. We would like to promote the standardization and quality of immunohistochemistry of our laboratory with Optibodies™, which fulfill the optimal staining criteria of immunohistochemistry according to the NordiQC assessments.
The latest series of Nordic Immunohistochemical Quality Control (NordiQC) schemes have led to the optimal result with the following Optibodies™: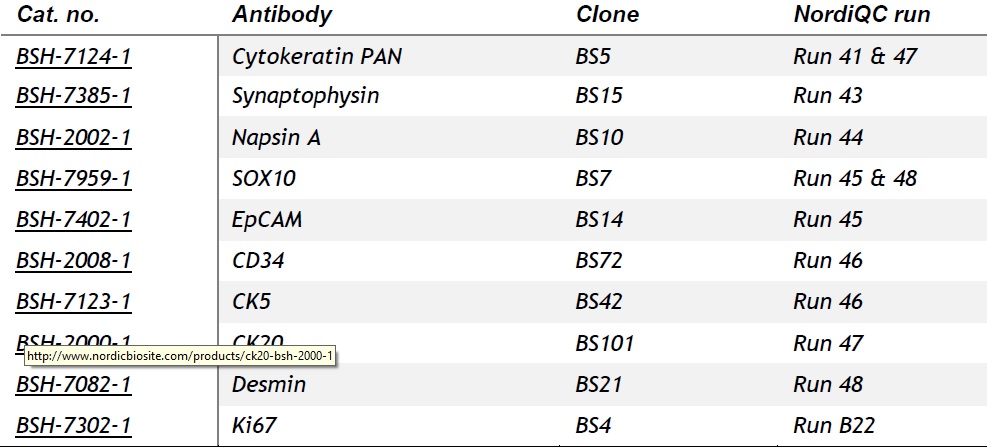 NordiQC Run 41 as well as b>Run 47 provided optimal results for CKpan (Clone BS5) as a broad-spectrum cytokeratin antibody optimized for carcinoma diagnostics, offering strong intensity with no background and unspecific label. There was also an optimal result in NordiQC b>Run 43 for Synaptophysin (Clone BS15). Synaptophysin is a great marker of neuroendrocrine tumors. Clone BS15 offers strong and intensive label. Weakly expressed control, neuronal cells in muscularis propria of appendix and goblet cells in crypts of appendix epithelia are stained with great intensity. b>Run 44 showed a similar result for Napsin A (Clone BS10), which is used as a differential marker of the lung adenocarcinoma vs. squamous cell carcinoma. This Optibody offered excellent staining specificity and intensity.
b>Run 45 announced good news about OptibodiesTM. Two Optibodies received optimal results in assessments: Ep-CAM (BS14) and SOX10 (BS7). High-quality performance of EpCAM was proofed with different staining platforms. Great advantage is the alkaline antigen retrieval, which offers optimal staining pattern without special antigen retrieval buffers. Try and compare with your reference antibody! SOX10 is a great addition for melanoma diagnostics, and it is an effective marker of desmoplastic and spindle cell melanoma. SOX10 (BS7) was evaluated as optimal also in b>Run 48 with 100 % optimal ratio (5/5)!
OptibodiesTM showed great diagnostical potential and value in Rb>Run 46, b>Run 47 and b>Run 48. Optibodies got again optimal results with CD34 (BS72) and CK5 (BS42) on b>Run 46, and CK20 and CKpan on b>Run 47. Especially desmin (BS21) showed diagnostical potential with 100 % optimal ratio (4/4) on the b>Run 48!