Contact Supplier
Contact Supplier
To get in touch with HAPILA anti-TB agent BTZ043 wins Germany's IQ Innovation Award, simply fill out the form below.
HAPILA anti-TB agent BTZ043 wins Germany's IQ Innovation Award
Gera, Germany: – High-potency active ingredient specialist CDMO HAPILA GmbH (HAPILA) is among the winners of central Germany's IQ Award for Innovation of the Year for its breakthrough anti-tuberculosis active ingredient BTZ043.
The novel API agent targeting tuberculosis pathogens is being developed as a drug by a team of researchers from the Leibniz Institute for Natural Product Research and Infection Biology (Leibniz-HKI) in Jena working in partnership with the HAPILA GmbH and the clinical center of the University of Munich.
The award was formally accepted at the 16th IQ Innovation finals ceremony at the Paulinum Assembly Hall at University of Leipzig, by Dr. Florian Kloß of Leibniz-HKI of Jena, Dr. Julia Dreisbach of the clinical center of the University of Munich and Kristin Kirmße, HAPILA GmbH of Gera.
High profile jury
The annual competition is organized by the Metropolregion Mitteldeutschland (Metropolitan Region Central Germany) organization and features a high-profile jury panel made up of experts from industry and academia.
The partners finally emerged as winners at the end of a multilevel competition in which ten candidates out of 155 applicants qualified for the final round, representing five specific industry sectors.
The total prize of €15,000 was jointly awarded by the Chambers of Industry and Commerce of Leipzig, Halle-Dessau and Eastern Thuringia of Gera. The winners are also admitted to membership of the European Metropolitan Region Central Germany for the following year.
Novel anti-TB agent
BTZ-043 shows a completely novel mode of action making it effective against tuberculosis pathogens that are resistant to conventional antibiotics. The joint research program has attracted additional funding from the German Federal Ministry of Education and Research (BMBF)-financed research groups InfectControl 2020 and the Deutsches Zentrum für Infektionsforschung [German Centre for Infection Research] as well as the Free State of Thuringia.
The substance has already successfully completed Phase 1 clinical trials and is now being prepared for entry into the Clinical Phase II, during which it will be administered to TB patients. Success will mark an important milestone in the world fight against TB, which causes some 1.5 million deaths globally every year.
Cross-regional collaboration
HAPILA CEO Dr. Uwe Müller commented:
"Our team at the IQ Awards represented a much wider team of great scientists working together in close cross-regional and interdisciplinary cooperation to bring this exciting new API to market."
"At Leibniz-HKI, they have established valid bioanalytical methods and researched the metabolization of BTZ-043 in the organism. Meanwhile Clinical Center of the University of Munich has acted as sponsor and owner of preclinical and clinical development studies while we at HAPILA, as an established manufacturer of APIs, have taken responsibility for the development of a synthesis process and cGMP manufacturing of the ingredient," Dr. Müller explained.
Promoting pioneering research
Dr. Uwe Müller also paid tribute to the organizers of the awards for recognizing the importance of publicly financed institutes in promoting life sciences research and the development of uniquely German antibiotics.
"As the major part of the global pharmaceutical industry has withdrawn from this not very lucrative business, it is in particular up to the political establishment to take the lead," said Dr. Müller.
"Recognizing BTZ043 sends a strong signal for central Germany as the home of pioneering pharma research, along with opportunities to create sustainable qualified jobs in the region," he declared.
Dr. Kloß of the Leibniz-HKI of Jena added: "This award is important to show the players in society, politics and economy alternative ways of development for urgently needed medication. Moreover, we want to demonstrate the creative potential of central Germany in the field of infection control and pharmaceutical development."
Clinical Phase 1a for BTZ043 was conducted at a study center in Germany during 2018 and was finally completed in March this year. The complete synthesis development for the tested API was done at HAPILA, which has also been granted Good Manufacturing Practice (GMP) certification for manufacturing the active ingredient.
About HAPILA GmbH
HAPILA GmbH is a Contract developer and manufacturer (CDMO) that provides high-value services to pharma, biotech and fine chemicals client companies in the development and cGMP manufacture of active pharmaceutical ingredients (APIs).
HAPILA is an independent company with particular experience in GMP-related development and GMP manufacturing, offering full regulated service for API (IMPD, ASMF) to very high scientific and quality assurance (QA) levels.
It supports the development and manufacture of drug products with patented processes and in-depth experience in the API value-creation chain from synthesis through purification to particle design.
The company's mission is to supply exclusive products of highest quality, potency and safety in compliance with GMP and environmental protection guidelines. All HAPILA teamwork is focused on product quality and customer satisfaction.
All HAPILA chemical synthesis is carried out at in-house at its GMP certified laboratories at Gera, Thuringia, in east-central Germany.
When combined with purification and particle design, HAPILA's chemical synthesis services cover the complete API value-creation chain, enabling it to be a highly efficient bridge-builder between API production and pharmaceutical end-use.
About Leibniz-HKI and the Leibnitz Community
The Leibniz Institute for Natural Product Research and Infection Biology – Hans Knöll Institute – was established in 1992 and forms an important part of the Leibniz community that incorporates 95 independent research institutions with a total annual budget exceeding 1.9 billion Euros and employing approximately 19,100 people, including some 9,900 scientists. Its orientation ranges from the sciences, engineering and life sciences via the economic science, spatial science and social science up to the humanities.
Leibniz Institutes concentrate on socially, economically and ecologically relevant questions. They practice knowledge-oriented and application-oriented research, while also offering scientific infrastructures and research-based services in the comprehensive Leibniz research networks. Leibniz institutions maintain close cooperative relationships with regional universities, industry and other partners through initiatives such as the Leibniz ScienceCampi. Due to their national importance the institutes of the Leibniz community are jointly supported by the German Federation and the federal states.
Leibnitz-HKI scientists are engaged in the infection biology of human pathogen fungi, examining the molecular mechanisms of the disease development and the interaction with the human immune system. Novel natural products from microorganisms are examined on their biological activity and purposefully modified as pharmaceutical ingredients for possible applications.
The Leibniz-HKI has five scientific departments the heads of which are concurrently appointed professors of the Friedrich Schiller University of Jena, along with several junior groups and cross-sectional institutions, among them the application-oriented pilot plant for biotechnology as an interface to the industry. Together with the Friedrich Schiller University the HKI operates the Jena Microbial Resource Collection, a comprehensive collection of microorganisms and natural products. Approximately 450 persons are presently working at the Leibniz-HKI, 150 of them as postgraduates.
The Leibniz-HKI is the initiator and core partner of large joint research projects such as the excellence graduate school Jena School for Microbial Communication, the special research fields FungiNet (Transregio) and ChemBioSys, the centre for innovation competence Septomics as well as InfectControl 2020, a consortium in the BMBF-supported Zwanzig20 partnership for innovation.
Resources
Click on BTZ043 for further information.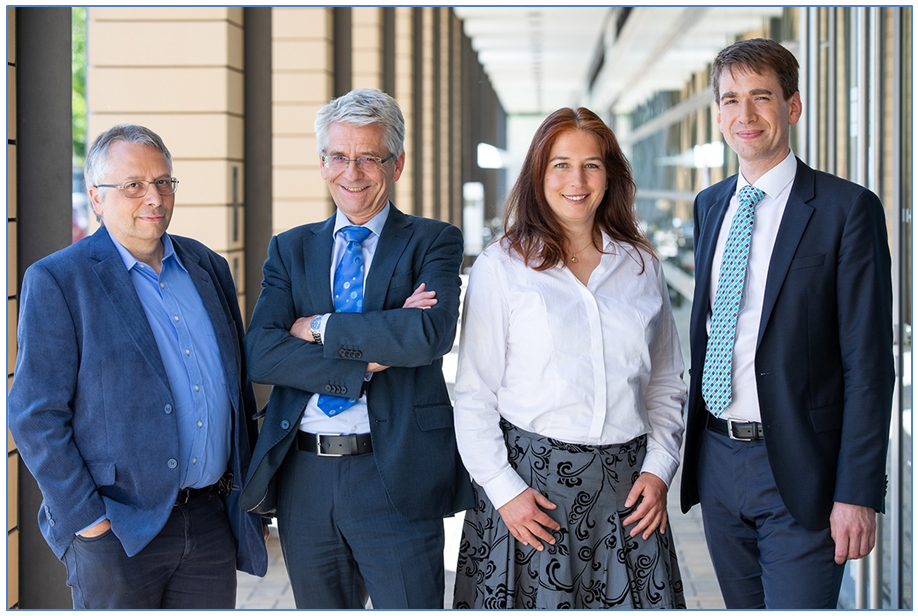 The prize-winners of the IQ Innovation Award 2019 (from left): Dr. Steffen Wittmann, Head of Development at HAPILA, Dr. Uwe Müller, CEO of HAPILA, Dr. Julia Dreisbach from clinical center of Ludwig Maximilian University Munich and Dr. Florian Kloß, head of the Leibniz Institute transfer group of anti-infectives.
Source: Tom Schulze