---
Achema Premiere: Hapa 862, the modular foil and label printing system Hall 3, Stand B95
---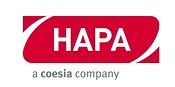 Press Release | Hapa AG
MAY 31, 2015
Volketswil, Switzerland: – Taking technology renowned for quality, flexibility, and reliability, and pumping it to the next logical level: introducing the Hapa 862, the modular, inkjet printing system. To be premiered at Achema 2015, the system will exhibit its built-in scalability designed to future-proof packaging lines. It's not just innovation everyone has come to expect from Hapa, it's innovation with attitude.
Think Big, Start Small – a Built-in Upgrade Path
The UV DOD Piezo system prints complex artwork, variable and serialized data on foils, labels, and other web materials. It can be configured as top mounted, stand mounted and roll to roll. It merges with existing processes and integrates with ERP/ workflow. And adding or removing modules to the Hapa 862 is simple. Should a corona station, an inspection system, or a label-reject station be needed, it can be installed with a simple mechanical and electrical connection.
Introducing the Integrated "redcube plus"
At the heart of the system is the newly developed "redcube plus", the printing module that can go from single to four spot colors, or CMYK. Print-head maintenance is fully automated, so no production time is lost to manual cleaning. Two pinning stations are an option to fulfil color-on-color printing. The "redcube plus" prints at 54 meters per minute, with a resolution of 720 dpi.
The new Hapa 862 with its integrated "redcube plus" printing module will print on a variety of web-fed substrates, including aluminum, label foils and PSA labels.
Award-winning HMI
Hapa's new HMI, winner of an iF Award 2015, and nominated for a German Design Award 2016, will be part of the Hapa 862. The multi-touch HMI is as easy to operate as a smart phone. It integrates into complex lines and pulls system information about its supported functions. The software monitors machine statistics as a form of early detection, improving operation efficiency. The UI technology is platform independent and offers a clean separation from application logic.
New: BFS Unit – direct printing on blow fill sealampoules
Printing directly on BFS ampoules is an efficient and economical solution made possible with the Hapa redcube. Simply eliminating the costs and difficulties associated with embossing and labeling ampoules saves production time and expenses. At the heart of the solution is an integrated redcube printing module which is printing variable data onto the ampoule's surface. Thanks to the vacuum transport system the ampoules are precision-placed for accurate print results. After which the quality of the codes and variable data is camera-inspected. Those that do not pass inspection are pulled from production by the rejection station. The redcube is easy to integrate, works with various sized ampoules, and can be used to support a Track & Trace solution. Two-color solutions are available. The module's data management is simple to use, and access for maintenance and repair is convenient.
About Hapa
Hapa AG is a global leader in Late Stage Customization and On Demand packaging print solutions for the pharmaceutical packaging industry, with growing presence in the medical, FMCG and food industries. Its mission is to empower customers to complement lean production with in-process printing solutions.
Since introducing its first printing machines in 1933, Hapa has championed innovative printing solutions that can easily be integrated into existing packaging processes.
Thanks to its more than 50 years as a partner to the pharmaceutical industry with its strict regulatory environment, Hapa possesses invaluable know-how that translates into highly relevant innovative solutions.
Hapa's printing systems are developed and produced at its base near Zurich, Switzerland. Hapa also has presence in the USA, UK, Germany, India, Mexico, Brazil and Japan, employing some 150 people in all. There are more than 2,000 Hapa machines in service in more than 50 countries worldwide
About ACHEMA 2015
ACHEMA provides a World Forum for the Chemical Engineering and Process Industries.
Attracting some 170,000 visitors from more than 100 countries, along with more than 3,800 exhibiting companies and organizations, ACHEMA is one of the biggest events in the sector.
Now in its 31st year, the 2015 ACHEMA event will be held over five days, opening June 15th 2015 at the Messe Exhibition Centre in Frankfurt-am-Main, Germany.
For the first time, the conference will focus on three major themes: Process Analytical Technology (PAT), Industrial Water Engineering and Bio based Production.
More information at: www.achema.de/en.html
Media Contacts
Anja Koletzki, Hapa AG
Tel: +41 (0) 43 399 32 00
Email: anja.koletzki@hapa.ch
Resources
Click on Hapa premieres ultra scalable 862 print system at ACHEMA 2015 for other information.
Click on Hapa to contact the company directly.
---
Supplier Information
Supplier: Hapa AG
Address: Chriesbaumstrasse 4, 8604 Volketswil, Switzerland
Tel: +41 43 399 32 00
Fax: +41 43 399 32 01
Website: www.hapa.ch
---