Contact Supplier
Contact Supplier
To get in touch with SYSTAG, System Technik AG, simply fill out the form below.
SYSTAG FlexyCLAVE automated hydrogenation solution
The new SYSTAG FlexyCLAVE provides a turnkey package enabling fully or semi-automated hydrogenation or other gas reactions. As such, it offers an ideal solution for laboratory or scale-up chemical process developments.
FlexyCLAVE marries a complete hardware package for gas dosing and pressure control with SYSTAG's proven and intuitive FlexySys recipe software that offers predefined steps and operating procedures to control the reactor and all peripherals and handle all journaling tasks.
The whole package makes hydrogenations accurate, reproducible and safe and allows processes to be standardized to enable simpler up-scaling from laboratory to pilot plant and production scale.
FlexyCLAVE features and functions
FlexyCLAVE augments any pressure reactor hardware (pressure reactor with glass or SS316 vessel and gas dosing unit) with a SYSTAG control and automation system, based on its proven FlexySys laboratory reactor automation control software.
The FlexyCLAVE hardware contains all essential hardware elements to extend any reactor with an automatic hydrogenation function including dosing unit, electronics, flow measuring, control and dosing valves. In addition to the actual hydrogenation, the reactor is automatically rendered inert by the integrated gas exchange function. The selectable number of rinse cycles allows effective and reliable inert/active gas exchange at selected stages of the experiment.
The FlexySys software element is recipe-based for simple and intuitive operation, offering predefined operating procedures for simple and safe control of reaction temperature, pressure, end criteria and other variable parameters. The visual interface provides clear illustration of system status and safety parameters, allowing precise control of process. The display shows a comfortable online trend that can be exported to any other application.
The FlexySys package also generates  automatic and continuous documentation to comply with EU Annex 11 or FDA 21 CFR Part 11 GMP guidelines, if required. All process parameters, operator manipulations and results are continuously and automatically recorded, ideal for process evaluation and fine tuning for safe scale-up.
The FlexySys-Software will handle a very wide range of functions, including:
Hydrogenation with MFC
Pressure control or constant gas flow
Different end criteria
Temperature control
Reactor / Jacket / Ramping
Stirrer speed control
Liquid dosage Automatic leakage test
Recipe control
Visual process control
Pressure- / Vacuum control
Automatic inerting
Data reports
Offline-calculations
FlexyCLAVE benefits
Easy operation allows the user to carry out hydrogenations quickly and safely. Sophisticated alarm and supervisory functions, allows the system to be run unattended while the manual mode guarantees high flexibility, enabling intervention in process whenever requires.
In summary, the FlexyCLAVE package is a true turn-key solution that offers a series of useful and valuable benefits:
Easy handling
Safe operation
High reproducibility
Increased productivity
Recipe control
Flexibility
Graphical data evaluation
Automatic protocol
Compact design and footprint
FlexyCLAVE Technical data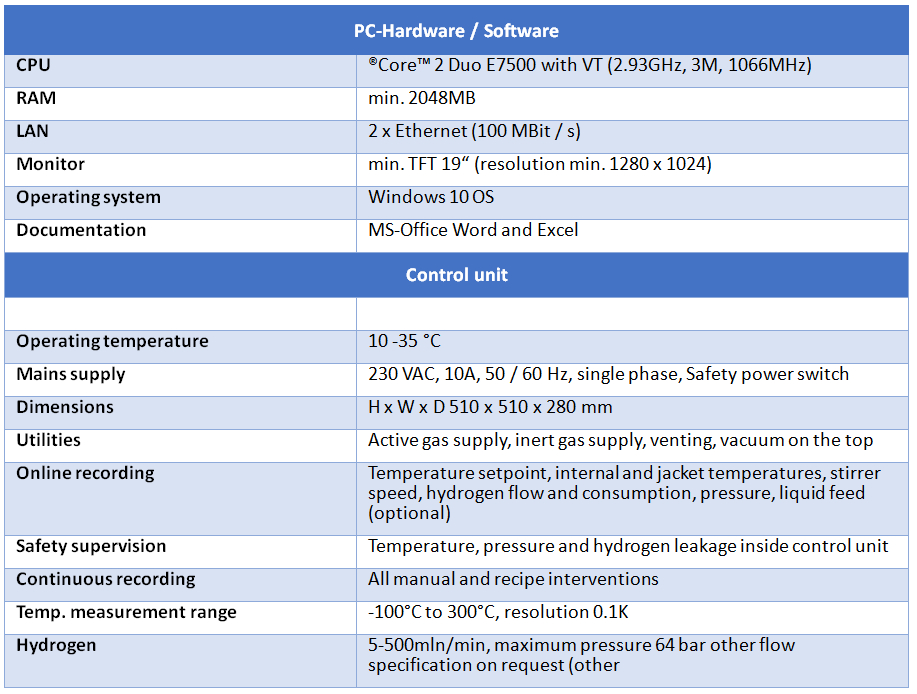 Resources
Click on SYSTAG Lab Reactor Solutions to download product sheet.
Click on The Automated Hydrogenation Solution – FlexyCLAVE for more information.
Optimizing chemical reactions with…»
View Articles by SYSTAG, System Technik AG