---
EnviroChemie introduces IMS integrated management system
---

Press Release | EnviroChemie GmbH
MARCH 22, 2017
Rossdorf, Germany: – Water treatment specialist EnviroChemie has introduced an integrated management system (IMS) to align its quality, environment, energy, and health & safety performance to leading world standards.
The system includes a newly compiled IMS manual that clearly documents al the company's processes for the development, construction and commissioning of water systems and all products & services offered.
International standards
EnviroChemie has had a certified quality management system in place in accordance with DIN EN ISO 9001 since the mid-1990s.
EnviroChemie now applies Quality Management to DIN EN ISO 9001:2015 standard, Environmental Management to DIN EN ISO 14001:2015, Energy Management to DIN EN ISO 50001:2011 and Health & Safety to BS OHSAS 18001:2007 standard.
At the end of 2015, EnviroChemie's senior management decided to introduce the new IMS to comply with leading current international standards.
External audit
The IMS was tested during a comprehensive external audit carried out by DMSZ GmbH, an accredited certification company. After a preparation period of just ten months, the IMS was certified in September 2016. At the same time, EnviroChemie changed its quality management system (QMS) to comply with the new version.
"With EnviroChemie, customers can be sure that both the systems and the water treatment media are prepared sustainably, safely and to high quality standards. The services offered are also subject to the rules of the IMS. The system's effectiveness will be regularly checked. In annual external audits," said EnviroChemie.
About EnviroChemie
EnviroChemie GmbH has established a reputation over four decades for reliable and innovative technology for water and wastewater treatment, specializing in developing and implementing customized solutions for customers in the pharmaceutical industry and life sciences.
This ISO-9001 certified engineering company was founded in 1976 and offers a holistic range of "Made in Germany" branded products and services based on chemico-physical, biological and membrane filtration processes, whose pedigree relies on its long list of research achievements and patents.
EnviroChemie adopts a partnership approach in which client specialized needs and characteristics form the basis for individual design, planning, engineering, building and commissioning of pharmaceutical wastewater treatment plants.
With more than 30,000 plants sold worldwide, EnviroChemie can apply unrivalled experience to continuous development of innovative and reliable industrial water and wastewater technologies.
EnviroChemie specializes in supporting customers in projects, where effluents must be specifically treated to:
Abate trace elements by concentrating them (e.g. reverse osmosis and vacuum distillation)
Inactivate streams containing biologically active ingredients (e.g. vaccines, antigens, etc.) by means of thermal sterilisation technology
Eliminate pharmaceuticals implementing advanced oxidation processes (e.g. ozonation)
Generate green energy (biogas) from digested organic matter (COD) implementing anaerobic treatment technology (e.g. at insulin production facilities)
EnviroChemie products are developed and supplied from three sites in Germany and Switzerland and the company operates seven sales and service offices, including subsidiaries in Brazil and Russia.
Media Contact
Jutta Quaiser, Press & PR Manager, EnviroChemie GmbH
Tel: +49 (0) 6154 6998 72
Email: jutta.quaiser@envirochemie.com
Resources
Click on EnviroChemie introduces IMS integrated management system for other information.
Click on EnviroChemie to contact the company directly.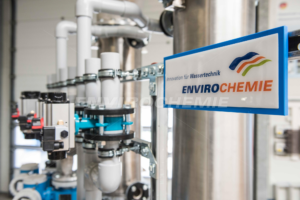 ---
Supplier Information
Supplier: EnviroChemie GmbH
Address: In den Leppsteinswiesen 9, 64380, Rossdorf, Germany
Tel: +49 6154 6998 0
Fax: +49 6154 6998 11
Website: www.envirochemie.com
---