---
Dec USA hosting Engineering Day safe powder handling seminar
---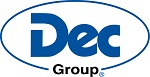 Press Release | DEC Group
SEPTEMBER 03, 2019
Brick, NJ, USA: –North American Dec Group subsidiary, Dec-USA, Inc. is to host an Engineering Day Forum at its New Jersey headquarters to focus on leading edge technologies and methodologies for safe handling of powders.
The Powder Handling and Containment Technologies Seminar will be a one-day event held on September 11 at Dec USA offices in Brick, NJ. The event will also mark the tenth anniversary of Dec Group establishing its presence in the USA.
Professional focus
The seminar is designed for pharmaceutical and fine chemicals professionals active in process development, production, engineering, and maintenance.
"This seminar offers attendees a valuable chance to spend the day with a global market leader in Powder Handling and Containment Technologies, hearing from Dec experts at first hand on specialized and complex aspects of safe powder handling," said coordinator Kara Gouldner of Dec-USA.
Productivity boost
"We'll be covering essential topics such as ensuring an enclosed process for GMP requirements, high containment of bulk solids, efficient micronization of pharmaceutical and chemical powders," said Ms. Gouldner.
"We will also show how process linking can boost not just safety but also plant productivity with reference to some very interesting and compelling best practices," she added.
Education certificate
The seminar will include morning presentations on powder handling & enclosed process for GMP requirements, high containment for HPAPIs handling, micronization of pharmaceutical and chemical powders and increased plant productivity and safety by process linking.
After lunch, there will be a technical workshop, group case study and equipment demonstrations.
All attendees will receive a certificate that can apply towards continuous education credits.
Early registration is advised via email (see Contacts).
About Dec Group
Dec (Dietrich Engineering Consultants) Group is a leading global provider of contained powder handling systems and is recognized as a world-leading expert in process containment technologies. It has been supplying the pharmaceutical, chemical, food and cosmetic industries for more than 30 years.
Headquartered near Lausanne, Switzerland, Dec Group has a global presence with subsidiaries and agents in more than 30 countries including subsidiaries in the UK, Ireland, Germany, Poland, India, China and the USA.
In excess of 600 companies worldwide have successfully integrated more than 5000 Dec systems into their production sites. These include a wide range of patented products that enhance safety, hygiene, containment, reliability and productivity in powder handling.
Dec offers innovative approaches across the range of powder handling and process containment applications, including transfer, micronizing, filling/emptying, sampling, blending, dosing, aseptic solutions, milling, isolators and advanced cleaning (CIP/SIP) features.
Media Contacts
Kara Gouldner, Dec-USA, Inc.
Tel: +1 732-202-7536 (Ext. 100)
Email: k.gouldner@dec-group.us
OR
Gabriela Mikhaiel, Dec Group Marketing
Tel: +41 21 694 20 40
Email: G.Mikhaiel@dec-group.ch
Resources
Click on Dec-USA safe powder handling seminar for other information.
Click on Dec Group to contact the company directly.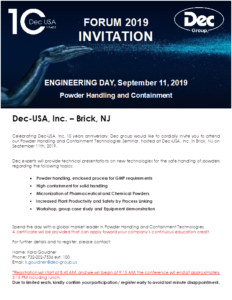 ---
Supplier Information
Supplier: DEC Group
Address: Z. I. Larges Pièces A, Chemin du Dévent, P. O. Box 9, 1024 Ecublens/Lausanne, Switzerland
Tel: +41 21 694 20 40
Fax: +41 21 694 20 59
Website: www.dec-group.net
---