Contact Supplier
Contact Supplier
To get in touch with Customized adenoviral vectors (AVs), simply fill out the form below.
Customized adenoviral vectors (AVs)
SIRION Biotech can supply a range of readily available adenoviral vectors (AVs) that can be customized to help overcome commonly encountered problems when using conventional lipid-based transfection methods on specialized and primary cell types.
Benefits
The SIRION AVs are customizable to specific application and target cell type and deliver distinct benefits:
Highly effective: Using the customized AVs can achieve close to 100% gene transfer into specialized cell types.
Easy to use: The fully customizable AV particles are also easy to handle. They are simply applied to the cells and washed after 12 to 24 hours.
Flexible and adaptable: SIRION offers full customization of adenovirus, lentivirus and AAV vectors to after full consultation with the client.
Strong gene expression
In a recent experiment, customized AV elicited particularly strong expression in in patient-derived retinal pigment epithelial (RPE) cells, which are a valuable target in ophthalmological research. RPE closely interact with photoreceptors to uphold visual function. Several forms of retinal degeneration can be traced to malfunction of this cell type.
RPE cells can be salvaged from tissue but genetic modification is difficult, with standard transfection methods reaching only some five per cent of all cells in any given population.
However, adenovirus vectors by SIRION Biotech outperformed standard transfection methods to elicit a robust expression in nearly all cells even six weeks after transduction , all while using the minimal dilution ratio of only one viral particle per cell.
Similar high performance is attainable with almost any adherent mammalian cell type and has been reported to extend to other species such as fish or birds.
Highest Technological Standards
SIRION expertise in customizing AVs is derived from its position as a world leader in innovating virus vector technologies and providing custom services to academic and industrial partners as well as licensing unique virus technologies for pre-clinical and clinical development.
SIRION Biotech is the only company mastering all three major virus types used regularly in the life sciences; Adenovirus, Lentivirus and adeno-associated viruses (AAVs).
It can develop customized cell models and gene vectors in very short time frames, offering custom project management to fit different experimental setups.
Customized models can include control gene expression and knockdown, all-in-one lentivirus, AAV and adenovirus vectors, along with inducible tissue specific expression and transduction boosters.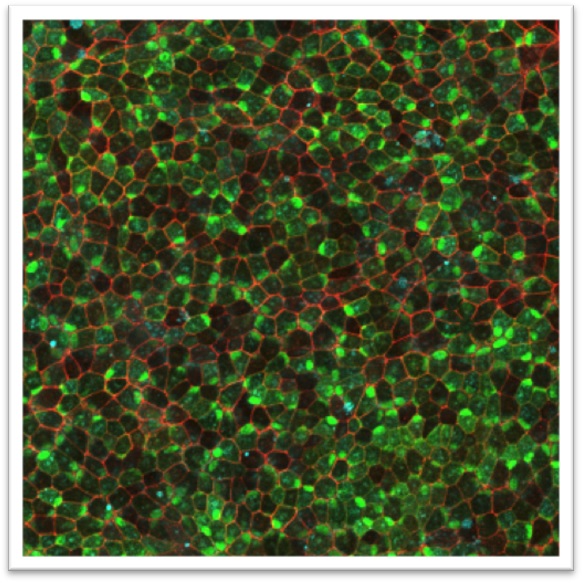 E-cadherin staining (marked in red) shows AV vector treatment elicits GFP expression in almost every single cell of RPE cell-pool that is still evident six weeks after transduction
View Articles by SIRION Biotech GmbH