Contact Supplier
Contact Supplier
To get in touch with Aurena Laboratories, simply fill out the form below.
Contract Manufacturing from Aurena Laboratories
The Bag-on-Valve (BoV) and private label products specialist Aurena Laboratories also operates as a Contract Manufacturing Organization (CMO) that works in close co-operation with commercial partners to transform their products and bring them to market.
As a CMO, Aurena has a track record of innovation and access to a wide range of creative solutions and a proven manufacturing process. These can all be leveraged to re-engineer client products, based on advanced and sustainable BoV spray technology.
Bag-on-Valve CMO applications
Aurena's dedicated bag-on-valve products team has extensive experience in contract manufacturing and product development for the pharma and medical devices industry.
BoV technology can be used to dispense most products that can be delivered by conventional aerosol, as well as some products that are not suitable for traditional aerosol dispensing. These include viscous gels, creams, and ointments, as well as liquids.
BoV is gaining in popularity as an innovative packaging, particularly in applications with sensitive high purity products or where user convenience is a consideration.
BoV is also a flexible solution that can be integrated into the full range of modern packaging formats with a wide choice of can shapes and formats, valve types, caps, etc. The technology and its applications are explained in greater detail in Aurena's Bag-on-Valve White Paper, now available for download (see Resources below).
Aurena contract manufacturing process
Aurena's contract manufacturing process follows a five step methodology, illustrated below.
The first step to collaboration is the confidentiality agreement between the CMO and product-owner.
This is followed by the technical consultation and evaluation of technical feasibility.
Following detailed consultation, the parties enter into a contract manufacturing agreement.
The fourth phase focuses on technology transfer in both directions, enabling the important testing and validation phase.
Once all steps above are complete, contract manufacturing can begin, allowing the transformed product to be taken to market.
Aurena carries out its manufacturing and development operations in Karlstad, Sweden, where quality control and regulatory compliance exceed the requirements and expectations of regulatory agencies and customers.
Aurena is quality certified to ISO13485:2012 standards and is inspected and registered with the US FDA as a Drug and Medical Device Establishment. Aurena also meets ESD and EX-standards, offering manufacturing of flammable products.
Resources
Click on BoV White Paper to download.
Click on bagonvalve.com to find out more.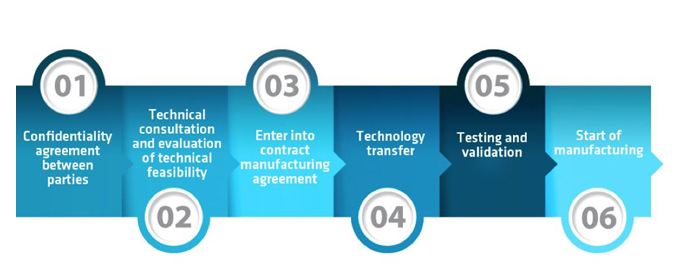 Aurena five step Contract Manufacturing Process – from initial engagement to market
View Articles by AURENA LABORATORIES